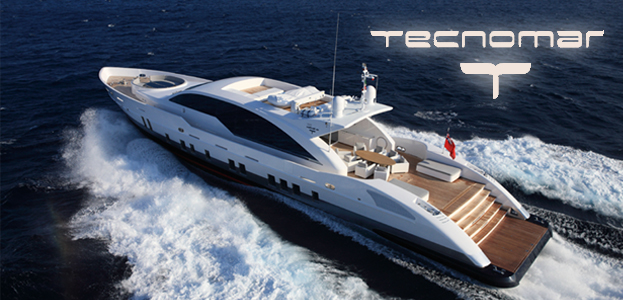 Denison Yacht Sales is the exclusive dealer for Tecnomar Motor Yachts for North America, including the U.S., Canada and Mexico.
Tecnomar Yachts Specialist: Yacht Broker Alex Clarke – 954.763.3971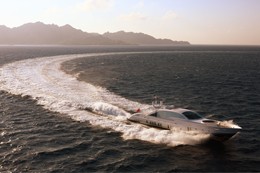 Established: 1987
Located: Italy
Construction: Five distinct lines in composite, steel and aluminum, a brand new sailing line, and a total of 19 models ranging from 60ft to 60m.
Category: Motor Yachts
Worth Noting: Tecnomar has launched over 270 yachts and has established itself as one of the leading Italian Shipyards producing superyachts with ground breaking design & build techniques.

In 2009 Giovanni Constantino, former CEO of a multi-national corporation & vocational yacht skipper purchased the entire shareholding in order to create a feasible, sustainable growth & development portfolio. Since Constantino took control, over 20m Euro has been injected into corporate growth & improving facilities and quality control making Tecnomar one of the most financially stable shipyards in Italy today. The end result is financial stability and client confidence that Tecnomar can deliver the best yachts on the ocean, at improved values, faster than the competition.
Giovanni Constanino might have implemented & completed a massive reorganization & restructuring plan, yet the company's history and founding values remain in tact.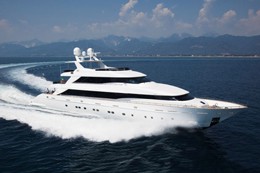 Today Tecnomar has new management with international & industrial backgrounds operating its renewed headquarters in Massa-Tuscany, located just North of the Italian mega-yacht center of Viareggio.
For the first time in the Italian yachting industry, the application of modern management & operations techniques to industrial processes allowed rationalization of design and production. The result is the quality remains in place while delivery time is shorter, and pricing represent the best value on the market today.
Tecnomar now offers five distinct lines in composite, steel and aluminum, a brand new sailing line, and a total of 19 models ranging from 60ft to 60m. Each build is customized for the individual client who can chose a variety of interior layouts, custom décor, & exterior paint.
Constantino states: "This is the Tecnomar strength today: branded yachts from the best Italian nautical tradition and the utmost innovative technology. A real 'revolution'".

Custom Made
Style, innovation, quality and elegance of Italian design are symbols of excellence worldwide.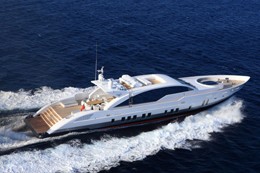 Our Yachts are pure Italian style, Italian quality and Italian elegance. It is the appeal of Italian style and Italian craftsmanship that we are proud to promote all over the world.
True works of art in which attention to details, harmony of the interiors and perfection of lines merge into one great feeling.

The Architects and the Interior Designers of the Centro Stile Tecnomar ensure the best design solutions and project proposals are offered to the Owner, combining functionality & quality.
The customization possibilities are endless so as to give maximum expression to the tastes and needs of the Owner.
Unique in the international yacht industry, we designate to each Owner a personal account manager who will follow them throughout the whole Tecnomar experience.
Know-How
Continuous investments in equipment and technology combined with the experience of a unique team of professionals offer unparalleled technical and industrial know-how.
Attention to environmental sustainability, eco-friendly technology, new concepts of naval architecture and innovative materials: Tecnomar is "green"
Engineering
Ours is a story of perfection. Accurate studies on hydrodynamics and engineering provide unique performance, extraordinary stability and the highest safety even in severe sea conditions.
Performance
Achieving the ideal balance between speed, comfort and consumption with total respect for the environment: this is our challenge every day.
We have always known that without great challenges there are no great results.
After-Sales
Our care for the Clients continues after delivery and follows them during their whole life onboard. We guarantee qualified, experience 24 hours a day, every day of the year.
Yacht Management
We offer fully customized Yacht Management programs with tailor-made plans for maintenance, assistance, crew management and chartering.