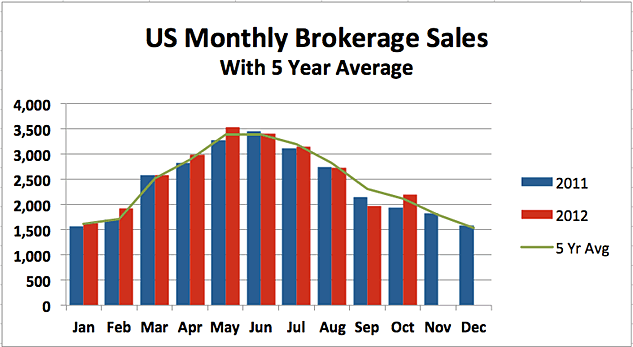 Yacht sales were up strongly in October 2012 for brokerage yachts in the United States, with 2,198 boats and yachts reported sold, a 13% increase over yacht sales reported in October 2011 when 1,937 new and used megayachts, powerboats, and sailboats changed hands between boat owners and sellers. Defying the usual seasonal trend in the industry, the yacht sales volume was also a significant increase over September 2012, when 1,962 boats were sold. According to YachtWorld member yacht brokerages firms reporting in SoldBoats.com, a jump in sales of powerboats and sailboats under 55′ was responsible for the majority of the increases.
Despite these gains, slower sales and lower average prices paid among boats over 55 feet actually lowered the total value of sales by 7% compared to October 2011, down from $259 million to $242 million. Sales of smaller boats, which represent the great majority of transactions, were $13.7 million higher, but among the relatively small number of larger boats sold, the aggregate price paid was down $29.2 million. Nonetheless, the total value of sales in October was higher than in September, August, or July.
Particularly notable is the fact that sales of boats in the high-volume end of the market—under 35 feet—were not only higher in October, but the boats were selling at higher average prices.
For boats under 26 feet, sales were up 6 percent, with 575 boats sold, and the total price paid was up 12 percent, at $12.5 million. The average price increased from $20,500 in 2011 to $21,700 in 2012.
Among boats 26 to 35 feet, sales were up 17%, with 879 boats sold, and an aggregate price of $47.1 million, up 23 percent. The average price paid rose from $51,000 to $53,600.
In contrast, the average price paid for a boat sold that was longer 56 feet declined from $1.9 million in October 2011 to $1.3 million. Large variations in price are normal among larger vessels, but downward price pressure still seems to be a factor in the higher end of the market.
Source: John Burnham, YachtWorld's Editorial Director