BREAD was built with the idea of combining the two worlds of the classic era yachting and that style with today's modern navigational technology and systems. Of the many special things about BREAD are the abundant areas you can entertain on board. From the massive on-deck amenities, huge galley, large dining area aft, down to the massive staterooms below. This is a really impressive yacht; every detail you'll see it when you're aboard. And now I'd like to introduce you to Charlie Nicklaus, my co-broker with Denison Yacht Sales and he's going to give you a thorough walkthrough.
We're going to start our walkthrough from the stern here. As you can see we have a very nice stern pasarelle, if you would like to dock stern 2 or we have a pasarelle entrance from the port and starboard side as well. As you board, you walk into the aft deck; this serves as the main dining area with seating for 8. As you can see, it is fully enclosed and air-conditioned. If you would like to you can open up the windows for some fresh air.
Forward to the port side, you have a wine cooler as well as refrigerator drawers. In to the starboard side, we have additional cold storage. As Andy mentioned earlier, it's a very modern layout. You begin to feel that as you enter from the aft deck into the galley. You start to notice the beautiful woodwork and the joinery that you will see throughout the entire boat.
Having the galley positions right next to the aft deck and dining area is very convenient because it makes it very easy for the stews to serve to the dining table and also you have the French door, so you can close it off if you would like some privacy.
Here in the galley are all the modern appliances that you're going to need. You have two Wolf ovens, 5-burner stove top, a Sharp microwave oven and Sub-Zero cold storage on board. As we make our way forward from the galley into the main salon, you will notice the beautiful woodwork. If you look above, the beautiful coffered ceilings are finished in the Pecky Cypress Wood. This is a great area to greet and welcome guests. It has a very warm feeling and makes you feel like you're in the living room at your home. As you first walk in, you have an intimate seating area for 3. And as we walk forward, you have an L-shaped settee. It is a great area to hang out with friends and family.
As we move forward from the salon, we are walking in to a foyer where you can either go upstairs to the pilot house or you can go downstairs to the crew quarters. Let's go check out the crew quarters. For any yachtsman, the comfort of the crew is very important. As you can see, the crew mess on BREAD is very spacious. You also have your full-sized washer and dryer in the space. To the port side, you have the captain's quarters and forward are the two mirrored crew cabins with over/under berths, and each have their own ensuite.
Heading up from the crew space, we're going to take a turn here and head to the pilot house. On the port side, aft of the pilot house, you have a nice settee. You have five, 21-inch screens and they're all customizable and you're able to put whatever you like on each screen. You also have your hydraulic balance turn thrusters as well as your Nyad stabilizers.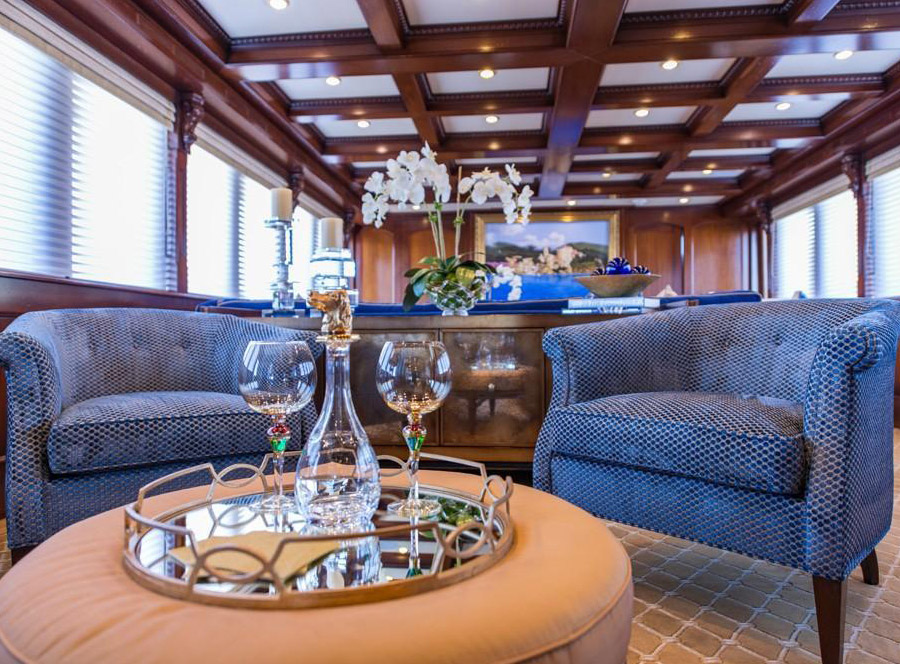 As we walk out from the pod house and crew quarters, there's a dayhead here on the starboard side. Let's go down and check out the lower staterooms. Here on BREAD, we have a 4 stateroom, 4 head layout. First, we're going to check out the master. As you enter the full-beam master, the joinery and final woodwork on the main deck flows through the lower staterooms as well. Here in the master centerline, you have a king-size bed. Forward on both sides, you have cedar-lined hanging closets. On the starboard side, you have this beautiful vanity. Across from there, on the port side, you have additional storage. Aft, you have his and her heads that are separated by a large shower.
As we leave the master, we walk into our first guest stateroom on the port side. In here we have another king-size bed. We have cedar-lined hanging closets, additional storage underneath the bed and forward is your ensuite. Leaving the port side, we're going to move forward and we're going to start with the starboard side guest stateroom. All guest staterooms have an audio-visual package with flat-screen TV and sound bar. Both of these forward guest staterooms are very similar to the last guest stateroom we saw. All have a king-size bed, cedar lawn closets and a very spacious ensuite.
We're going to move from the forward staterooms and we're going to head up to the sky lounge. As we walk up to the sky lounge, you'll notice you have a very intimate space. Forward, you have two flat-screen TVs as well as a fully equipped wet bar with plenty of cold storage. In the aft, you have two opposing settees that makes a great area to hang out with friends and family.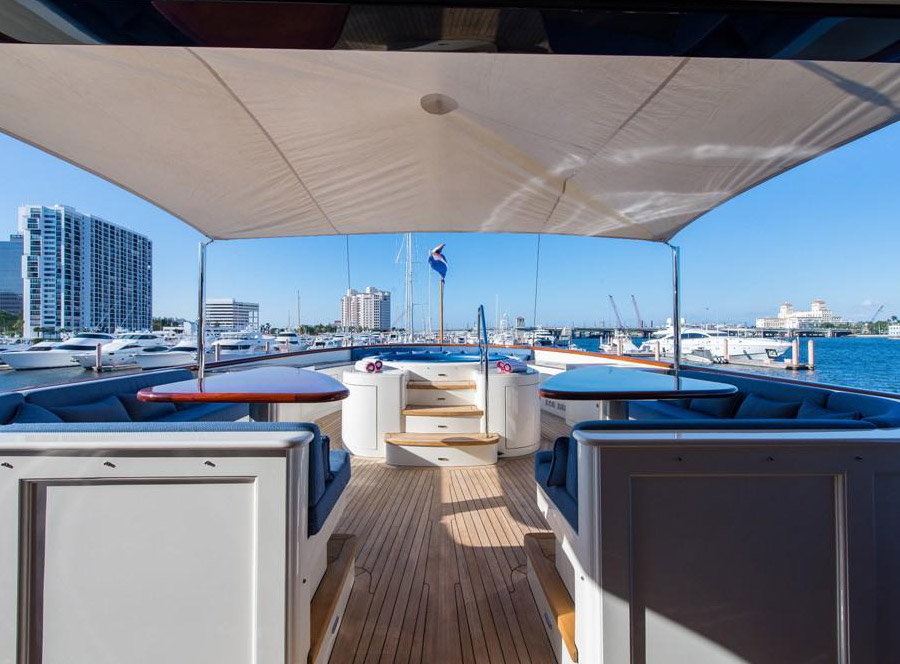 As we move aft from the sky lounge, we enter the sundeck. You will see opposing settees with high-low tables. Center line, we have Jacuzzi with seating behind, and here on the port side, we have a huge barbecue. As we move forward on the sundeck, we find our tender storage. Now these tenders you see here are not for sale with the boat. But it's important to know that there's a 5,000 pound capacity davit and it's built into the forward mast here. Just forward of the mast is a great area to catch some sun on these lounge chairs. On both the port and starboard side, there are wing stations for the captain as well as stairs going down to the main deck. If you come down the staircase just in front of the pilot house, you'll notice there's a seating area which is great for underway or moving into a new anchorage.
We've come down from the sun deck, now we're going to move forward to the crew space and check out the engine room. In the aft section of the crew mess, you will find access to the engine room. She's powered with Caterpillar C18s with 715 horsepower each. She's also equipped with two, 99 kW Northern Lights generators.
On behalf of Annie Miles and myself, I'd like to thank you for taking this video walkthrough of BREAD, the 137' Kanter. If you have any questions or would like to come see her in person, please contact us.