I'm Alex with Denison Yachting and today I'm going to take you through the 2010 150′ Richmond, named EXCELLENCE, that just completed a major refit at Lauderdale Marine Center. Some of you might already be familiar with the vessel from the past video that we did, so the purpose of today is to really show you some of the changes both internally and externally of the vessel as well as touching on some of the mechanical upgrades we did as well.
As I take you through the vessel, we're going to touch on some of the key upgrades that we've done. So what you're going to notice is in the main salon for example, all new furniture, all new carpeting throughout, exterior received a full exterior paint job, new teak decks where needed, varnish has been completely brought back to bare wood and redone; so a lot of major, major upgrades, hydraulic system was upgraded – so the list goes on and on and we're going to really focus on some of the highlights.
Today we're going to start the walkthrough on the aft deck. To me this is a really inviting space. You've got seating for up to 16 guests – all serviced by a full bar, high-low tables; you've got easy access down to the swim platform and we're also going to start noticing some of the highlights and upgrades that were done during the refit. For example, all of the varnish was brought back to bare wood with over 10 coats of new varnish supplied; teak decks were sanded with new caulking where necessary. One of the more subtle upgrades that you'll notice both on the main deck and the upper deck is that the overheads now have a matte finish. This really takes away the glare and allows guests to enjoy the view without having to deal with sun in their eyes.
And turning to the main salon from the aft-deck through the sliding glass doors, the first thing you notice is that there's all new furniture. To port you have a beautiful L-shaped settee and opposite that starboard you have a double sized chair with additional seating as well. One thing that I want to point out is that Richmond Yachts has done a really good job of creating a very livable inviting interior. What I mean by that is that here on the main deck for example, you have your aft area, great for lounging and that flows seamlessly into your formal dining and then when you want a little bit of separation with the touch of a button you have your high-low TV that pops up in the middle and below that you've got additional storage for your china and your cutlery on one side and all of your entertainment package on the other. The formal dining room, one of four locations to dine on board, has seating for up to 12 guests, a very elegant space with the gold leaf accents, inlaid burl wood, and for that silver service, you've got direct access to the galley through a pocket door to port.
The main foyer has direct access down to the guest accommodations to the skylounge or forward to the master suite. Passing the dayhead to starboard, two double doors give you access to the master suite. The full-beam master suite is clearly one of the highlights on board. When you first enter this space, you're going to pass through a sitting area almost like a library and then here in the living area you're going to see all the natural light that's coming in both to starboard and to port; centerline is your California king and then to port, you're going to have your vanity and then access to a cedar-lined walk-in closet. Master ensuite is highlighted by intricate Onyx stone work throughout. To port you're going to have a Jacuzzi tub, to starboard a steam shower – both with his and hers toilets and a bidet to port.
Continuing down on the central staircase, you enter into the guest accommodations foyer. Here you're going to have a little wet bar area with refrigerator drawers and sink, great for the stewardesses to be setting up for coffee or drinks for the guests in the morning. The guest accommodations consists of 4 ensuite cabins, 3 of which have king-size berths while the fourth has two full-size berths. The main difference between these cabins is that the two aft cabins have Jacuzzi tubs and a shower, while the forward two, only have showers. Assuring a high level of service onboard, the stews have direct access to the guest accommodations through a hidden door. This allows them to do heads and beds without ever being seen. The central staircase leads all the way from the guest accommodations to the main deck foyer all the way up to the skylounge. It's a great feature onboard and one of the highlights.
At the top of the central staircase, you reach the second deck. All the way forward on the second deck, you're going to have the wheelhouse, which is highlighted by two captains' chairs, centerline settee, 6 flat panel monitors, chart cable, little office, and then off to port, you're going to have direct access to the 6 cabin or the VIP ensuite, which also doubles as a captain's cabin. To starboard and to port, you're going to have direct access to the Portuguese bridge, which is going to lead you to the bow where you're going to have your ground tackle and two jet skis.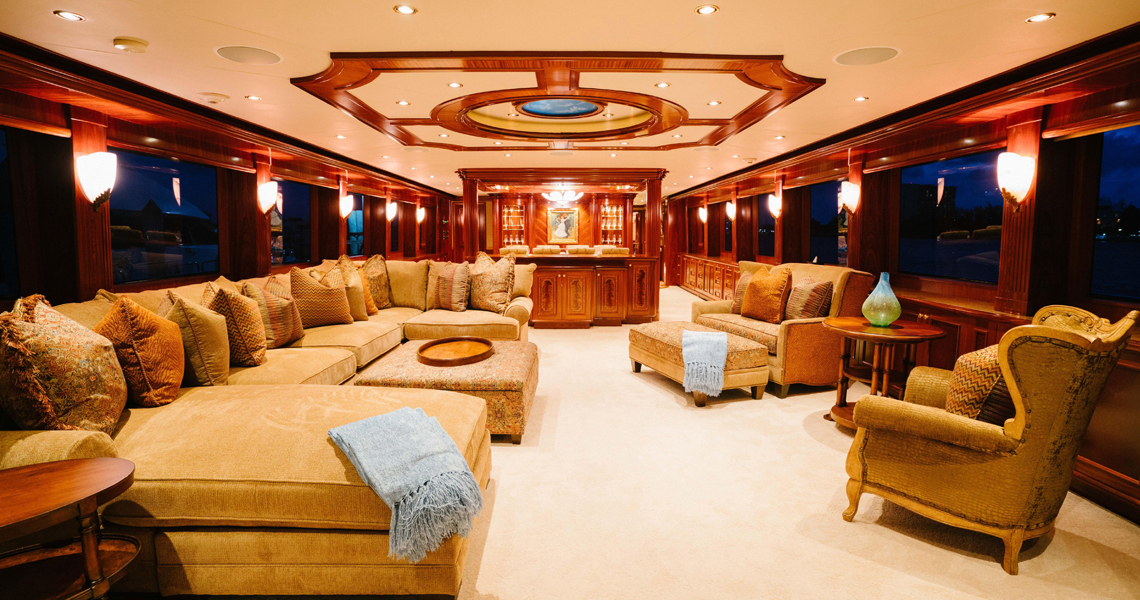 Heading back aft from the wheelhouse immediately to starboard you've got your dayhead and then to port you have a multi-purpose space that's currently being utilized as an office. And then you enter the skylounge, which is the most popular gathering place on board. To starboard you've got the largest bar on board featuring granite countertops, sink, additional wine storage, refrigerator drawers and a dishwasher, which is great for the stews. Opposite of the bar you've got a card table and then just forward of that you've got a little lounge area with two settees and two recliners. This is a great place for enjoying time with your guests. You've got a large flat screen TV here that has access to over 3,000 movies through the CollidEscape system onboard. You can also access this from the guest cabins, master cabin as well as all the exterior TVs.
Continuing aft of the skylounge, you enter your primary dining area onboard, not only is it alfresco but it's also a very casual space where guests can enjoy the view and just really spend time together. Currently there's a 17-foot Novurania on the boat deck. When this has launched, this space extends as an additional lounge area and to me is one of the best vantage points went underway or you can just sit here, relax, have a cocktail and enjoy the view.
Taking the stairs up from the second deck, we arrive at the sundeck. One of the reasons the sundeck is my favorite space onboard is because it's so versatile and essentially it's broken down into four different sections. All the way forward, you have your centerline Jacuzzi, surrounded by sunpads. Just aft of that, you have your alfresco dining. Centerline you have a full-service bar, flat-screen TV and opposite of that to port you have your dayhead and all the way back aft you have a multi-purpose space that right now is being used for some sunloungers, storage for the jet pack and then you can also convert it into a touch and go helicopter operations. While we're up there I want to point out some of the upgrades that were completed during the refit. You're going to notice all new cushions and pillows, brand-new Viking professional grill and of course all new exterior paint work both on the superstructure and on the hull. That's a big ticket item.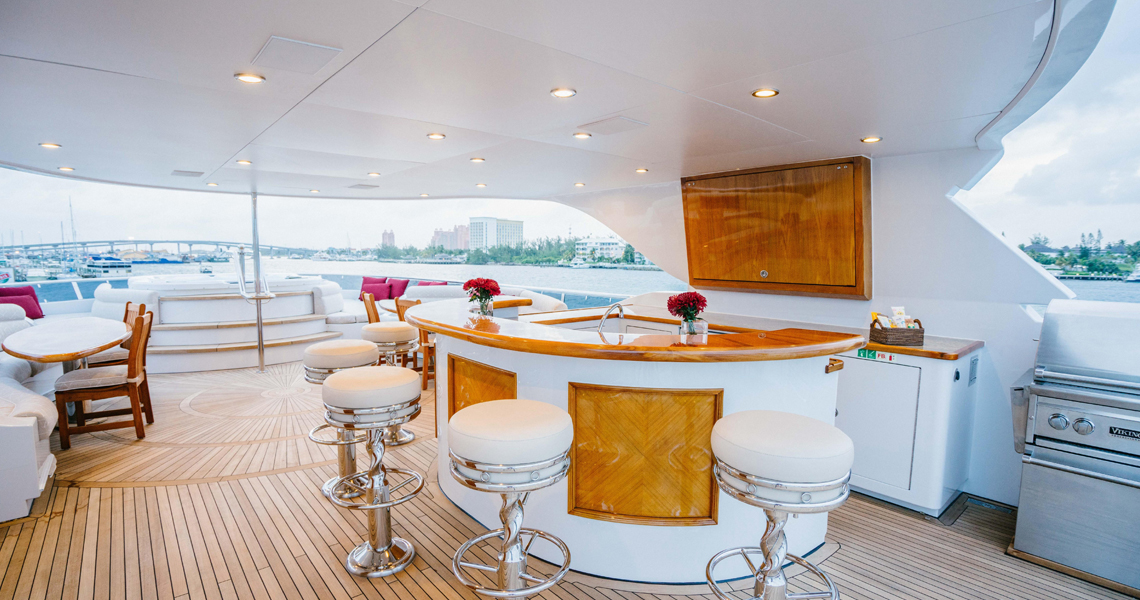 Jumping down to the swim platform, you have direct access to the engine room as well as two additional crew cabins. A highlight of the space is the size of the swim platform, which is twice as large as one you would find on a standard 150 footer. Entering the transom, you're going to have your crew cabins to port and starboard and then you're going to have the control room, which is located just aft of the engine room. Richmond has done a really great job with the layout here in the engine room. You've got great headroom, easy accessibility to your MTU engines, twin Northern Light generators and all of your major components. As part of our refit, EXCELLENCE completed her ABS survey as well as upgrading her hydraulic system with full service of all of her major machinery, including engines and generators.
I'd like to thank you for joining me onboard EXCELLENCE – the 2010 150′ Richmond. If you'd like complete details on the refit or to arrange a private showing onboard, feel free to contact me at any time.