When oenophiles and quaffers transform interior spaces to house increasingly outlandish wine storage solutions…
When the owner of 130-foot yacht ENDLESS SUMMER was forced to choose between a wine cellar or butler's pantry, he unsurprisingly gave the linen the heave-ho. The bespoke teak cellar — built to honor his passion for fine wines — holds 432 bottles, 60 magnums, and was incorporated in the interior design before the yacht began construction.
"The intention was always for the cellar to be a focal point given its location at the top of the stairwell to the bridge deck. It's most certainly on show," says Captain Tony Hodgson. Concealed lighting illuminates the labels he's collected from vineyards across the globe, including a 1996 Pinot Noir from Burgundy. Kicking back on the aft deck with a crisp Sauvignon Blanc in hand has long been central to the superyacht life, but the line between functional storage and sculptural design is becoming a little fuzzy.
"Wine is very personal. Many owners today want to make the selection and pouring of wine part of the superyacht experience," says Marc Jessing, head of yacht interiors at Lürssen. "When an owner sacrifices space on board for what's essentially a drink, they want to give it a huge amount of attention.
Aboard SEA RHAPSODY, a cool Chablis and a few New World Sauvignons are mainstays, though the owners have a preference for Italian white and oaked Chardonnay. Sparkling wine is limited to Moët and Dom Perignon in both white and rosé – "We have access to most other Champagnes quite easily, regardless of where we are," says Captain Cameron Moore.
The cellar has capacity for 405 bottles in the main fridge and a further 38 in the Eurocave fridge, which features a custom-built rack made from marine-grade stainless steel to avoid a varying temperature against the bottles. Though the cellar can accommodate magnums, nothing over 750ml is kept in stock, partly to optimize space for the main affair – Old World reds.
"The owner has a preference for reds to be within 10 or so years, so whilst we do have some beautiful old vintages on board, these are not necessarily the owner's first pick," says Captain Moore. "We carry most of the super-Tuscans in stock, as well as the big reds, such as Sassicaia, Masseto, Petrus and Rothschild. We also have a small selection of reds from Australia."
"We carry most of the super-Tuscans in stock, as well as the big reds, such as Sassicaia, Masseto, Petrus and Rothschild."
Examples of inventive storage solutions used to house such collections include 10-foot floor to ceiling, glass-fronted "wine walls" as found on Lürssen's TIS, and integrated display units that can be pulled forwards and upwards into the more decorated areas of the boat.
Aboard conversion yacht RAGNAR, there are three separate spaces entirely dedicated to wine, the largest being the main walk-in cellar, followed by a glass display cabinet close to the indoor bar and specific aging coolers for the more temperature-sensitive varietals.
"Decorative wine storage is now a prominent feature required by many owners," says Stephan Vitus, head of project development at ICON Yachts. "We're currently working on a refit project that holds one of the largest display cellars ever found on a yacht. Another owner requested a large glass-encased cellar to feature as a centerpiece in the middle of the main salon."
Such transparent designs can create issues around UV exposure and concealing the inner mechanisms, such as insulation, de-humidification and climate control measures, all of which are important factors in wine cellars. Jessing 50 — 51 disregards the need for cantilevered shelving to counter any onboard rocking motion – "The wine is consumed too quickly for this to affect its condition," he says – but aboard ENDLESS SUMMER, an air-conditioning expansion unit serves as a back-up should the main HVAC system shut down. Neoprene-lined shelves sit at a seven-degree slant to keep the corks in constant contact with liquid and the bottles "sea fastened". If it gets really choppy at sea, large panels of clear acrylic are placed hard up against the cellar wall.
The issue of noise is another factor to consider. "When wine used to be tucked away on the lower decks, the noise produced by the cooling system wasn't a problem," says Jessing. "But moving the cellar into the guest area means the noise comes too. It's not without its solutions, but it can be complex."
That said, it's not all about the mechanics. Canadian-based CellArt's custom-designed nautical wine cellars are more akin to bespoke artwork, with deep navy-blue lacquer casings and golden metallic inserts. Its tasting rooms serve as an oenophile's playground. Manufactured in-house, CellArt's solutions bring stylish storage spaces once reserved for private vaults and vineyard displays into focus aboard yachts and private jets, and owners are developing a real taste for it.
"The price point is always increasing," says Jonathan Primeau, founder of CellArt. "When we started it was about $2 per bottle space, but now it's averaging $2,500."
Each CellArt concept monitors 13 different elements, from noise and vibration to humidity and light, but clients' primary concern is aesthetics. To this end, its geometric sculptures, developed in partnership with artists Frédéric Cordier and Mathieu Beauséjour, travel far beyond the realms of storage and offer endless possibilities.
Cordier's artistic vision for his wine sculpture 'Fade Out' is a deconstructive interpretation of a traditional wine cellar grid that sees the uniform sequencing disturbed, resulting in a "total degradation of the pattern". Alternatively, 'Flux' by Beauséjour refers to the concept of a wave suspended in time: "I wanted to invest in the concept of repetitive circular motions and lines…the diagonals and rays are the structural elements of the cellar offering multiple possibilities to present and showcase wine collections."
For Primeau, it's about making a statement: "My approach to art storage is to flip it on its head. Instead of taking custom orders, we commission artists to produce bespoke works of art that need to be accommodated onboard the yacht. It's about finding a space to showcase the art, rather than fitting storage into an existing environment."
"It's about finding a space to showcase the art, rather than fitting storage into an existing environment."
---
Request a Copy [FRANK Issue 2]
From intelligent debate to cutting-edge science, and risky sports to surreal charter experiences, FRANK does not shy away from the awkward, controversial, or questionable details. Brazen at times, amusing in spirit, and always transparent in discussion, the focus is on discovering new angles and enjoying every minute. And, of course, always being 'frank' about the conclusions.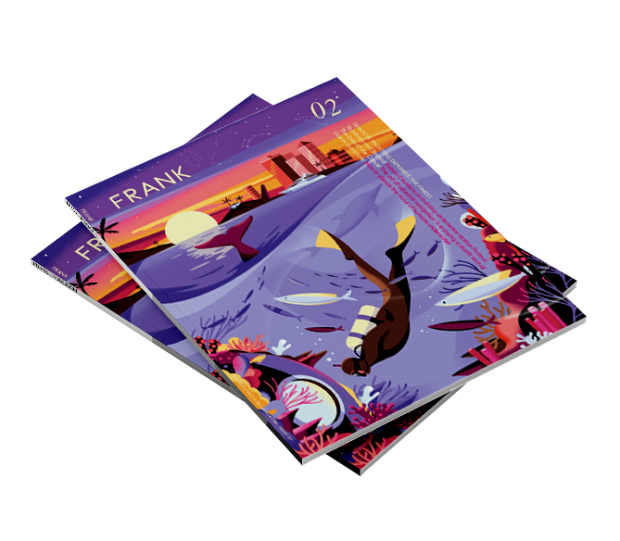 ---