When you bring your boat to The Bahamas, you find yourself in paradise. Now get ready to discover you're actually Somewhere Else.
Atlantis Marina is the number one spot to dock your yacht when cruising the balmy shallow waters of the Lucayan Archipelago. It's yachting's equivalent of arriving at the Pearly Gates, where everything your heart desires is available. For some, it's more than they can imagine. For others, the dream has only just begun.
Soon, you'll be able to dock your yacht, check-in for the night and wake to discover you're Somewhere Else, for that's the name of the first resort venture from David Grutman and Pharrell Williams, opening at Atlantis Paradise Resort in 2024.
Pitched adjacent to Atlantis (taking over The Beach), the resort is set to offer an immersive experience. It will blend Grutman's (founder of Groot Hospitality) ability to create memorable hospitality platforms with Williams' dynamic, genre-spanning artistry. The duo has already garnered collaborative success as partners on Swan, the Miami-based restaurant, and The Goodtime Hotel, a Miami Beach-based boutique concept. Now, Somewhere Else marks the next evolutionary step.
"Somewhere Else is going to be a one-of-a-kind resort," says Grutman. "Not only will it offer a major extension of the unforgettable and high energy experiences we deliver with Groot Hospitality, but also, a clear focus on nature and restorative elements. We'll have something for everyone, yet Pharrell and I are making sure Somewhere Else is unlike anywhere else."
The Atlantis Marina and Village already boasts designer shopping, seven-star dining and all-night entertainment. It hosts vessels of up to 250 feet, with zero bridge restrictions, high-speed fueling and full dockside concierge service, all within a protected harbor. And let's not forget the ocean[1]themed 62-hectare waterscape resort on Paradise Island with fresh and saltwater lagoons, pools, marine habitats, water slides and river rides. It's the ideal start or finish (and middle) to a dreamy island-hopping itinerary.
Atlantis Paradise Island is home to five properties including the iconic towers of The Royal, the family-friendly accommodations at The Coral, residential-style studios and suites at The Reef, opulent suites at The Cove, and water[1]side villas at Harborside Resort. It launched 25 years ago as a first of its kind. Taking its name from the legendary lost city of Atlantis, it is tied to a meaningful connection with the ocean, connecting its guests to the history, art, marine life, people, cuisine and festivities of The Bahamas, while underscoring environmental sustainability efforts.
Dolphin Cay, the resort's 14-acre marine mammal habitat, is a state-of-the-art education center and animal[1]rescue rehabilitation hospital. And in 2021, aligned with its commitment to sustainability, The Cove announced a partnership with niLuu to produce premium and quality vegan silk loungewear such as kimono robes, wrap tops, pants and shorts, as well as sleep masks and pillowcases. Available in a variety of deep and vibrant hues with a soft-brushed finish, typical of premium sand-washed silk, niLuu's vegan silk pieces are sustainable, biodegradable, 100% certified vegan and are designed to look and feel incredible.
Complementing the existing Atlantis amenities and offerings, Somewhere Else will feature over 400 guestrooms and suites alongside an array of vibrant, top-tier dining venues, lushly landscaped grounds, an oceanfront beach, multiple pools and recreation areas with luxury amenities and live entertainment. It's been described as bringing an "atmosphere of tropical modernism", with designs by Shawn Sullivan – of David Rockwell's global architecture and design firm Rockwell Group.
"Teaming up with David Grutman and Pharrell to further evolve the resort is an endeavor we are incredibly proud to be embarking upon," says Audrey Oswell, president and managing director of Atlantis Paradise Island. "We can't wait to share the Somewhere Else experience with new and returning guests, which will be amplified by the culture and warm Bahamian hospitality that can only be found at Atlantis Paradise Island."
Atlantis Marina is already the best-known yacht destination in the region, but Somewhere Else will deliver an all-new, immersive gateway to The Bahamas.
---
Request A Copy [FRANK Issue 3]
From intelligent debate to cutting-edge science, and risky sports to surreal charter experiences, FRANK does not shy away from the awkward, controversial, or questionable details. Brazen at times, amusing in spirit, and always transparent in the discussion, the focus is on discovering new angles and enjoying every minute. And, of course, always being 'frank' about the conclusions.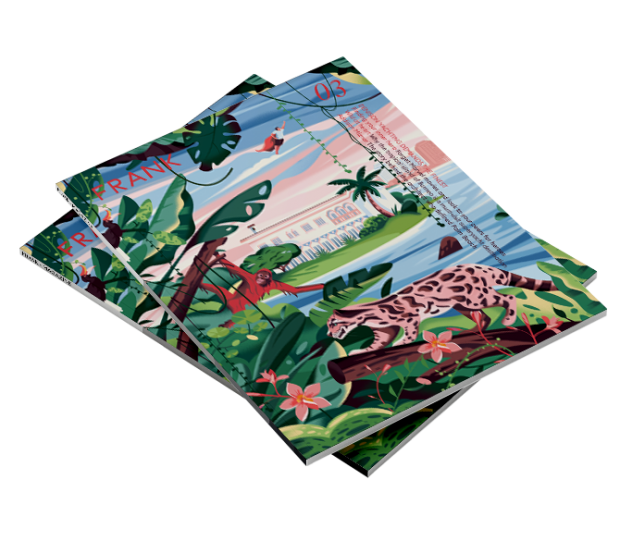 ---
For advertising inquiries in FRANK magazine, please contact Jen@DenisonYachting.com