I'm Juno Prudhomm with Denison Yachting. Today I'm going to take you on board this Sea Rover expedition yacht Argos marine 70 built in 2011. We're going to begin the tour on one of my favorite aspects of the boat – the flybridge. You're greeted by 360-degree views. This is where we're going to be hanging out a lot with your family and friends. It's a great gathering area. Aft on the fly bridge, you have your tender storage. To the port side, you'll find an anchor down freezer. And on the starboard side, you have an access to a grill.
Let's move forward into the living space. On either side, you have flanking settees where you can do most of your dining. On the port side, you also have access to a fridge. Here at the helm station you have all your electronics. You have two Garmin 5012s. You also have your hydraulic bow and stern thrusters, your auto pilot, tracks stabilizer controls and CAT engine displays. Let's make our way down to the aft deck.
Similar to the flybridge you're greeted by a nice dining area that's also covered by this hardtop. You have beautiful woodwork here at the table as well as the cap rails that run along the side deck. Centerline, you also have your secondary engine room access and to starboard we have additional storage.
From here, we can access the swim platform either port or starboard but we're going to come back to that later. Moving forward you're greeted by one of the key features on this boat, which is a Portuguese bridge. Just forward from here we have a sunpad. This is a great place to hang out while you're under way or at anchorage.
Here we are in the salon onboard Sea Rover. We have big windows that let in a lot of natural lighting. You have light woodwork throughout the floor and dark woodwork throughout the cabinetry that gives you a nice contrast. Aft in the salon, I like to think of this section as my bar area.
On our port side, we have a fridge and a lot of storage for our glassware. Going to starboard, we have a mini bar that's also equipped with an ice maker. Moving forward, we have our L-shaped settee that faces our flat screen Samsung TV. Another great feature here is this coffee table that swivels out that gives you more surface area.
Continuing a theme of big windows moving forward into the galley you'll see we have another one here. Here in the galley, you have all the appliances that you need – stand-up fridge, you have a 4-burner cooktop, microwave convection oven, double basin sink, dishwasher as well as a fridge on your port side.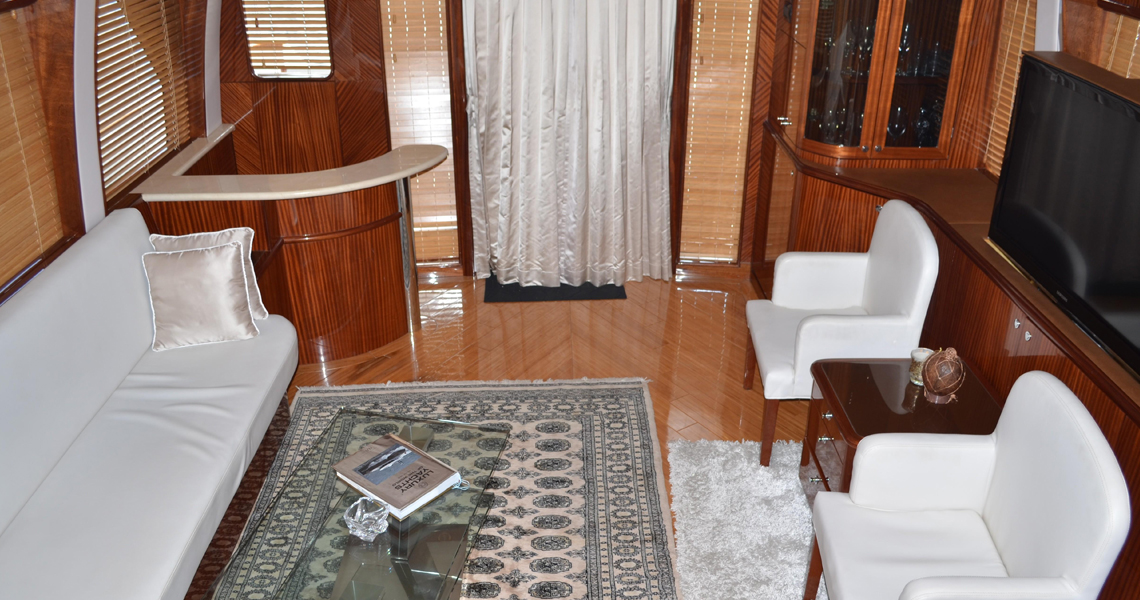 Moving forward from the galley on the port side we have a dayhead, let's continue forward and go into the pilothouse. Here in the aft section, we have a nice settee. It's close to the galley so it makes another ideal location for a dining area or you can just hang out with the captain.
Here we have access to the flybridge. Both port and starboard we have doors that give you access to the side decks. Here at the lower helm station you have two Garmin 5015s, you have your hydraulic bow and stern thrusters, autopilot, pretty much everything you saw up on the flybridge.
Let's make our way down to the staterooms. We're here in the master. The high-gloss finish that you saw in the salon also is in all the staterooms to give you a nice comfortable feel. To port, you have your settee. To starboard, you have your vanity, also access to your ensuite. Forward of the master to starboard is your guest stateroom, which is also ensuite.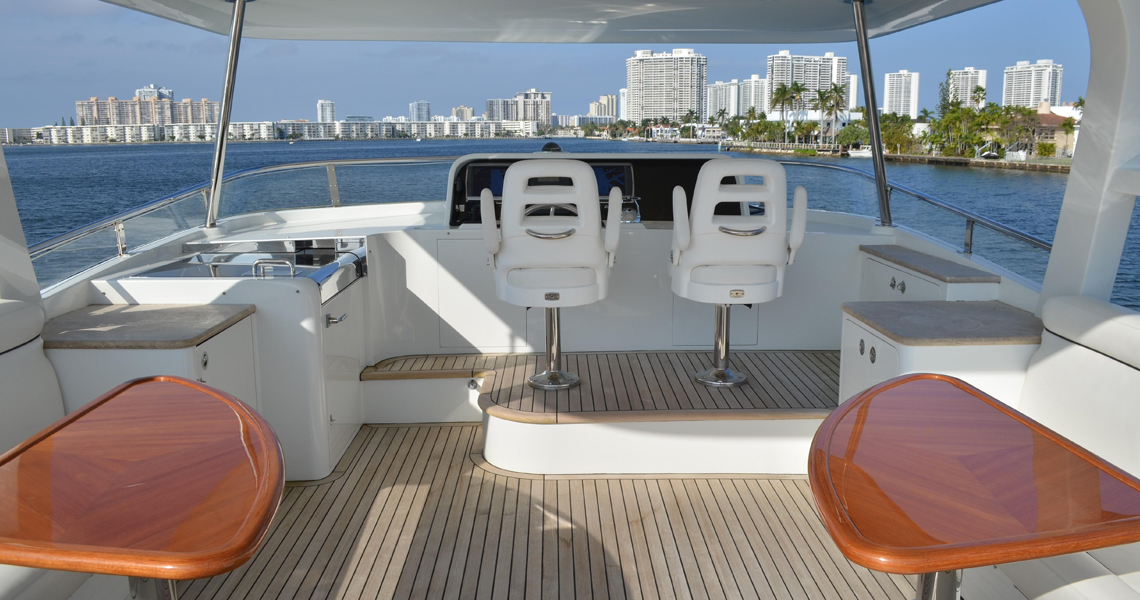 Forward in the bow is your VIP stateroom. We're going to move to the stern and explore the crew quarters and the engine room. Sea rover is powered by CAT C12s, giving you 750 horsepower each. You also have twin 28 kilowatt generators on board. It's going to give you a comfortable cruise at 12 knots and should top out at 17 knots.
Thank you for taking the time with me onboard the 2011 Argos 70 located here in Aventura, Florida. If you have any questions or would like to set up a private showing, please feel free to contact me anytime.