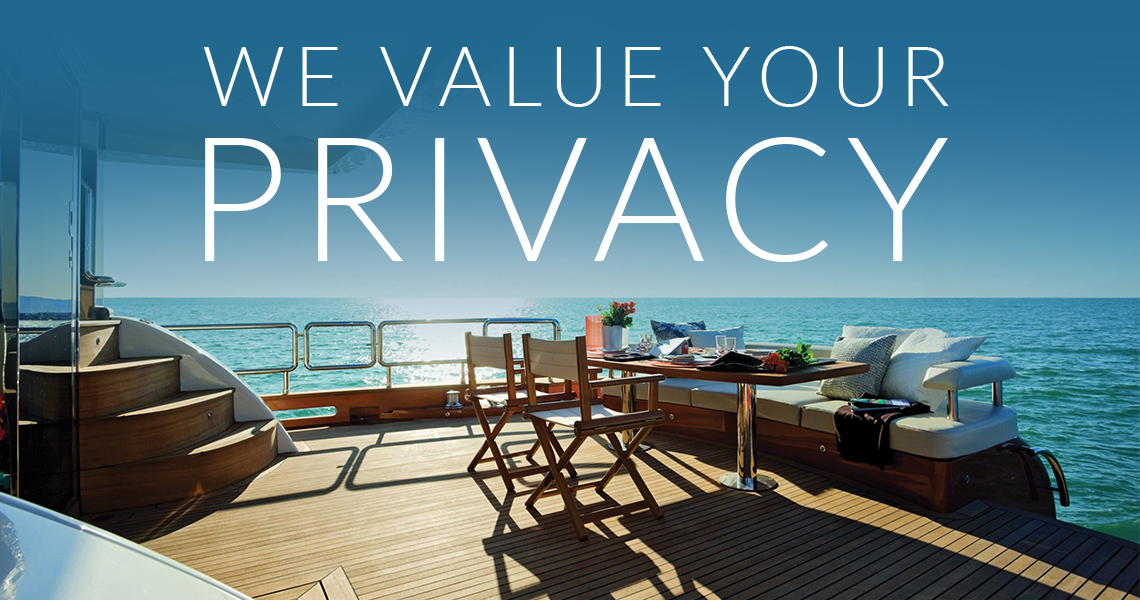 PRIVACY + DATA POLICY
Denison Yachting respects your right to privacy. This Privacy Notice explains who we are, how we collect, share and use information about you, and how you can exercise your privacy rights. If you have questions about our use of your information, please contact us using the contact details provided at the bottom of this document.
Who is Denison Yachting?
Denison Yachting is a company involved in many aspects of the industry, including yacht brokerage and new boat sales, yacht charter, crew placement and service. We have more than 20 brick and mortar offices in the U.S. and employ more than 100 brokers and support staff. Denison is headquartered in Dania Beach, FL at Harbour Towne Marina.
Personal Data We Collect
Denison collects data to operate effectively and provide yachting clients with the best experience.
Some of this data will have been provided by you, such as when you submit a Market Update inquiry, subscribe to our mailing list, purchase a boat, register for an event, visit us at a Boat Show, or contact us for support.
We'll also get some of the data by recording how you interact with our products and services, for example, using technologies like cookies on our web site.
You have choices about the data we collect. When you are asked to provide personal data, you may decline. But if you choose to provide information that is necessary for us to provide a service like Market Updates, we will always use your information responsibly to help you with your request. The data we collect can include the following:
Name and contact details: We collect your first and last name, email address and phone (optional) from most of our online forms.
Device and Usage data: We collect data about your device and how you and your device interact, mainly through Analytics. For example, we collect:
Usage data: We collect data about the features you use, the items you purchase and the web pages you visit. This data includes text queries with our bots or customer service team.
Device, connectivity and configuration data: We collect data about your device and the network you use, including the IP address.
Content: We collect information on the content you engage with on our sites and via our marketing communications. This includes: The pages you visit; How you interact w/ these pages; as well as the emails you open and click on.
When you contact us, such as for customer support, phone conversations or chat sessions may be monitored and recorded.
How Does Denison Keep Personal Information Secure?
We use appropriate technical and organizational measures to protect the personal information that we collect and process about you. The measures we use are designed to provide a level of security appropriate to the risk of processing your personal information.
With Whom Does Denison Share My Personal Information?
We will not sell your personal data to anyone. We may share your data with partners who provide us with services to properly help with your needs and/or as verification as needed. These partners do not use this data except to provide you and us with services, and agreements are in place so they do not sell this data to any other parties.
International Data Transfers
Your personal information may be transferred to, and processed in, countries other than the country in which you are resident. These countries may have data protection laws that are different than the laws of your country.
Our servers are hosted by Amazon (AWS), and our companies, service providers and partners operate in the U.S.
Data Retention
We retain personal information we collect from you when we have an ongoing legitimate business need to do so (for example, to provide you with a service you have requested or to comply with applicable legal, tax or accounting requirements).
Your Data Protection Rights
You have the following data protection rights:
If you wish to access, correct, update or request deletionof your personal info, you can do so at any time by contacting us using the contact details provided under the "How to contact us" heading below
You can object to the processingof your personal information, ask us to restrict processing of your personal information or request portability of your personal information. Again, you can exercise these rights by contacting us using the contact details provided under the "How to contact us" heading below
You have the right to opt-out of marketingwe send you at any time. You can exercise this right by clicking on the "unsubscribe" or "opt-out" link in the marketing e-mails we send you.
If we have collected and processed your personal information with your consent, then you can withdraw your consentat any time. Withdrawing your consent will not affect the lawfulness of any processing we conducted prior to your withdrawal, nor will it affect processing of your personal information conducted in reliance on lawful processing grounds other than consent.
You have the right to complain to a data protection authorityabout our collection and use of your personal information. For more information, please contact your local data protection authority.
Updates to Privacy Notice
We may update this Privacy Notice from time to time in response to changing legal, technical or business developments. When we update our Privacy Notice, we will take appropriate measures to inform you, consistent with the significance of the changes we make. We will obtain your consent to any material Privacy Notice changes if and when this is required by applicable data protection laws.
You can see when this Privacy Notice was last updated by checking the "last updated" date displayed at the top of this Privacy Notice.
How to Contact Us
If you have any questions or concerns about our use of your personal information, please contact us using the following details:
The data controller of your personal info is: Denison Yachting, located at 850 NE 3rd Street, Dania Beach, FL 33004. To make a privacy inquiry email: Inquiries@denisonyachtsales.com or call (954) 763-3971.
Updated: May 25, 2018