Hello, my name is Tom Hugh-Jones with Denison Yachting and today I'm going to show you a 1953 De Vries Lentsch 68-foot motor yacht, DAKOTA.
DAKOTA was designed by famous naval architect Ed Monk and then built in the De Vries Lentsch shipyard in Amsterdam. Most of those Dutch shipyards were taken over by fed ships. So you'll find the design very similar to fed ships of that era.
This motor yacht was built of quarter inch steel. The previous owner replaced about 70% of that in Hansen yachts in Seattle in 2004. He spent about a half-million dollars doing so and we've just had an ultrasound done of the hull and it's in great shape.
The boat has two anchors and then up on the bow here you'll see this horizontal windlass that'll hold up 300 feet of chain on each side. Behind the windlass these two hatches go down into the forward cabin. On either side of them, are separate storage hatches. And each of these port lights was custom chromed with nickel and fastened with these Robertson screws. The teak deck has been cleaned and treated and because she's a steel-hulled vessel there's not a single screw in it.
Walking back there are side deck port and starboard that bring you to the pilot house. After the hull refit was completed in 2004, the boat was then purchased in 2005 by famous Malibu interior designer Michael Lee. He then spent another million dollars on a complete refurbishment. The most notable part of the refit was an extension of the flybridge which then opened up all the space below for the salon. The salon has L-shaped seating the 6 on the portside and beautiful teak throughout. It's the work of a fine shipwright. Under foot is this woven matting. It's comfortable and insulates the sound. It makes a change from the usual carpet. Overall this is a full beam salon that is spacious, light and has a lovely vintage charm.
Adding to the timeless charm of this boat is this elegantly crafted cockpit in the canoe stern. One of the benefits of a canoe stern is it effectively acts like a bow but in a following sea. The level of joinery here is wonderful. You can see the quality of craftsmanship, the brass, the Samsun post, the lettering in the teak – all done to the very highest level. One especially nice touch is this table. It's stored vertically here and when pulled out reveals it's mirror, which gives you a reflection of the ocean. With the table stowed you can see this door that gives you secondary access to the master stateroom. So at the end of a long day, you can retreat to your bunk. Of course when I say bunk, what I actually mean is this beautifully crafted double bed. And if you look at the starboard side of the cabin, you'll find this cabinetry and the same beautiful woodwork; solid teak in the hands of a master shipper. While on the port side is a sofa. Of course the master stateroom has private access to an ensuite head with a jacuzzi tub. You can see the high quality fittings that manage the both modern and classic. Forward is a second head with a separate shower stall. Over to starboard is this guest cabin which will be a great space for an Irish Wolfhound or a salty sea dog.
Coming up from the lower deck brings you into this cabin which could be used as a dining room or an office. It also contains this very nice NAD stereo system in the cabinet over here. There are windows running full length both port and starboard which drop down in the center to provide cross-breeze ventilation. Underfoot is this carpet which is very nautical and beneath that a classic Teak & Holly Sole.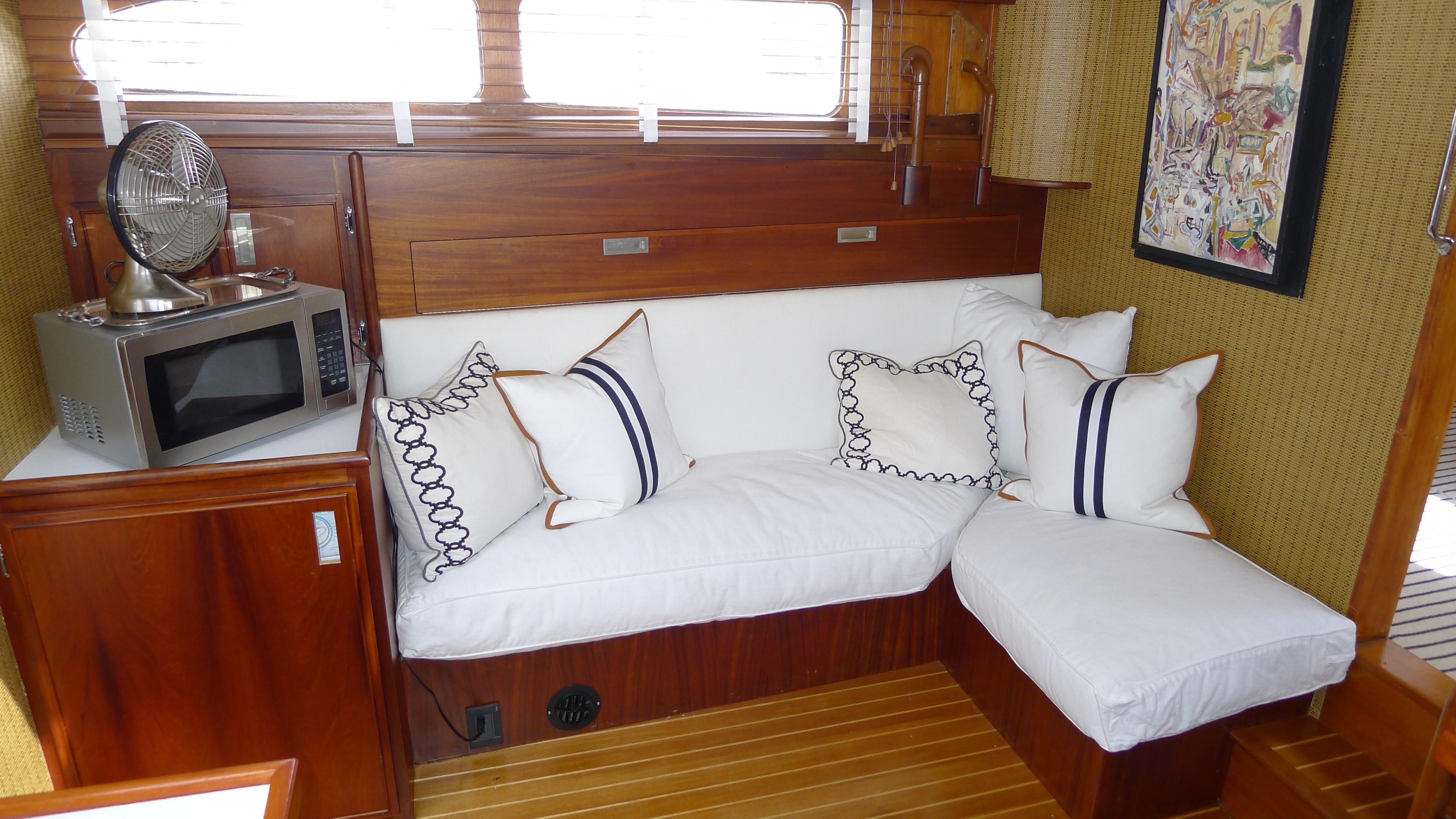 Opening this hatch gives you access to the engine room, which we will revisit later. Forward of the dining cabin is the ship's galley which is fully equipped with this Viking range, Miele dishwasher and two sub-zero fridge/freezers. It also has a sofa on the port side so you can keep the chef's company, a plenty of storage in these cabinets. There is also a Splendide washer/dryer.
Finally in the very bow of the boat is this third stateroom with two guest berths. This is not actually a steam room; it's another head which is currently being used for storage.
Coming back to the upper deck brings you to the pilot house which has been reequipped but her heart remains as it did in 1953. At the center is this original ship's wheel – solid wooden brass. On the starboard side of the helm, you have the throttles and transmission, side power bow thruster and a Simrad auto pilot. Flank in the wheel, are these traditional engine stop/start buttons. Above the wheel is this handle to rotate the spotlight. On the port side is a Raymarine 120 and these two traditional chart tables.
Below are control panels for two Northern Lights generators, 12 kW and 5 kW which is plenty of power to run this boat. When you're not on generator, you can switch over to shore power. Dakota is powered by a pair of Detroit Diesel 6-71 natural engines that were both rebuilt in 2005 as part of the restoration. These engines will run the boat at around 8-knots with a fuel burn of about 4-gallons an hour.
On the starboard side of the pilothouse, this ladder takes you up to the flybridge. Up here you can appreciate the extra space the extended bridge provides. It's uncovered for now but there is a frame for a Bimini should you desire one. Back there is a 13-foot zodiac tender powered by a 40 horsepower Honda outboard. And notice there are davits both port and starboard, so it's easy to launch on either side.
A couple of other points to note, we hauled DAKOTA out for bottom paint in May 2019 and had a survey done at the same time. It shows she's in great shape for classic. So there you are 1953 De Vries Lentsch 68-foot motor yacht. Steel hull, classic lines, vintage beauty.
If you'd like to know more about DAKOTA or take a look at her yourself, call me. I'm Tom Hugh-Jones, Denison Yachting.