Explore SIMON SAYS, an 86′ Outer Reef Yachts 2017 motor yacht for sale in Vero Beach, Florida. Ryan Alexander gives a personal tour of this vessel.

Good morning from Vero Beach Florida, my name is Ryan Alexander here again to take you on another walkthrough of one of our latest listings, this one goes by the name of Simon Says. She is an 86-foot Outer Reef deluxe bridge motor yacht.
Built in 2017 Simon Says has a traditional motor yacht look and layout with expedition yacht capabilities. This boat was designed to take you places. It's in the DNA of Outer Reef. This is a builder that manufactures all of their boats in open ocean category A. This designation entails wave heights of 18-feet to 20-feet and sustained winds of over 40-knots. This 86-foot masterpiece hurdles a bar that most builders would never dare attempt to clear.
The most distinctive feature of this yacht as you can tell by the name of the bottle is her deluxe flybridge which we might as well just call a Sky Lounge. In here you have a perfect medley of comfort and control as this space joins the captain's helm with the owners lounge. Another effect of an over built yacht like this is spelt the second that you step inside. In all, Simon Says pumps out 14-tons of air-conditioning making easy work of even the hottest conditions. 8-guests can travel within comfortably in the 4-guest staterooms found below decks, each a perfect fit for everyone in the family.
Tying this yacht together is a country kitchen galley of which you can see the entrance over my left shoulder here. It's the perfect point of intersection between the guest accommodations, living area and the wheelhouse. The whole family can gather in here for hours as you make your memories on the hook. Features like these provide all of the benefits of a 100-plus foot vessel. Open comfortable spaces to drift off in and seagoing capacity beyond belief are what make the 86 Outer Reef a true blue water cruiser.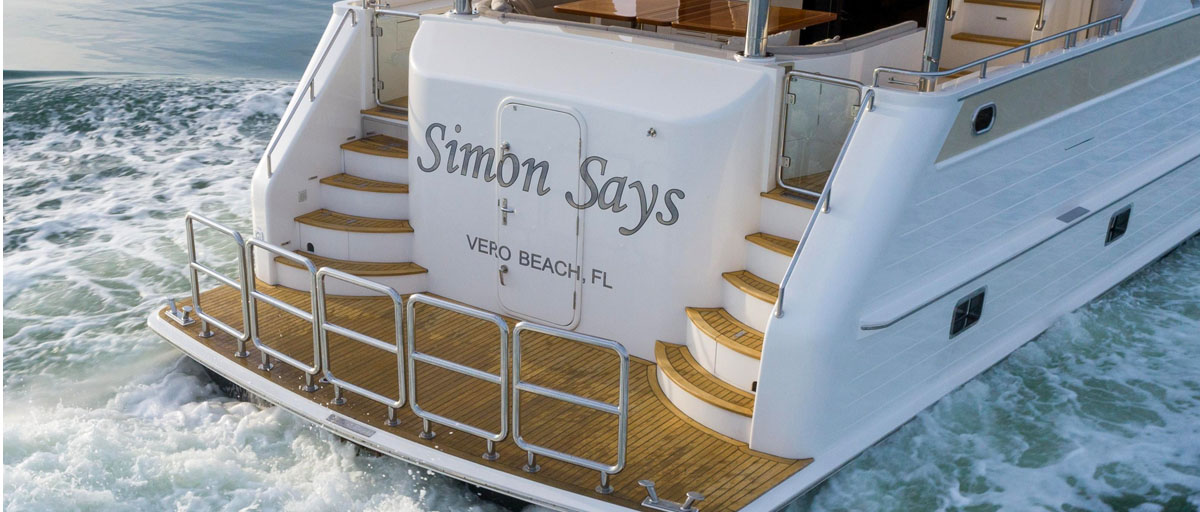 She's powered for fuel economy and designed specifically to do the great loop. And I, along with Mike Kiely, this yacht's broker would like to welcome you aboard. Mike is the listing broker for Simon Says and I hope that you're lucky enough to work with him. He's a straight shooter that loves life on the water more than anything. That enthusiasm has taken him all over the world as a broker and a sailor and it even landed him on ESPN racing jet skis. He has the insight and spark that makes the difference in the buying and selling process.
Let's start today's walkthrough on the boat deck of Simon Says. Seeing is the entire point of this yacht is the distance that she's been designed to span. Her having a great tender setup should be obvious. After Simon Says gets you where you're going, her 15-foot AB tender is what you take to shore.
Aft we see the davit that launches and retrieves the tender which is stored just forward on the port side. You see an additional set of chalks just forward that can accommodate a Jetski. As you might imagine, it would be incredibly easy to host large groups of people up here when the water toys are absent. And for those nights that you are serving guests, there's an open BBQ area forward on the starboard side. In all, this area features a stainless sink, a 30-inch SeaStar gas grill and a concealed fridge.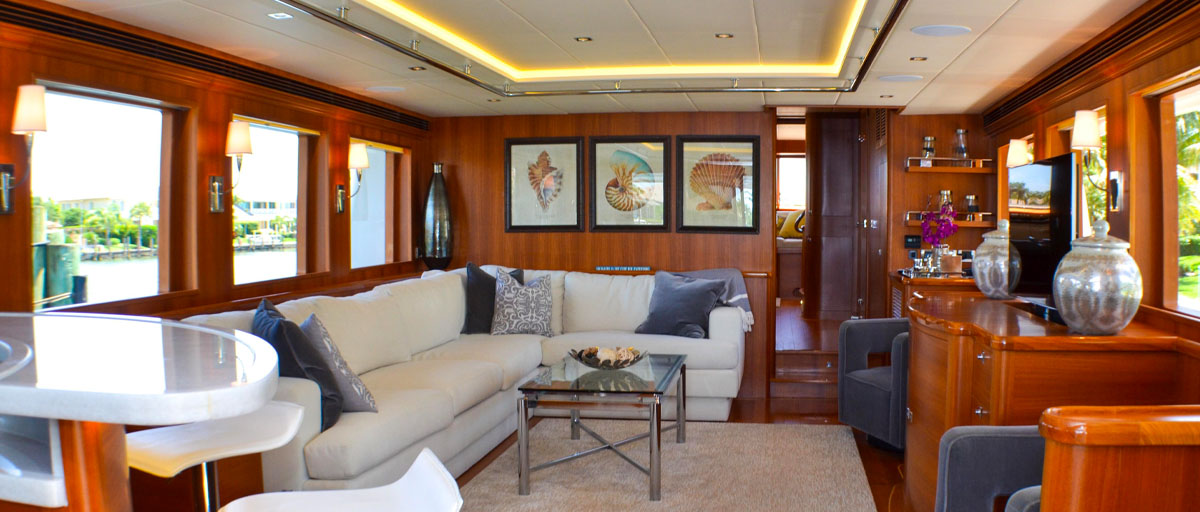 Opposite to port are two large storage compartments. Outboard and built into the storage is a hookup for a wing station. This gives you complete control of the yacht without the requirement of being in the wheelhouse. Just aft is a polished ladder that offers the owner and captain access to this outer reefs hardtop.
Centerline are her short and long range radars in an outboard of these are KVH satellite domes that provide this yacht with Wi-Fi, phone and TV service. Directly forward are these solar panels that aid and recharging the DC circuit when you're at anchor. And then also note the number of skylights that you find up here. These let in natural light and fresh air into the skylounge and flybridge found below.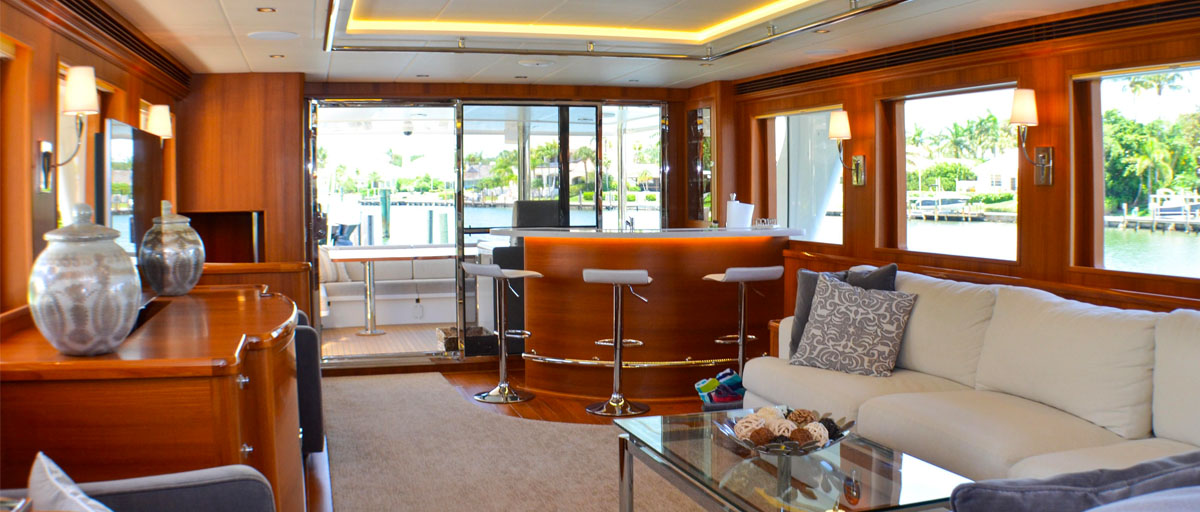 This area is our next stop the 86th outer reefs deluxe fly bridge is the coolest part of this yacht. Not only are there windows surrounding this area providing guests with spectacular views but it's loaded with all sorts of creature comforts. Take for example, this expanded bar area over on the starboard side. Finished with stone countertops, this bar gives you every reason to stay up here without the need for going down into the galley below. In this area there's a sink, icemaker, a pair of fridges below the countertop, there's even a coffee and cappuccino maker.
Forward of the bar is a TV, perfectly positioned for movie marathons sprawled out on an L-shaped couch. Forward of the couch we step off of the carpet and on to hardwood flooring as we come to a desk. I love the placement of this because it can be used by both the owner and the captain instead of having two separate workstations.
This brings us to Mission Control – the helm. A pair of fully adjustable stidd helm chairs faced one of the most well equipped helms on the water. In order to meet the manufacturer's demands the engineering team went to work on creating a distraction free environment from which to run the yacht. A by-product of this are her superior ergonomics and thoughtful instrument placement. You know this area means business because it has three bridge command 24-inch multifunction displays that tie in all of the yacht's navigation systems into one place. A few other items have note up here is a searchlight control, bow and stern thruster joysticks as well as anchor controls. Directly in front of the wheel is a cat engine monitor with engine controls just beyond. Outboard into starboard is an autopilot control, a Furuno RD-33 data display in the set of stairs that lead down to the galley. Just aft of the staircase is the dayhead for her deluxe flybridge. In between the dayhead and stairs is one of the two watertight doors that open up onto the yacht's Portuguese bridge that wraps completely around the front side of the wheelhouse. Up here the captain has a hookup for a wing station control and an unobstructed view of the foredeck.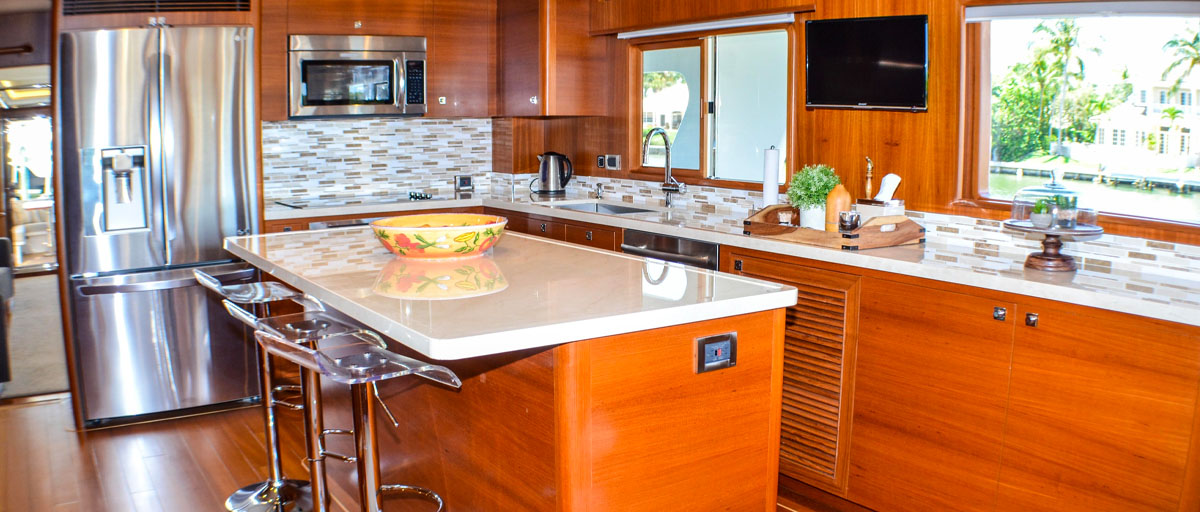 Directly below the Portuguese bridge is another walk-around bridge. Side decks follow both sides of the yacht forward and converge at the yacht's foredeck. A molded gate grants crew and guests access to this Outer Reef's ground tackle and seating area. The seat that we find up here can be hidden away when not in use and it's helpful to have the extra space.
To port and starboard of this molded bow are a pair of fender storage racks. These racks are part of the proof that you can run this boat yourself with limited crew and that Outer Reef has taken some of the stressful steps out of the docking process. Forward and centerline is a Maxwell windlass setup with twin stainless anchors.
Now let's jump from one end of the yacht to the other and break down her swim platform. Five removable stanchions close this area in an accent the underappreciated size of this teak platform. The Euro style transom with stairs on both sides of the yacht has all of the characteristics of a globetrotting vessel. Next to the stanchions you've got bulky cleats for tying off your tender overnight after a long day of exploring the shoreline. And then to light this area up at night, as you tie off that tender, there are floodlights integrated into the aft deck hardtop. At the end of the day after the last lines are tied and the boat is washed down, the crew pass through a watertight transom door to an area that's entirely theirs. As you may expect with any conscientious builder the crew area is remarkable with the same finishes as the guest staterooms. The first of two crew cabins is found to port with a wet head. There's also a large freezer found in here.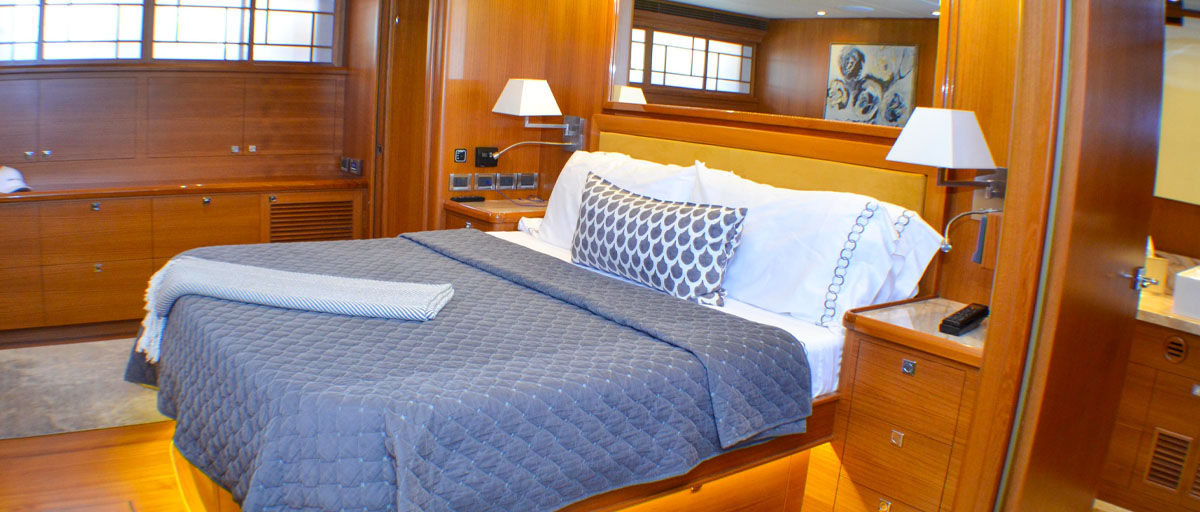 Across the hall to starboard is the captain's quarter which also has an ensuite with shower. Forward of the sleeping quarters is the crew lounge with a dinette and a galley. For appliances, there's a cooktop, a microwave and a refrigerator.
Just outside of the engine room entrance are two important aspects of this space. The first are the yacht's breakers and battery switches. And the other is found at the foot of a staircase we'll cover later, the first of two laundry centers. Now let's step forward from the crew lounge and make our way into this yachts immaculate engine room.
Powering Simon Says are twin CAT C18 engines that generate a combined 2280 horsepower. If you look forward to the engines in outboard, you'll see her track zero fin stabilizers. Aft in the engine room are a pair of 38 kW Northern Lights generators, more than enough to power this yacht. She cruises along steadfast between eight-and-a-half and fourteen knots. When out in open water and on the pins, she sees speeds of around 20-knots. When moving at her slow cruise, this yacht has a range of 3000 nautical miles on 3500 gallons of fuel.
Let's pick back up on the main deck aft. The main thing that I love about the aft deck is how obviously stout this design is. Generally this space would have more of an open flow but what Outer Reef accomplished by building in such a large dinette is that it cuts down on the effects of the wind significantly. Outboard of the dinette to each side is a capstan and a heavy-duty cleat that can be concealed. These are each just aft of a boarding door.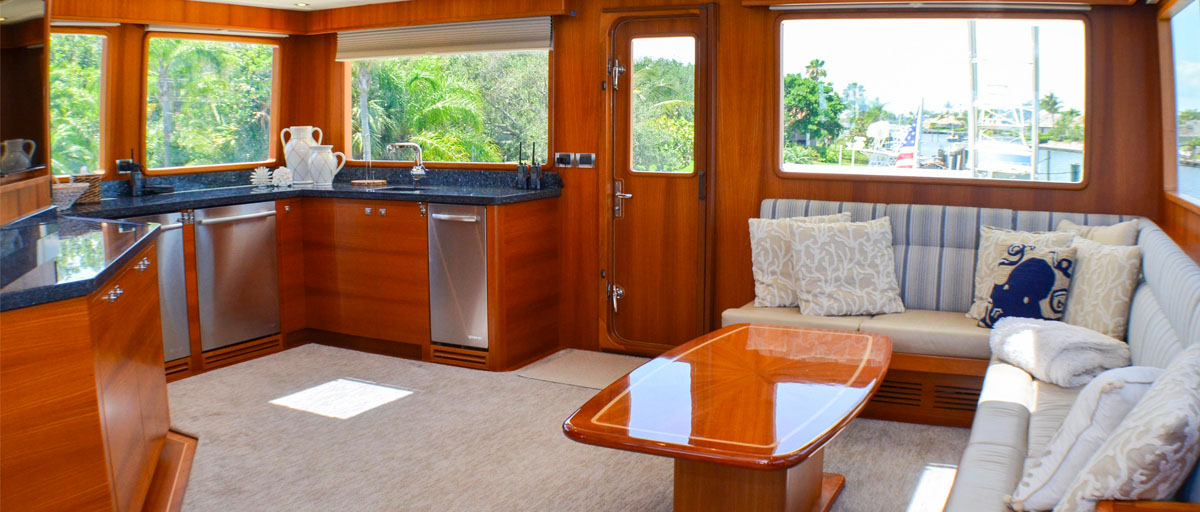 Forward on the portside is cold storage that ensures this area will always be stocked with cold drinks and snacks. Another great feature that you may not expect is that this area is also air-conditioned. To starboard is a staircase with teak treads that connects the aft deck and the tender deck which is where we started today's walkthrough. We've also pointed out the side decks but also notice that there are access doors to close this area off. This adds a surprising amount of control over wind flow and the noise back here.
A floor-to-ceiling glass door glides open as we step into the salon of Simon Says, the most calming and livable space on board. There are plenty of nooks in the salon that endear this space to guests, primarily an all to accessible bar found in the port aft corner. It's perfectly positioned for servicing both the salon and the aft deck. It's equipped with a stone bar top, a stainless sink, an icemaker and storage. Forward of the bar is where you'll end most days, where you'll finish good books and where you'll make your way through Netflix on the salon's Samsung Smart TV. The TV hides away electrically; giving the salons understated appeal a showroom like sharpness. After the TV, on the starboard side, is a set of stairs that leads down into the crew area where we saw that first laundry Center.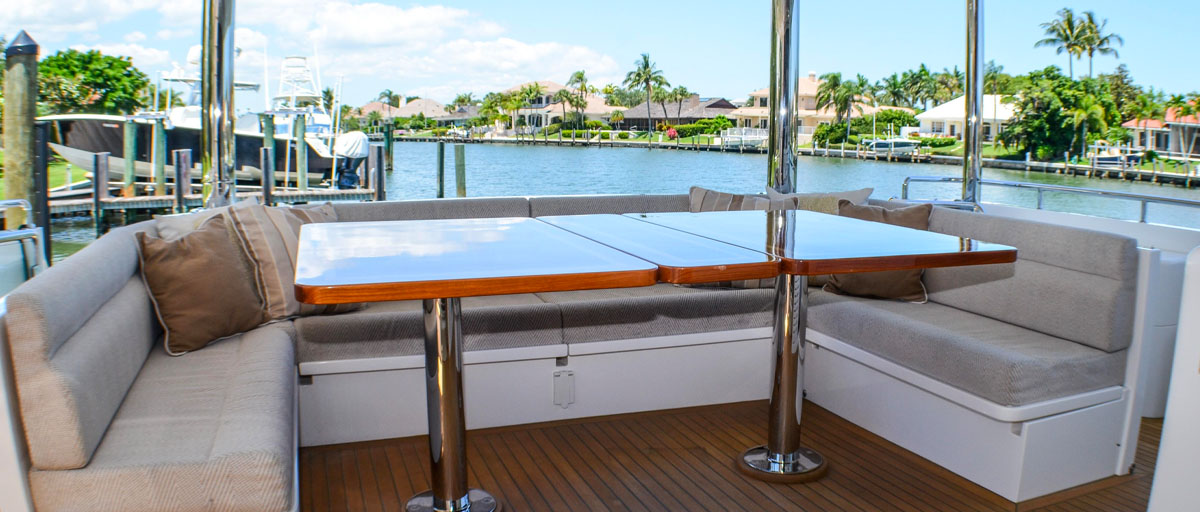 I love what Outer Reef does with the salon's overhead. Here we see a centrally located rectangular grab rail mounted into a leather overhead with LED lighting and a surround sound system. The equipment that controls the salons AV system is found forward on the starboard side. Wrapping up in the salon, let's continue forward as we step into her country kitchen.
This family inspired galley holds a lot of the yacht's magic. Once you step inside, you're transported home. This is partially because of the big windows that are reminiscent of a homey landlocked kitchen and also because it's loaded with appliances. Everything in here is base around an oversized island with seating on one side and appliances on the other, a large wine fridge as well as a trash compactor. The island countertop is the same stone that makes up the main counter space running up the port side of the galley. The other appliances in here are an oversized fridge and freezer that sits next to an oven, a 4-burner Jenn-Air cooktop and a microwave. The galley is also equipped with a stainless sink and a dishwasher.
Forward of the galley we see an inviting raised dinette that will likely be the place where you eat most of your meals. Opposite of the galley appliances to starboard is a dayhead with additional access from the side deck. This is a feature that I can say I've never seen on a yacht under 100-feet before. There never seems to be a head that you can use without having to get cleaned up first. This solves that problem in an elegant way.
Forward of the dayhead is this incredible staircase that leads up to the helm. Looking to either side of the galley is one of two watertight doors that lead onto the side deck. Taking either of these forwards brings you to the bow which we've already covered.
Wrapping up in the galley we arrive at a set of stairs that leads down to the guest accommodations. When we come to the bottom of these stairs, we step foot in the lower desk companionway. Facing forward and proceeding brings us to the bow VIP stateroom. There's a ton of storage in all the guest cabins something that she gets from her upgraded trawler gene. Above the berth is a skylight that can be blacked out completely by a hardwood panel.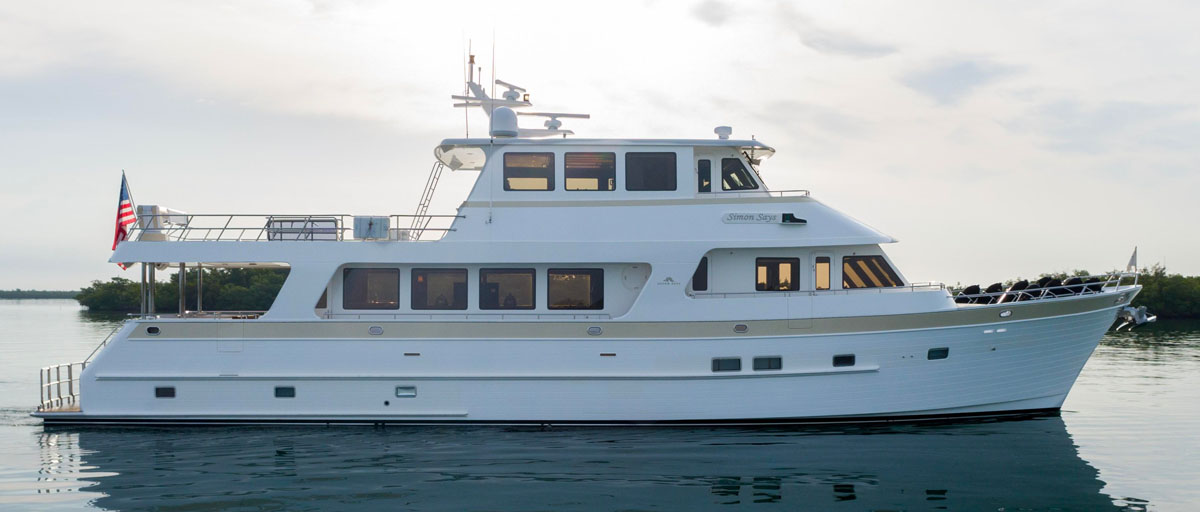 Aft on the starboard side in here is the ensuite. Just after the VIP on the portside we come to another guest cabin, this one with a full berth. The ensuite in here has a Jack and Jill entrance into a shared head with shower. Outside of the shared head in the lower companion way is the second laundry center. Continuing aft we next arrive at a charming starboard stateroom with transverse bunks that brings on all sorts of yachting nostalgia.
Taking the guest companion way all of the way aft, we arrive at her master stateroom. This huge owner's suite takes up the full 21-feet of the beam giving you an uncluttered area to unwind in. In here you really feel the size of this boat. Storage can be found on both sides of the master with rows of cabinets below the whole side windows. The port side of the master features not only storage but a desk and vanity area. Aft of the desk is the his side of the ensuite. His-and-hers closets are found outboard of the vanities and the two sides of this ensuite are connected by a shower stall.
If this 86 Outer Reef teaches us anything at all, it's the true, stable and slow are exactly what you're looking for in a yacht like this one. Simon Says also shows us that small innovations can make a huge difference in the way that we use boats. And she also shows us that luxury interiors can be both beautiful and durable.
So on behalf of Denison Yachting, Mike Kiely and myself thank you for joining us on another walkthrough. If you have any questions about Simon Says or would like to see her in person for yourself, you can reach out to Mike Kiely at any time.