The State of Yachting in Q2 2021
Q2 2021 has come to an end, and there seems to be no stopping the thriving yachting industry. Following a breathtaking performance in Q1 and Q2, 2021 is set to be one of the strongest years in yachting history.
Since the summer of 2020, boat + yacht sales have averaged an above normal 31,000 units monthly. This trend is indicative of the heightened interest in yachting spurred by COVID-19, as people seek out safer and more private ways to spend quality time with loved ones. Moreover, according to Boat International, yacht brokers have adapted to the pandemic by initiating new sales techniques, such as using video tours and Facetime calls to assist buyers who cannot inspect their purchases in person.
Industry findings indicate that the upward trend is bound to continue years into the future. An April 2021 report from Grand View Research shows that the global yacht market—valued at $8.15 billion in 2020—is projected to grow at a compound annual growth rate (CAGR) of 5.2% from 2021 to 2028.
---
Global Yacht Market Performance in Q2 2021
The international yacht market registered another solid quarter this year. The Asian and European markets reported a 54% and 41% increase in yacht sales in Q2 2021, respectively, compared to the same quarter last year. This dramatic hike was primarily attributed to a return to business as usual for yacht dealers across the region, thanks to the pandemic's ongoing decline.
The major yachting hotspots, the Southeast and Gulf Coast regions, registered better performance. Sales in Florida were up by 16% from last year, recording a Q2 all-time-high of more than 3,500 boats and yachts sold. This strong performance resulted from an influx of new purchases in readiness for the Summer after more than a year of closed-door socialization.
Q2 Sales by Engine Type
Boats with outboard drives have gained significant momentum over the last decade. Today, 82% of all boats bought annually are outboards. This trend is particularly driven by a dominant preference for center consoles equipped with outboard motors as reliable, low-maintenance, and cost-effective vessels for offshore fishing and family fun.
---
Q2 Sales by Category
Center-consoles and sailboats were the best-selling categories for yet another quarter. Combined, these two segments accounted for 57% of all boat sales worldwide.
Comparing Q2 performance year on year since 2010 indicates that sailboats gave up their top position to center console boats in 2017. However, Q2 2021 statistics show a surprising dip in center consoles and an increase in sailboat sales. Could yacht owners be resorting back to more traditional means of yachting? Let's keep an eye on these categories in Q3 of 2021.
Down the chart, motoryachts, sportfish, trawlers, and superyachts experienced better performance in Q2 2021 relative to Q2 2020. Superyachts hit all-time-high Q2 sales this year, primarily because of pandemic recovery efforts. Yacht dealers around the world have been busy fulfilling the orders they put on hold last year. Meanwhile, more and more people have been getting out of quarantine to socialize in safe, controlled, and luxurious environments.
Besides the spike in demand for private outdoor activities, superyacht sales have also benefited from the increasing number of ultra high-net-wealth individuals worldwide. According to The Financial Times, the world saw approximately 5.2 million new dollar millionaires in 2020, despite the misery and economic damage caused by the pandemic. Today, the number of people with a net worth above $30 million is 520,000 and growing, and these individuals are no longer hesitant to splurge on yachts.
Bloomberg reports that demand for extravagant superyachts has outstripped supply, lengthening wait times and making it virtually impossible to get empty slots in new-build yards. Inventory levels are the leanest they have been in years, and megayachts seem to be selling as soon as they hit the market!
Denison Yachting Remains Excited About The Year
"Our Superyacht sales activity in the first half of 2021 has been remarkable. We finished 2020 with a flurry of sales and as we started the new year, activity went to another level. As a result, our charter, crew placement and yacht management teams have all seen strong growth. It's very exciting and huge thanks have to go to our entire team."

– Ben Farnborough, Superyacht Director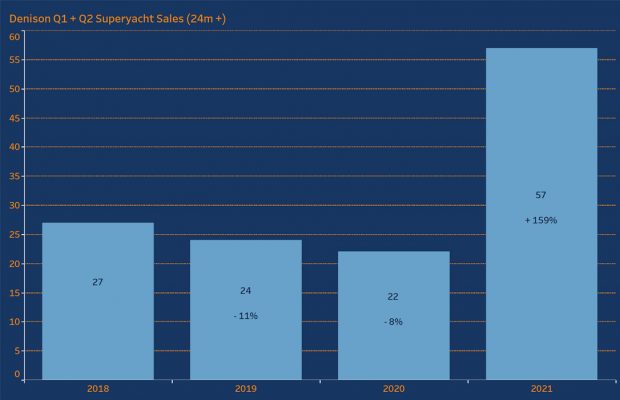 As more people discover the upsides of life on the water, the yachting sector is bound to continue posting excellent results throughout the year. At a time when demand is soaring, Denison is excited to be the go-to marketplace for superyachts and the ultimate source of market information. With the new rush to buy boats beginning to overwhelm supply, our vast catalog of yachts for sale and charter provides the ideal port of call for you to satisfy your appetite for the water.
"Our team has done us right. From sales, to service, to charter, and management, we're firing on all cylinders. We're currently in a hiring mode, like many companies in our industry, and will be working hard in Q3 to bring aboard employees that are committed to taking radical care of customers no matter what."

– Bob Denison, President and Founder



---
Speak With A Yachting Specialist: