---
Original, outspoken and a non-conformist, Maximilian Büsser, founder of Swiss watch brand MB&F, is unforgiving in both his creativity and views – and that's why his clients love him.
"Nothing turned out the way I planned it," says Maximilian Büsser, arguably Switzerland's most eccentric watchmaker. As a child, he dreamt of becoming a car designer, but upon studying engineering found it too impersonal and creatively restrictive. Instead, he discovered freedom in the meticulous world of watchmaking.
Büsser founded MB&F in 2005, a brand now synonymous with avant-garde, futuristic timepieces. Every one of his Horological Machines is a wearable work of art designed to stretch the limits of timekeeping, and a love song to himself. "I call them my psychotherapy," he says. "I revisit my life and craft 3D sculptures that are all about me. It's very egotistic in its creativity, very exuberant.
Ranging from the bizarre to the downright whacky, each creation – be it a spaceship, a plane or a panda – is a product of Büsser's effervescent imagination. A one-man exhibition destined for center stage. Conversely, the Legacy Machines pay homage to the great designs of the past. Though they appear more conventional, they remain far from it. "The watches are my way of saying thank you to the forefathers who created our industry – the 18th and 19th-century watchmakers who everyone copies today."
And then there are the Performance Art exhibits, which showcase the brand's partnership with selected artisans, such as the MoonMachine with Finnish watchmaker Stephan Sarpaneva, revered for its frog-esque silhouette and innovative complication
Each piece pushes the boundaries of horology, but Büsser believes his clients are also drawn to the brand's central philosophies. "The 'why' of the company is as important as the 'what," he says. "Our collectors, who we call the 'tribe', love what we do because we are the only ones in our field who think and create that way. And that resonates with them."
Büsser's story is one of fate, risk and reward. He grew up in Lausanne, amid Switzerland's exceptional ski slopes. While carving up snow one day in 1991, a chance encounter with Henry-John Belmont, the then managing director of watch manufacturer Jaeger-LeCoultre, changed the course of his life.
At the time, the global mechanical watch industry was in turmoil. Belmont was leading the recovery of Jaeger-LeCoultre after coming close to bankruptcy, at the same 24 — 25 time, Büsser was finishing his masters and contemplating his future.
"There was no money, no glitz, no glamor – it was just crazy geeks talking to crazy geeks, and I loved it. "
After seven years, Büsser was approached by Harry Winston Fine Timepieces and offered the role of CEO at the eyebrow-raising age of 31. He joined just before Harry Winston (the brand) was sold and faced the immediate challenge of saving his division from bankruptcy.  on me, and that gamble changed my life." While working under Belmont – who he refers to as his "surrogate dad" – Büsser learned the foundations of his craft. "It was a romantic time for watchmaking," he says. "It was all about the product. There was no money, no glitz, no glamor – it was just crazy geeks talking to crazy geeks, and I loved it."
"The first 12 months were the hardest year of my life. It took 18 months just to make the company viable," he reflects. "And then, from 2000 to 2005, we multiplied the revenue – and the team – by 10." 
It was during this time that Büsser created the brand-defining Opus line, now credited for putting Harry Winston on the watch map. The next defining moment came in 2001 when Büsser's father passed away and he turned to therapy.
"We spoke a lot about regrets and one day I broke down and realized I had sold out. The young, creative artist I'd been as a kid had become a marketeer – I was creating timepieces because I thought they'd sell, not because I liked them."
Ignited by a fresh sense of ambition, Büsser left Harry Winston and founded MB&F with two guiding principles. The first, to create without being influenced by what the market wants. "We only create what we love, and we don't give a flying f**k if people actually like it." The second, to only work with like-minded people. It's a belief that inspired the company name, an acronym for 'Maximilian Büsser and Friends. "Everyone told me it's the worst name ever, but I didn't know how to create a name from 'Max Büsser and people who share the same values!" he jokes.
"Everyone told me it's the worst name ever, but I didn't know how to create a name from 'Max Büsser and people who share the same values!" he jokes.
Büsser put his savings into the "leap of faith" business, which he ran from his flat. After two "insanely complicated" years, he delivered his first two watches. Fast forward 16 years and Büsser and his team of 30 have created 19 unique movements. These include the new 2021 release of three colorful updated editions of the LM101: the illuminating sapphire-clad HM9 SV; the flying in malachite; and the 10th-anniversary edition LMX, featuring a new movement reinterpreting the original LM1 in 3D.
In an industry where the meaning of 'luxury' has been lost, Büsser believes having creative freedom is a luxury in itself. "The industry has become polarized. On one side, you have miniature, artisanal companies like ours. On the other, you have highly-industrialized companies creating uber-marketed products. The big boys have taken over a large part of the market, which has increasingly become about status. It's attracted hundreds of thousands of new clients who are not interested in watchmaking. And that's dangerous because if this new breed of clients isn't interested, it's difficult for them to understand or recognize quality. If you can't taste luxury, you're at risk of being fed all sorts of different foods."
That said, he hopes the pandemic may inspire a shift in attitude. The last two years were MB&F's most successful to date: "I think Covid has, in some cases, allowed people to refocus on what's fundamentally important to them. Showing off becomes less appealing when in lockdown. It's also when the real, emotional link to what's important in your life resurfaces.
---
Request a Copy [FRANK Issue 2]
From intelligent debate to cutting-edge science, and risky sports to surreal charter experiences, FRANK does not shy away from the awkward, controversial, or questionable details. Brazen at times, amusing in spirit, and always transparent in the discussion, the focus is on discovering new angles and enjoying every minute. And, of course, always being 'frank' about the conclusions.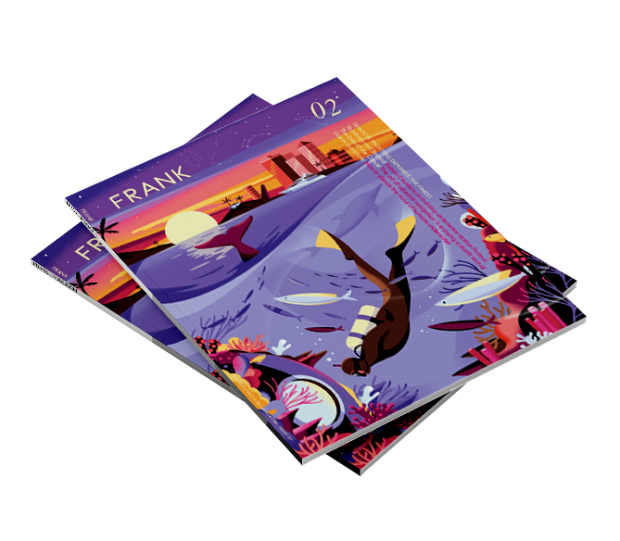 ---