Peanut Island in Palm Beach County has always been the place to party. But it's also the location of a fallout shelter constructed in 1961 and intended for use by President John F. Kennedy in case of nuclear attack.
Just a few miles as the gull flies from what was the Kennedy family's elegant Palm Beach Mizner mansion at 1095 North Ocean Boulevard is an eerie reminder of the Cold War – a bunker built to protect President John F. Kennedy in the event of a nuclear attack. Fidel Castro's 1959 Cuba revolution, the failed Bay of Pigs invasion in 1961, and the Soviet-backed Cuban Missile Crisis that followed meant living on the brink of World War III was an ever-present nightmare to South Floridians in the 1960s.
With JFK using his family's Palm Beach compound as the "Winter White House", the U.S. Secret Service realized that if a nuclear attack launched from Cuba, just 90 miles away, it would be impossible to evacuate the President and his family to Air Force 1 at the West Palm Beach airport before disaster struck. He needed a bunker but digging a shelter below the house was not physically feasible.
For something nearby but inconspicuous, the Pentagon proposed building a bunker on Peanut Island, a spoil dump in Lake Worth just off the northern tip of Palm Beach. There was already a Coast Guard station on the island, so sailors ferrying materials to the dock would not arouse suspicion, neither would landing a helicopter.
In December 1961, Navy SeaBees quietly docked at Peanut Island and unloaded building materials. If anyone asked, they were adding a munitions depot at the Coast Guard station. In just two weeks the construction team secretly built a 1,500-square-foot bunker, stocked it, and departed just as quietly. Utilizing the palmetto scrub as a natural cover, they dug a 40-foot-long tunnel, lining it with corrugated steel leading to an underground Quonset hut. Its roof was lined with lead and the outside covered with 18 inches of concrete and 12 feet of dirt. Its half-moon entrance was obscured with camouflage paint and plants. Given the mounded shape of the island, it was nearly unnoticeable.
This modest bunker was not designed to survive a direct hit, but rather to shelter up to 30 people from nuclear fallout for up to 30 days, or until they could be safely moved. Detachment Hotel, as it was named, consisted of a plywood decontamination chamber with a shower, shelves of K-rations and lead-lined barrels of water, along with stacks of fatigues to replace contaminated clothing. A generator powered lights, radiation detectors, filtered ventilation fans and a ham radio that would link them to the outside world. The scant amenities were 15 bunk beds, a Presidential desk and a conference table, but little else. The Secret Service conducted dress rehearsals with the President and family by air and by sea, but these were the only times the Kennedys occupied it.
When JFK was assassinated in 1963, the government padlocked the door and left, even denying its existence, until 1974 when locals looking for a place to party broke in and began talking about what they saw. The island belonged to the Port of Palm Beach, and it was up to them to guard it – or not. In 1992, the Port invited the West Palm Maritime Museum to restore the vandalized bunker as an attraction, which it did, conducting tours until the lease expired in 2017, its contents packed off to the museum.
And so it sat, the Presidential Seal still boldly painted on its concrete floor, frozen in limbo until January 2022 when the Palm Beach County Parks Department secured a 30-year lease on the parcel, adding it to land it already administers as a public park on the 80-acre island. But don't expect to cast your eyes on this Cold War relic anytime soon. The director of the Parks Department estimates it will take $3-4 million to restore both the bunker and the Colonial Revival-style Coast Guard building with several years for permitting, fundraising and construction. Maybe they should just call the SeaBees.
---
Request A Copy [FRANK Issue 3]
From intelligent debate to cutting-edge science, and risky sports to surreal charter experiences, FRANK does not shy away from the awkward, controversial, or questionable details. Brazen at times, amusing in spirit, and always transparent in the discussion, the focus is on discovering new angles and enjoying every minute. And, of course, always being 'frank' about the conclusions.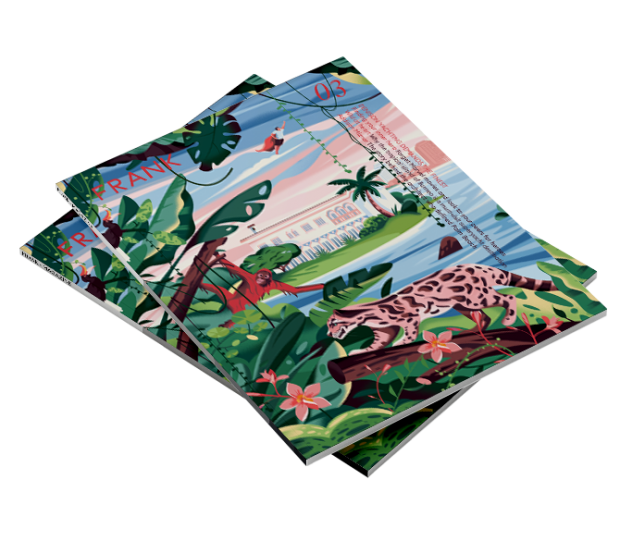 ---
For advertising inquiries in FRANK magazine, please contact Jen@DenisonYachting.com