Turkish shipyard Numarine went from building 100-foot express cruisers to manufacturing some of the most efficiently produced explorer yachts on the market. FRANK finds out how.
If you asked Numarine founder and chairman Ömer Malaz for his prediction on the future of yachting in 2016, he would have said modern expedition yachts. Great business leaders are always thinking years ahead. So the Turkish shipyard introduced a powerful new line of explorer vessels that are now making waves within yachting.
"The XP line was the brainchild of a customer who wanted something different and something slow. So, together with my designer Can Yalman, we came up with a modern explorer," says Malaz. "We turned our attention from building flybridge and express cruisers to building explorer yachts."
The line began with the 32XP, followed by the 26XP, 22XP, 37XP and the 45XP – "which will blow your socks off!" Shipyards don't typically undergo rebrands. They usually capitalize on established traditions. Switching updesigns or adding new lines is considered a risk. But for Numarine, the risk seems to have paid off.
Numarine experienced success with its original line of express cruisers after launching and delivering about 150 boats. But Malaz knew they needed more. In 2016, he jumped into modernizing the traditional explorer yacht with eyes on a different market. According to Denison yacht broker Alex Clarke, owners of sport-style performance boats may not have the same yachting goals as owners of expedition yachts. The vessels are two different beasts: "An expedition boat is not your typical, white wedding cake yacht that travels superfast. Yachts like the 37XP are big, steel-hull, full displacement, expedition vessels that can carry a lot of toys and guests. Most owners of explorer yachts are family-oriented and are not in a rush to go anywhere."
Malaz knew he had to find a different customer base — those who are true explorers, ready to venture far in search of an adventure that's untouchable to most people. The Numarine XP series, with its recognizable knuckle bow and Transformer-style look, includes five vessels ranging between 72-feet to 150-feet in length. Numarine's skilled in-house workforce spans all departments – from glass and cabinetry to hull and body production – which means the shipyard has the capability to produce up to 10 boats a year.
"The Numarine shipyard is highly efficient in how they go about building their product," says Clarke. "They don't build a lot of boats per year, and that's deliberate. It makes for a successful business model, whereby they keep a small number of boats available and give a lot of personal attention to the clients."
This type of in-house production – also referred to as vertical integration – ensures consistent quality, perfect fitment and flexible customization for each model. It worked for Tesla, which implemented vertical integration to push the boundaries of innovation in-house. Numarine is no different.
"I never think of boat building as a shipyard. I always imagine it more like a factory, where we can monitor our materials and workforce, and therefore our delivery periods," says Malaz. "We also emphasize lean management, which means we have a 98% rate for on-time delivery."
While restructuring, re-branding and lean in-house production are effective business strategies to stay ahead, for Malaz, the key to success is simple: "I think making a great product, with a great service, and a great brand makes for a great success story
---
Request A Copy [FRANK Issue 3]
From intelligent debate to cutting-edge science, and risky sports to surreal charter experiences, FRANK does not shy away from the awkward, controversial, or questionable details. Brazen at times, amusing in spirit, and always transparent in the discussion, the focus is on discovering new angles and enjoying every minute. And, of course, always being 'frank' about the conclusions.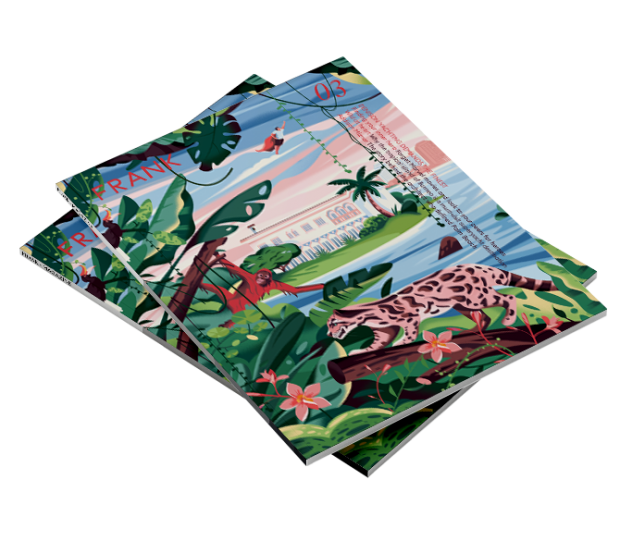 ---
For advertising inquiries in FRANK magazine, please contact Jen@DenisonYachting.com