Barcelona is known for many things – atmospheric tapas bars, Gaudi's colorful mosaiced Parc Güell and an outstanding soccer team. The Spanish city is also a nautical hub with a thriving Blue Economy — the European economy linked to water and the sea. Here is FRANK's must-see list when dropping anchor in the city
Where to live
FM10
Francesco Macià 10 is an award-winning residential project offering eight full-floor apartments in the heart of Barcelona. Located in Swiss architect Marc-Joseph Saugey's 1960s modernist building, the apartments – priced between $9 and $22 million – are available completed or fully customized to reflect residents' individual lifestyles and personalities.
Where to drop anchor
Marina Port Vell
Offering a superyacht haven in the heart of Barcelona, Marina Port Vell is a one-of-a-kind. Move from yacht to city in one step and find yourself enveloped in the beauty of the Gothic Quarter. With top restaurants, crew amenities and 150 berths up to 623-feet, the facilities are set for further development following a $22 million investment plan launched in 2022
Where to find culture
Casà Milà
Completed in 1912, Casà Milà is the most iconic (and last) private residence designed by architect Antoni Gaudi. Renowned for its constructional and functional innovations, as well as its ornamental and decorative solutions, it is nick[1]named 'la Pedrera' (stone quarry) due to its rough stone façade. VIP visitor passes can be arranged through Marina Port Vell.
Where to beach
Illa Roja Cove
A magnificent beach located in Begur is a jewel on the Costa Brava. Characterized by reddish-colored rocks it is one of the most photographed landscapes in the region… and also happens to be a nude beach. Despite its popularity, it remains a quiet area thanks to an exceptional location, which makes it difficult to access on foot, but ideal to approach from the sea.
Where to view sunsets
Terraza de Vivi
The rooftop bar at Kimpton Vividora is set high above the lively streets of the Gothic Quarter, complete with lush greenery, sunlounges and spectacular views of the city's skyline. This airy outdoor space, accented with chic lighting, is the best place to elegantly transition from day to night.
Where to stay
Hotel Casa Fuster
As a gift to his adored wife, Mariano Fuster commissioned modernist architect Lluís Domènch i Montaner to design Casa Fuster, the most expensive home in the city when it was completed in 1911. Today, guests can rest awhile among the Art Nouveau–inspired furnishings to the soundtrack of the hotel's world-famous jazz club, accompanied by sweeping views across Passeig de Gràcia, Barcelona's main upscale avenue.
Where to yacht spot
Camping Mar
Opening its doors in 2021, Camping Mar is the hottest new addition to the city's waterfront eateries. But while its flavor-packed black squid-ink rice with scallops is worth a taste, the glassed-in dining room overlooking the superyachts at anchor in Marina Port Vell offers the best view in town.
Where to eat
Restaurant Lasarte
Take a seat at the chef's table, and experience culinary magic at the hands of chef Martín Berasategui. Three-Michelin[1]star Lasarte works with produce offered by nature, the sea and the seasons. Whet your appetite with gastronomic creations, such as pickled oyster with hibiscus, white garlic and purple shiso granita, or Wagyu ravioli and glazed eel with iodized cream, horseradish and caviar.
Where to catch a game
Camp Nou
The home of FC Barcelona, Camp Nou is the largest (and perhaps steepest) stadium in Europe, with a whopping 90,000-person capacity. Bag yourself a ticket and prepare to be spellbound as Memphis Depay and Ferran Tores weave their soccer skills on the pitch.
Where to drink
Sips
Sips is Barcelona's new drinkery house serving cocktails, wines and beers 'tapas-style' from a central workstation. Possibly the hippest cocktail bar in the city, Sips is run by two of the world's most famous mixologists: Simone Caporale, fresh from the Artesian in London (named best bar in the world for four years running) and Marc Alvarez, former head of mixology for Ferran Adrià's restaurant group.
Where to be seen
Paradiso
Hidden behind a fridge door at the back of a pastrami shop in the trendy El Born district lies the entrance to Paradiso, ranked third on the World's 50 Best Bars 2021 list. It's earned a must-visit reputation thanks to a creative glow-in-the-dark menu, drinks like the Vulcano Negroni (served with a mini dry ice volcano erupting over the glass) and personalized Martinis mixed at your table.
Where to find art
The Moco Museum
The first outpost of Amsterdam's acclaimed Moco Museum opened in Barcelona in 2021 with a focus on works by modern and contemporary artists and less-familiar pieces from rising stars. There are two permanent collections: Moco Masters Modern, including works by Salvador Dalí, Damien Hirst and Yayoi Kusama; and Moco Masters Contemporary, highlighting artists including David LaChapelle, Julian Opie and Takashi Murakami.
Where to shop
La Manual Alpargatera
The quintessential Spanish espadrille – a casual, rope[1]soled shoe – was invented at La Manual Alpargatera in 1940. Using artisanal methods and natural materials, the sustainable footwear is still made by hand here today – and is a must for anyone visiting the city.
Where to dive
Can Roviralta
One of the best dive sites near Barcelona, Can Roviralta is in the coastal town of Lloret de Mar. Divers of all levels can enjoy clear waters, depths of up to 100 feet and a smorgasbord of marine life, including tuna, moray eels, octopi, wide-eyed flounders and luna lionfish.
---
Request A Copy [FRANK Issue 3]
From intelligent debate to cutting-edge science, and risky sports to surreal charter experiences, FRANK does not shy away from the awkward, controversial, or questionable details. Brazen at times, amusing in spirit, and always transparent in the discussion, the focus is on discovering new angles and enjoying every minute. And, of course, always being 'frank' about the conclusions.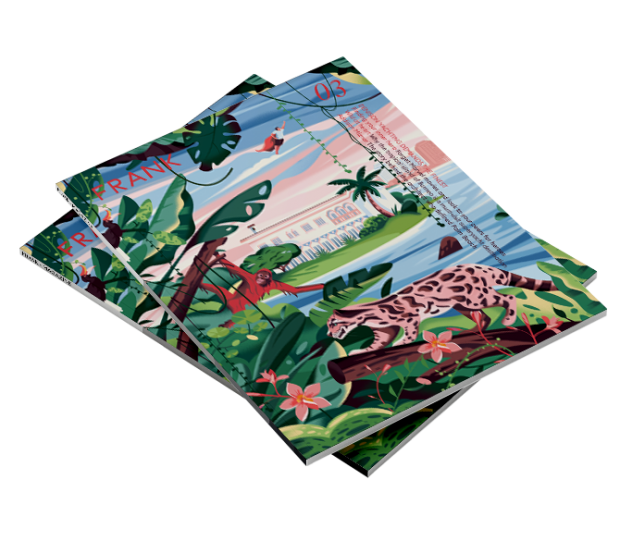 ---
For advertising inquiries in FRANK magazine, please contact Jen@DenisonYachting.com