The debate between fishing with a center consoles versus a sportfish can be complex, comparing different features, design elements, and function. Yacht brokers Conrad Vanderlely (Center Consoles) and Spencer Markatos (Sportfish Convertibles) share their respective thoughts.
---

Features

Conrad Vanderlely: There are a lot of features that stand out in a center console, especially for tackle and storage. There are in-deck fish storage and livewells, as well as the option of above-deck livewells. There are also vertical and horizontal rod storage, built-in tackle drawers, a bait station, etc.
Most center consoles in the 35 to 40-foot range are equipped with creature comforts such as berths and air conditioning. Larger center consoles are now coming with tuna doors. Perhaps, the greatest feature of a center console is 360-degree fishing, where you can fish on the bow, on the sides, and in the cockpit. You can't get that in a sportfish.
Spencer Markatos: Like a center console, most sportfishermen have built-in fish boxes and livewells. They typically also have a molded-in tackle and bait rigging center, bait freezers, and a transom door and gate to bring aboard large fish. Unlike the center console, the average sportfish is designed for longer fishing trips. It's equipped with more comfort features and spacious living accommodations such as bedrooms, bathrooms, and kitchens. The focal point, however, is the cockpit where the fighting chair is mounted, which is essential for battling large gamefish.
---

Design

Conrad Vanderlely: A center console is equipped for speed, easily reaching 65-70 mph. With favorable ocean conditions, you can get out much faster than most sportfish.
Another great design feature of a center console is that it's trailerable. You could fish a tournament in Miami one week and then go to Ocean City the following week. With a sportfish, you don't have the ability to trailer the boat, so you have to leave ahead of time and spend a lot of money on the crew and fuel.
You also don't need a captain for a center console like you need for a sportfish. Four guys on a center console can easily handle the boat with someone hanging near the helm to man the throttle.
Spencer Markatos: The evolution of the modern day sportfish has changed significantly, as recreational and tournament fishing are becoming more than a local sport. A modern, twin engine convertible sportfisherman has been laid out and designed on a computerized drawing board, her hull tank tested, etc., for the main purpose of running to the fishing grounds at high speeds and in comfort.
Sportfish convertibles are being built larger than ever to accommodate further distances. Fishermen are now running as far as 600 miles off the U.S. coast; plus exotic locations such as Mexico, the Caribbean, and Central America, something you just can't do with center consoles. In big money East Coast tournaments, sportfish convertibles can run at 30 knots plus and arrive before the competition, giving the anglers extra fishing time.
---

Size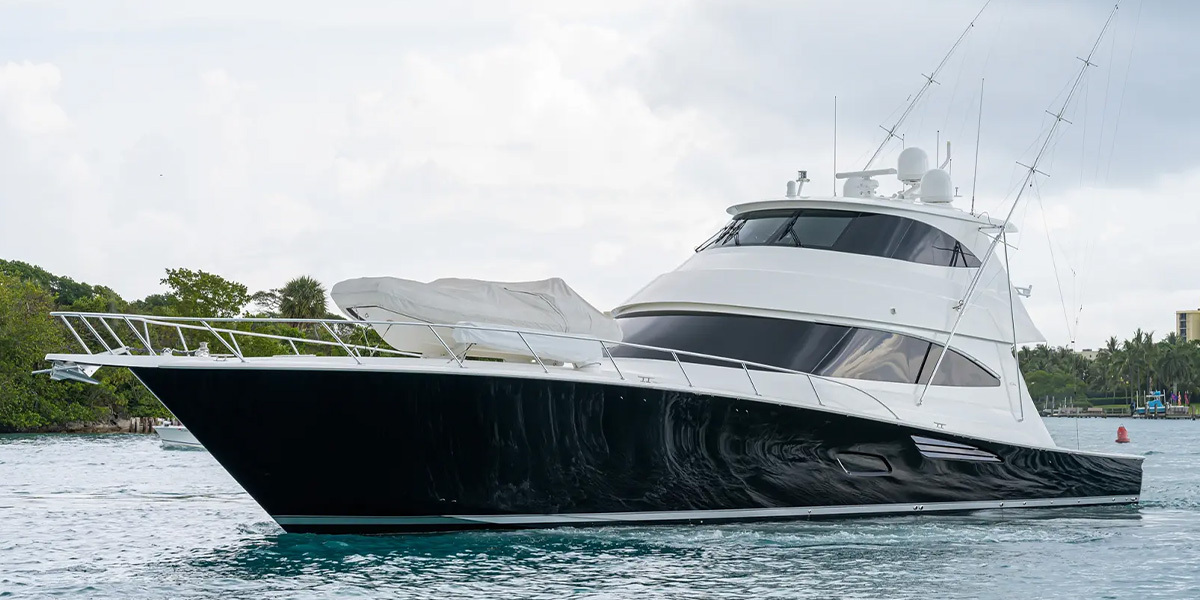 Conrad Vanderlely: For fishing purposes and tournament fishing, the average center console is 35 to 40 feet, but they are building them up to 53 feet now. Anything larger, like a sportfish, would be difficult to maneuver. Some popular center console brands in the 35 to 42-foot range are Contender, SeeVee, SeaHunter, and Yellowfin.
Spencer Markatos: Size matters, depending on where you're fishing geographically. You'll see a lot of 40 to 45 footers in South Florida, but a small center console won't fit all of the accommodations. Up in the Northeast and Carolinas, where the average run is 50 to 75 miles, you typically won't see anything smaller than 60 feet. The average sportfish tournament boat used to be 40 to 50 feet, but it's now 55 to 75 feet plus.
---

Safety


Conrad Vanderlely: Fiberglass boats are very safe. The most important thing is having a knowledgeable captain. A lot of center console companies are building boats with foam-filled hulls, which is a perk if the boat happens to roll. You have a better chance of being found with a 40-foot boat upside-down than you do floating alone in the middle of the ocean.
Spencer Markatos: Safety has a lot to do with the boat's operator, but if you get stuck in nasty seas for some reason, you're obviously going to be safer and more comfortable in a 60-foot sportfish than you would be in a 40-foot center console. You're also more exposed to the elements in a center console, which is lower to the water.
When you're running fast on a center console, you need to hang on tight because it's a bumpier ride than a sportfish. A center console is a "younger man's boat" since it can be rough on your body; you'll feel sore from running at high speed after a few days of fishing. There is no place to escape bad weather or take a nap in an air conditioned cabin.
---

Speed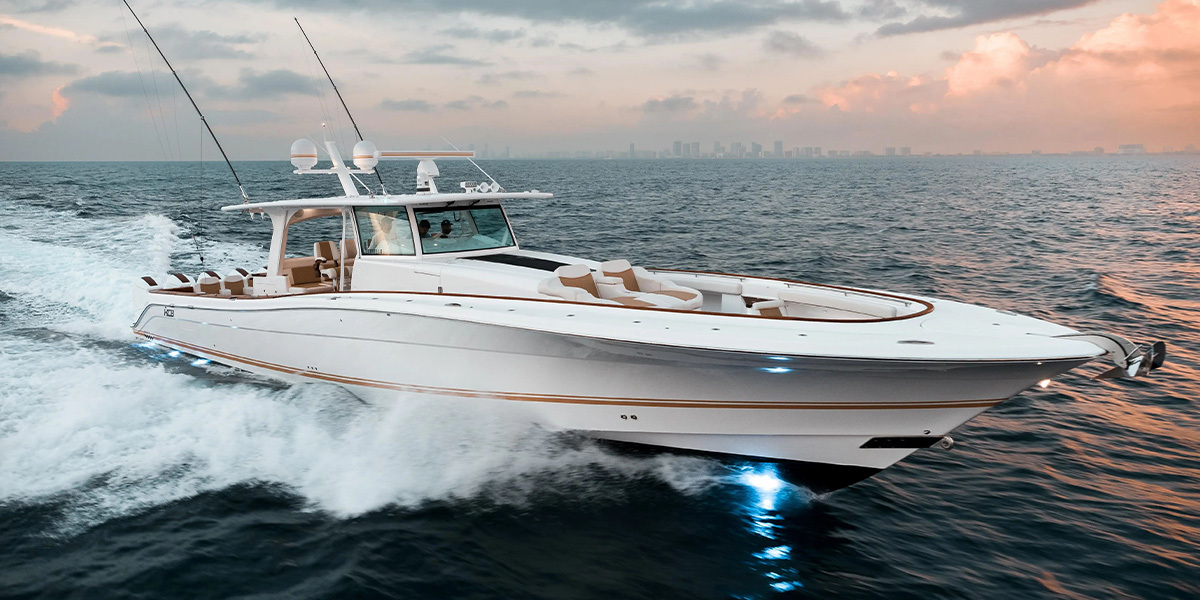 Conrad Vanderlely: Center consoles are 65-70 mph top end. You rarely have an opportunity to hit that speed unless it's completely flat. They will cruise at 40-45 mph all day long. Center consoles get you to your fishing destination quickly, especially if it's a tournament. It's not cheap, but you get can there and back very fast.
Spencer Markatos: The benchmark speed for the modern sportfish is a 30 knot cruise. Nowadays, most of the top production manufacturers like Viking, Hatteras, Bertam, Cabo, etc. have boats that will cruise 30 knots and top anywhere from 35-38, some even hitting 40 knots. Custom builders that use cold-molded construction techniques make boats that will cruise at high 30's and low 40's and bump the 50 knot mark wide open. It takes big motors and a lot of fuel to do that, but they're capable of it if you're willing to pay the price to get where you want to comfortably.
---

Price

Conrad Vanderlely: Regarding the "younger man's boat" comment, a center console actually fits the budget of a lot more people, young and old, than a sportfish. You could buy a 39-foot SeeVee, Contender, or Yellowfin for under $500,000. In the sportfish range, you're looking at three to four times that cost. For most people, a center console is more affordable, and the resale value is higher. More people have set a budget for a center console than a sportfish.
Spencer Markatos: Sportfish are more expensive, but worth it for all the amenities. It's not just the difference between a 40-foot and 60-foot piece of fiberglass. A 45 to 50-foot convertible will have at least two to four staterooms, two or three heads, usually a washer and dryer, refrigerator, stovetop, etc., while a 30 to 40-foot center console will have a helm, a couple of bench seats, maybe a small head under the console, and the rest is wide open. You're comparing two different classes of people, with different needs and expectations about their fishing platform.
---

Fuel Economy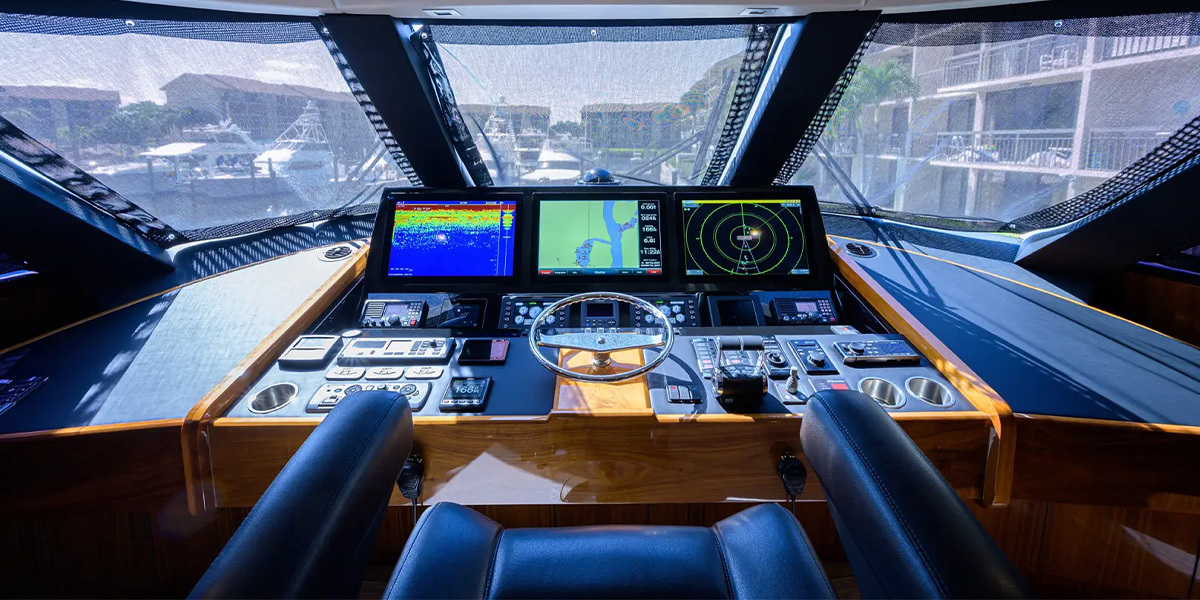 Conrad Vanderlely: Center consoles are designed to be very fuel efficient. They burn a lot less fuel than a sportfish. On a 39-foot Contender with triple 300's, you can cruise at about 30 mph burning about 20 gallons per hour, which is about 1.43 mpg.
Spencer Markatos: Center consoles run about 30 knots. They may burn less fuel than sportfish, but it's probably more than 20 gallons per hour. There's no doubt that a bigger sportfish will cost more to run because it's more volume to push.
---

Equipment

Conrad Vanderlely: Less equipment means it's less likely to break. A center console is cheaper to maintain and repair. It's also easier to clean. When you're done fishing for the day, you can give it a quick bath.
Spencer Markatos: The equipment on a sportfish provides a more comfortable fishing experience. The sportfish also has amenities that make it very livable. Bigger boats like a sportfish will have a 30 to 40-foot set of outriggers, while a center console might have a 10-foot set of outriggers. The longer riggers give you the ability to run multiple baits, and spread them out farther for better visibility to the targeted species of gamefish.
---

Fishability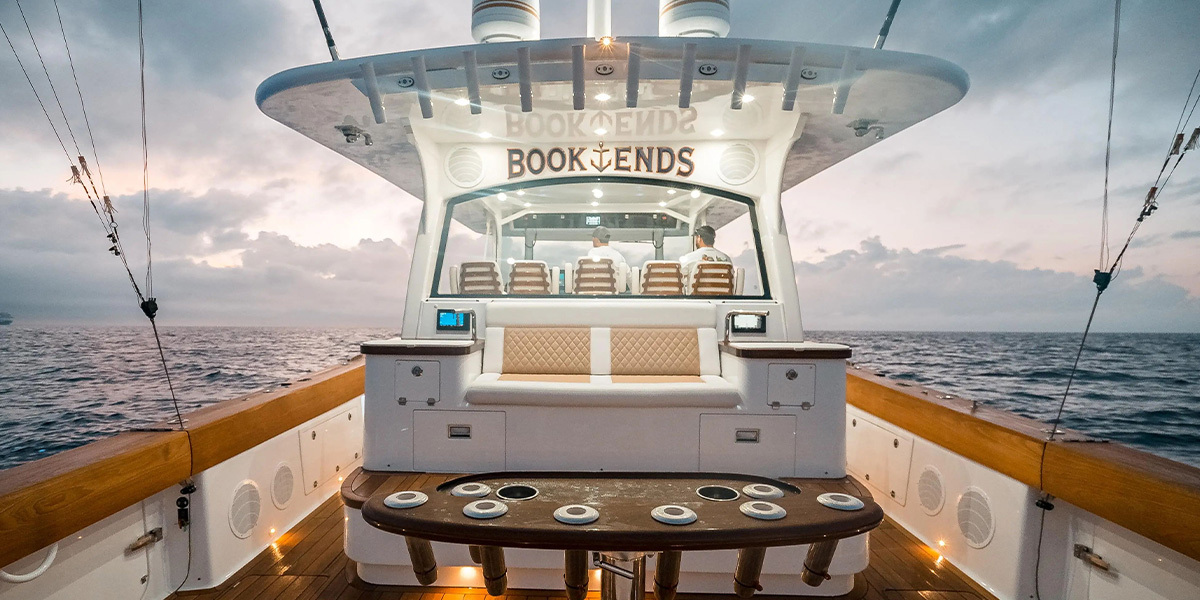 Conrad Vanderlely: You can't beat 360-degree fishing. As far as live baiting, you have more room. It's a lot easier to kite fish and live bait fish off a center console because you can utilize the bow of the boat, the stern, sides, etc. It seems like more and more South Florida Billfish tournaments are being fished on center consoles.
Spencer Markatos: Sportfish have a good reputation for raising fish. In South Florida, a lot of people fly live bait off a kite down into the water. Any platform will do fine for that type of fishing; however, trolling dead, natural baits or high speed lures are a different matter altogether. The boat's harmonics are what attract the fish to the bait. The big diesel sportfish boats have what's referred to as the "Hum". The engines emit harmonic vibrations that go down into the water. The gamefish feel the vibrations and are lured by the white water of the big props (which looks like a feeding frenzy) and the baits being trolled. They come up to get in on the action, the act of "raising fish".
This just doesn't occur nearly as well on a center console boat with quiet gas outboard motors and small propellers.
---

Backing Down

Conrad Vanderlely: You chase a fish a lot faster going forwards than backwards. A smaller boat, like a center console, is easier to maneuver than a large sportfish.
Spencer Markatos: More people are using lighter tackle for large species of fish. The ability to back down, which is putting your motors in reverse and chasing the fish, is important. With center console outboards, you can't do that effectively because of the small propeller and a low-cut transom on the motor. The modern sportfish with twin diesels has the ability to back down and maneuver easily, an advantage in any sea condition. In addition, when the fish gets close, your angler, wireman, and gaffman are all in the cockpit, ready to take the fish. In the pointy bow of a center console, there isn't room for all of them to function efficiently at the most critical point in the battle, landing the fish.