391 Meridian Sedan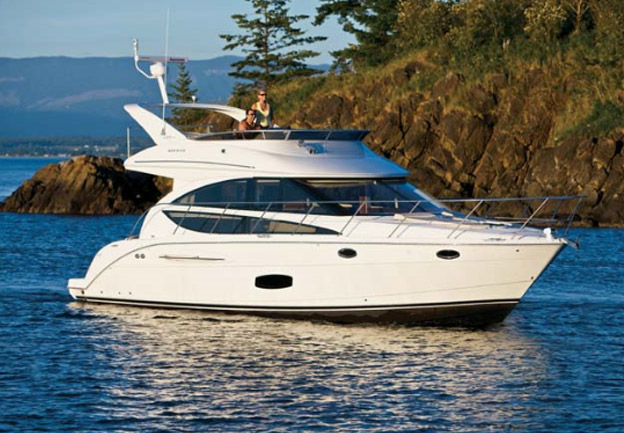 Source: David Lockwood, Boatpoint Magazine

The Meridian 391 Sedan represents the ultimate cruising experience, even for novices, writes David Lockwood
Why do we have flybridges on boats is a question proffered from time to time, especially by those who sell sportscruisers. I'll tell you why: for the unmatched all-round vision. If you are power cruising down a waterway, boats darting about in all directions, sandbanks and channels to consider, in fair and in foul weather, you will appreciate the circumambient views from a flybridge.
I'm supposing that's why Meridian Yachts has such a big flybridge on its latest 391 Sedan. More like a sky lounge, it's accessed via a moulded walkway, not a ladder, boasts seating for eight, a table and (optional) sunpad, fridge, sink and, need I remind you, great big views in all directions. A bit like the upper story of a London bus.
And such is the space that you can cruise on your flybridge cruiser with a crowd or the clan and thereby provide a counter argument to those putting a spin on sportscruisers and sportsyacht. But wait, as is typical of the more-is-better American boatbuilders, there's more to embrace in the flybridge.
Ironically, big flybridges with double that deck space can limit the views to all quarters of the boat, plus they can create some pretty serious windage. Meridian Yachts counters this by providing as standard both bow and stern thrusters. Together, they're dubbed Docking on Demand and, get this, the local agents added the optional docking remote.
The size of a TV remote, the Docking on Demand pad lets you wander about the big flybridge and shunt the boat this way and that, holding it just off the jetty, picking up guests for the day without so much as kissing a pylon.
With the knee knocking taken out of the docking these Meridians will make you look like a pro. That alone explains why it is pitched at newchums to big boating. But there are other things about these North American boats that appeal, not least their huge amount of internal living space for cold-climate boating.
ENGINEERING FIRST
Boat owners, especially newbies, are often overwhelmed by big-boat engineering, skipping the pre-departure engine checks, especially where tight hatches discourage access. Such is the ease of access on the Meridian 391 Sedan that you'll enjoy getting to know your motors.
The entire moulded staircase leading to the flybridge hinges to reveal walk-in engine room access like you haven't seen before. For more servicing, there's also an oversized hatch in the saloon floor, but owners – and tradies doing routine servicing – can't go past the outdoor or cockpit access route.
Once inside, which necessitates just a slight stoop, I found the boat's 470lt water supply (a week's worth), the battery banks back aft, the air-con units and heaps of room leftover for mounting a bracket on which you could carry the outboard motor for the tender.
An invertor is an option worth considering, it would negate the need to run the generator while watching TV at night.
The motors were upgraded twin Cummins 380hp diesel models. There are 330hp Cummins diesels, and petrol 370s and 420s, which you wouldn't consider. Even with these biggest engines the boat isn't a rocket ship, doing 26kts top speed.
But I should add that the new-generation fully electronic Cummins are lovely engines to have in a boat: quiet, smoke free and low vibration, with excellent acceleration and responsiveness on the twin electronic shifts. Underwater exhausts enhance the cruising comfort some more.
As far as owner maintenance is concerned it was all pretty straightforward. The 9kW Onan generator is in the lazarette, the Racor fuel filters and sea strainers are forward of the engines on the bulkhead, and the dipsticks are on the centreline. A check of the coolant levels and you're done. Fuel (1326lt) is carried in wing tanks. That's enough to get you to nearby ports and for a week's worth of adventure boating.
OUTDOOR LIVING
The outdoor layout on this boat is, to me, reminiscent of a European motoryacht. There are requisite boarding platform, swim ladder and H/C handheld shower, a boot for storage and for marina connections, including Shorepower, and handy above-deck mooring cleats. But whichever way you look at it, the cockpit is, by our standards, small (albeit offset by the big flybridge with all its living space).
The cockpit has an aft lounge for three, some storage, big integrated fender holders, steps to the side decks, trick blue LED lights, and a hardtop or bridge overhang for shade. You could put a small aftermarket table and a couple of chairs here, and mount a barbie from which to serve the crowd in the bridge.
A bow rail, moulded toe rails and hand rails assist with your passage to the foredeck, where the windlass is concealed from kiddies toes, there are fresh and saltwater deckwashes, and are two sunpads on tracks beside four drinkholders. A good place for sundowners or as a teenage retreat. The pop-up mooring cleat is different: I would prefer to see a heavy-duty bollard.
A BIGGER BRIDGE
The moulded steps make accessing the flybridge a handsfree affair, at least on calm water, and with full covers and clears it's an all-weather helm station. Views are affected to some degree by the canvas, the frames and the targa arch, but the weather protection will be appreciated (there were also cockpit covers).
A must-have option on the test boat was the bridge cockpit door over the moulded staircase that will prevent a fall. But for that, there's not too much reason to head back down. The seating plan for eight, says Meridian, comprises a six-person lounge to port around a small pullout table (a bigger aftermarket table would be better for doing lunch) that, with custom-made infills that local agents can order, can be turned into a day bed.
Amenities range from a moulded sink and fridge in the bridge to drink holders and storage for personal effects. There's a double seat for the copilot and single helm seat. It's offset to starboard, hence the sense that docking remote lets you park and see the blind (port) side of the boat.
There's an air-con outlet on the bridge for winter cruising, while in fair weather the bimini can be tucked away in a sock and you can enjoy the wind in your hair and the sun on your skin. When not cruising, there's a big interior in which to retreat.
COZY RETREAT
The interior is proportionally bigger than you will find on most 39-footers (the 391 Sedan measures 4O' 11″ overall including boarding platform). The finish is what I'd term typically American, with high-gloss cherrywood joinery, burl or walnut (print) table tops, solid counters, camel-coloured Ultrasuede upholstery, beige carpets and drop blinds and rust-coloured pelmets… natural hues that won't date.
A big door leads into the open-planned saloon, surrounded by split windows that open for fresh air above the portside galley and dinette forward. There's also a good sense of headroom, nice concealed air-con ducting, and plenty of seating.
To port are two armchairs, with a built-in side table in between, beside the AV system with TV/DVD/CD/VCR and karaoke system. Could be fun. The nearby AC/DC panel includes a tank monitor, macerator discharge for the 150lt holding tank, and Onan control panel.
The L-shaped lounge to starboard is big enough for four and faces the television. It has a lose coffee table with a telescopic gas strut, so you can use it as a second dining table. It also doubles as an (optional) impromptu bed, taking this boat's sleeping capacity to 4+2.
The portside galley boasts a recessed two-burner stove, Novacool fridge and vertical freezer, a bigger and better Tappan microwave with stainless-steel trim than I have seen before (my nagging must have paid off), sink with mixer, garbo and oodles of storage including a good ol' lazy Susan.
Opposite, up two steps in fact, is the raised dinette for four that enjoys views out the upper half of the split saloon windows. Post boating, there's central vac to assist with the clean-up. All very practical and, with plenty of seats, great for cold-climate introspective boating, especially with the optional lower helm station in lieu of the dinette.
ACCOMMODATION PLAN
The 391 Sedan has two cabins each with an island double berth, which you don't often see on a 39 let alone a 42, with separate doors to the split head and dedicated shower compartment. The layout will work well should you decide to decamp with another adult couple.
Immediately to port, where it's handy during day entertaining duties, is the communal head that doubles as an en suite to the forward cabin. It has a Vacuflush loo, fan-forced ventilation, and wash basin. The dedicated shower stall with wash basin is opposite between the two cabins.
To port, guests get an offset double bed with step-down footwell on the inboard side, alongside a huge storage locker. There are also cedar-lined hanging lockers and various drawers and cupboards throughout.
The island bed in the bow, dressed in a blue-and-gold diamond pattern bedspread, looked the goods. With air-con, the generator way back aft, and a separate TV, you could while-away days and nights on the big double bed. I thought it rather luxurious.
CRUISE TIME
The sole upper helm is a comfy one, with Raymarine C80, all Smartcraft engine gauges, Northstar depth sounder, controls for windlass, trim tabs and more, including VHF radio and so on. The bow and sternthrusters made life easy during the test.
The 391 Sedan boat was rafted up alongside my boat, so I had them cast the lines and, with a double thrust, shunted the Meridian sideways lie a crab. I also noticed a clear view back to the starboard end of the boarding platform – always nice to see both ends of your boat from the helm.
The thrusters and electronic shifts make for an easy boat to drive and, I suppose due to the shafts being well spaced, it turns on a dime at low speed with reversed throttles. Thus, thrusters aren't really needed on this boat for parking. Off the wheel at speed, however, it displayed that typical shaft-drive laziness through the turns. Perhaps bigger rudders would help.
With the trim tabs down, the 391 Sedan planed at about 12kts at 2000rpm, cruised anywhere from 16 to 18 kts at 2270 to 2420rpm, and slots in the groove at 2600rpm and 21.1kts. Top speed of the day was 26.3kts at 2800rpm, so it's no rocketship but more of a chariot. And who can argue with the views from the bridge? Not me, cruising down the river, enjoying the scenery unfolding.
HIGHS
With bow and stern thrusters and a docking remote it's a snap to berth
Huge and accommodating flybridge for cruising with family and friends
Moulded stairwell and sidedecks to foredeck are easily negotiated
Big and welcoming engine room for retirees
Big interior for a 39-footer, with plenty of living space
Twin island double berths is appealing for heading away with a couple
Well known American brand with good backing by the local agents, who also import Bayliners
LOWS
Small cockpit for the Australian way of life
Big flybridge encourages weight to be carried up top
Station-wagon effect sees spray sucked back onto the saloon doors
Pop up anchor cleat is a bit on the small side
Split windows in saloon interrupt the views
Lazy turning circle
Multiple floor levels in the guests cabin
Boat Specifications: 391 Meridian Sedan
MERIDIAN 391 SEDAN
Options fitted: Engine upgrade, generator and air-con, canvas and clears, flybridge door, docking remote, raw-water washdown and more
GENERAL
Material: Solid GRP hull with cored sides and deck
Type: Moderate-vee planing monohull
Length overall: 12.75m inc boarding platform
Beam: 4.17m
Draft: Approx 0.82m
Deadrise: n/a
Weight: Approx 11,340kg dry w/base petrol engines
CAPACITIES
Berths: 4+2
Fuel capacity: 1326lt
Water capacity: 473lt
Holding tanks: 150lt
ENGINE
Make/model: Cummins QSB 5.9 380
Type: Inline six-cylinder diesel w/ turbocharging and aftercooling
Rated HP: 380 at 3400rpm
Displacement: 5.9lt
Weight: 612kg
Gearboxes (Make/ratio): ZF 1.56:1 shaft
Props: Four-blade bronze