Denison Yacht Sales specializes in connecting CNP Yacht buyers and sellers.
About Cantiere Navale di Pesaro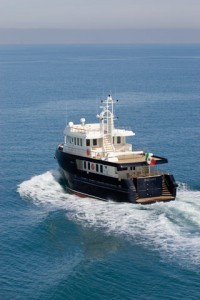 The origins of C.N.P. (Cantiere Navale di Pesaro) date back to 1952, when, thanks to their technical knowledge in this field, a group of enthusiasts came together to carry out replacement work and repairs for ship parts.
As the years have passed, C.N.P. has become increasingly well established in the shipbuilding industry due to its reliability, quality, excellent organisation and constant research into new technology. The new millennium has found the yard involved in building new types of vessels as well as in enlarging its own facilities.
The managerial characteristics that have distinguished the Company for over 55 years are open-mindedness, problem-solving skills, business strategies projected into the long term, and perseverance when it comes to achieving goals.
Product type diversification has increased since 2004, with important refitting works for mega-yachts and, since 2006, it has also inserted a new line of Explorer Vessels into its production series. This new direction undertaken by C.N.P. is the result of a passion for pleasure craft as well as of know-how acquired in over 55 years in the shipbuilding business. C.N.P. has realised restyling interventions for important luxury boats such as the Benedetta II, the Lady Haya, the India II and the Prometej, a Russian ex-icebreaker built in Galatea (Romania) in 1957 and converted into a fine mega-yacht.
The new line of Explorer Vessel yachts, called Naumachos, has its origins in the C.N.P. experience over the course of its history in building ships for "any time" and "any place". They are displacement yachts, with low consumption, minimum environmental impact and a great deal of comfort, built in steel and light alloy to offer the utmost in terms of guaranteed safety, and equipped with the most sophisticated instruments for navigation in any kind of sea and weather conditions. Special attention has been dedicated to the elegantly refined interiors which co-exist, 15 in a new form of harmony, with the real spirit of the working boat.