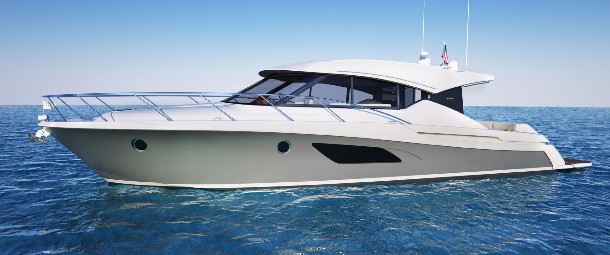 Tiara Yachts introduces the next generation of American-made yachts with the all new Tiara 50 Coupe. Set to be delivered this month, the all new Tiara 50 series redefines world class luxury with innovative design, engineering, and performance built for today's modern lifestyle.
"We have taken a best practices approach," said George Hetzel, Sales and Marketing vice president for S2 Yachts, "challenging each of our departments to deliver this ground breaking new Tiara 50 to market with innovation and styling meant to appeal to conservative and progressive consumers alike. We are excited to deliver this next generation of Tiara Yachts.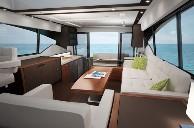 "The Tiara 50's salon and bridge deck offer 360 degree panoramic views open to the cockpit through sliding aft doors built with indoor/outdoor living in mind. The salon offers a single level deck from the cockpit forward to the bridge where a single step separates entertaining from the business of operating the vessel. The helm and dash features Tiara's proven sensible ergonomic placement of controls and gauges leaving plenty of room for flush mounting electronics.
Th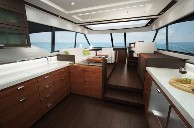 e all new Tiara 50 is powered by twin Volvo IPS II propulsion systems in standard 800 horsepower or optional 950 horsepower configurations. The technologically advanced Volvo IPS II power plants are matched to a successful ocean proven hull delivering a solid ride whether enjoying a calm day cruise or pushing the vessel to island getaways far offshore.
The Tiara 50's design cues bring a sense of sleek styling, exceptional performance and luxurious comfort, intended to appeal to a broad spectrum of consumers. A wide range of options offers owners the opportunity to customize the vessel to match their personal style.
Tiara Yachts, headquartered in Holland, Michigan, manufactures yachts with inboard power from 30 to 58 feet. Tiara's lines include the Coronet, Open, Sovran, and Convertible models.