Join us as BoatTest.com takes a look at the entertaining features on the 2014 Monte Carlo Yachts 86 motoryacht:
The following opinions are solely those of BoatTest.com and its test captain.
Hi Capt. Steve for BoatTest.com. This is the Monte Carlo Yachts 86. Let's see what it brings to the table and what I think are some of the most important aspects.
The MCY 86 is clearly about both entertaining and family cruising. First let's look at the more social aspects of the boat because those venues will be used by family as well as guests and friends. There is no boat in class that utilizes space quite like the MCY 86. Its Portuguese bridge assures guests a secure passage forward to the bow when the vessel is underway in normal conditions.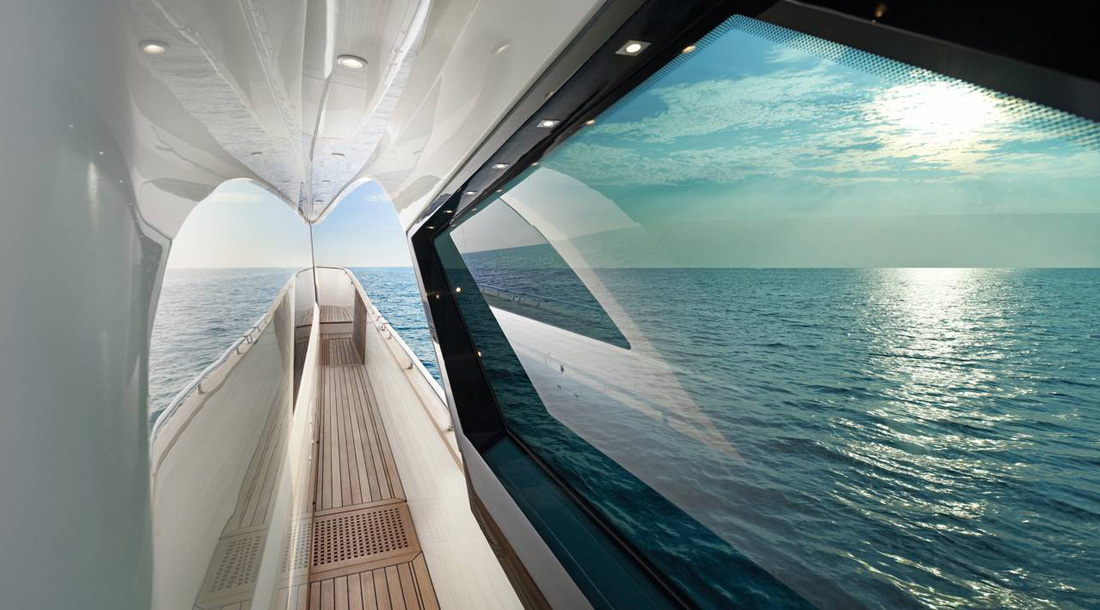 Once there, we find large lounging cushions ideal for sunning during the day. Some guests will like the shape provided by an awning at high noon, where they can enjoy cool breezes or a light rose at midday. At cocktail hour the foredeck turns into nothing short of a Mediterranean cocktail lounge as the sunning platforms transform into large divans to port and starboard with backrests that rise.
In the middle of the deck a high-low table becomes a buffet with drinks and hors d'oeuvres, at dark romantic lighting pops out of the deck to cast a soft glow over the setting. While the MCY 86 can seat as many as 24 for dinner elsewhere on the boat, for a truly large dinner party and a moveable feast, 8 or more can be seated here when the table leaves are brought out.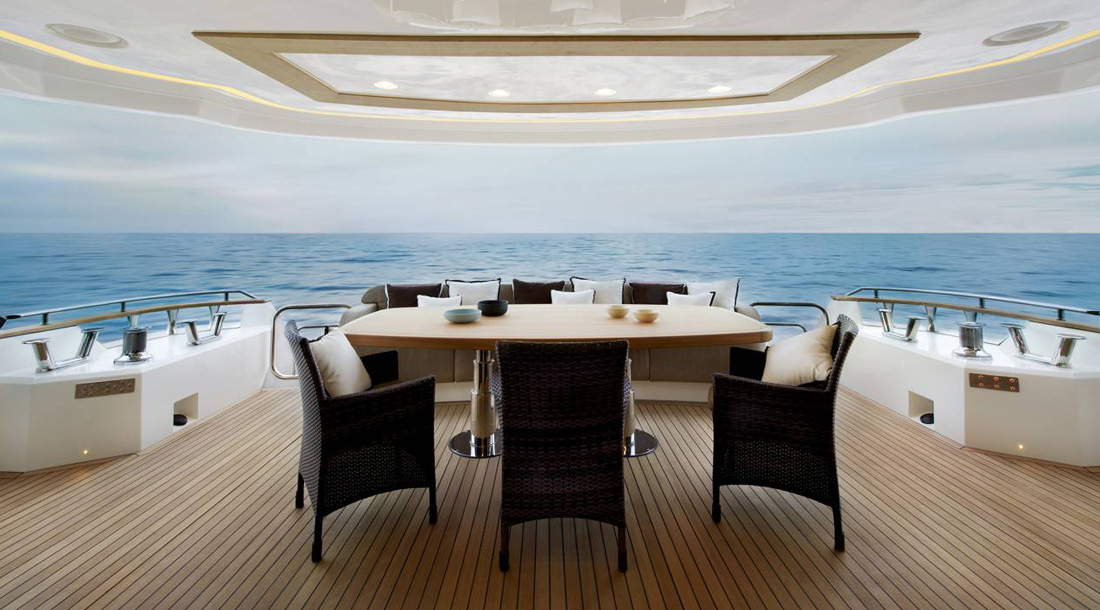 This aft cockpit makes a wonderful entertainment venue outdoors that can easily accommodate 10 people at this table and certainly plenty more for milling about. Notice the level of protection from the elements provided by the extended overhead that comes up 6-feet 6-inches above the deck and the fashion plates to the side, steel, surrounding glass.
It's a seamless transition from the outdoor venue to the indoor venue, all on the same level. Hard not to imagine the entertaining capabilities of this wide open salon with its natural and artificial light and so much space available.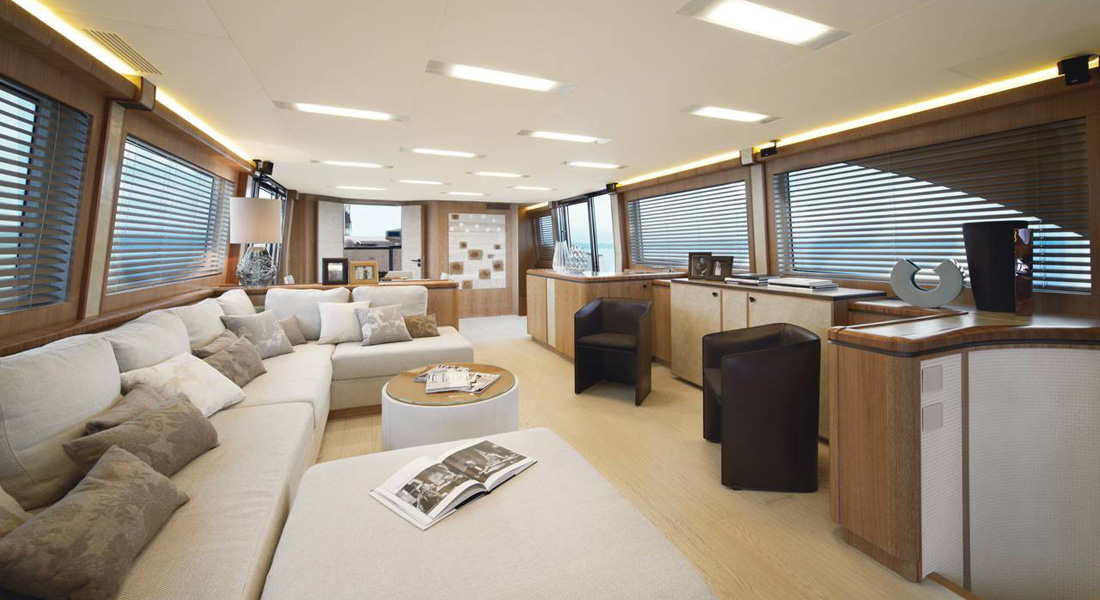 Coming around a wet bar, ice maker underneath, sink, plenty of counter space. And take a look at this table. It's Italian designed, mounted to the back for use for underway, can be moved and it's also expandable. With just a few steps to casual snack table can be converted to a larger formal dining table and the opposite side extends as well. So from 8 to 12 people can sit around this table and be part of the conversation. The formal dining table is handy to the galley, which is just forward through the door nearby and down a few steps.
Monte Carlo Yachts went with internationally known CNC fabrics for the sofa and white oak for the deck. One of the most unusual and fun aspects of the MCY 86 is out the side glass doors. It's a balcony that extends from the side of the hull providing a platform that's sure to become a popular breakfast nook and a stopping point at cocktail parties. The boat works rotate open and closed hydraulically. This owner added one to each side, so whichever one is opposite the dock is the one that gets used.
When you're outdoors, you're wet, you're in a bathing suit, you've just come from out of the water. We need an outdoor dayhead, and Monte Carlo has delivered, right on the side deck; take a look at this. We have one of two entrances to the flying bridge, let's take a look.
As you can see this is well laid out for entertaining especially with its wide open spaces. We'll look at some of the individual components, first starting with this upper galley. It starts with plenty of available counter space for food prep, cooking can be done on two electric grills. Just imagine how many people you'll be able to have at a cocktail party with this sort of space, all enjoying each other's company on this expansive couch.
When it comes time for dining, we simply move right over to the other side. The cocktail table easily expands into dining like a vision, at least 11 people here. When it comes time for sunning, the table lowers and filler cushions will create a massive sunpad.
Quality materials continue with pickled oak, sable textile upholstery and look at these pop-up LED lights. I really have to give Monte Carlo Yachts credit for this hardtop. It's fabricated from carbon fiber, where elsewhere in the industry, we see fiberglass. I see LED lighting all around, beefy supports and the interior of it, is a soft top that opens all the way back.
Now because we have a hydraulic swim platform that's designed to hold the tender, we don't need to worry about this being a boat deck with a crane, which gives us room for holding two lounge chairs and enjoying the space.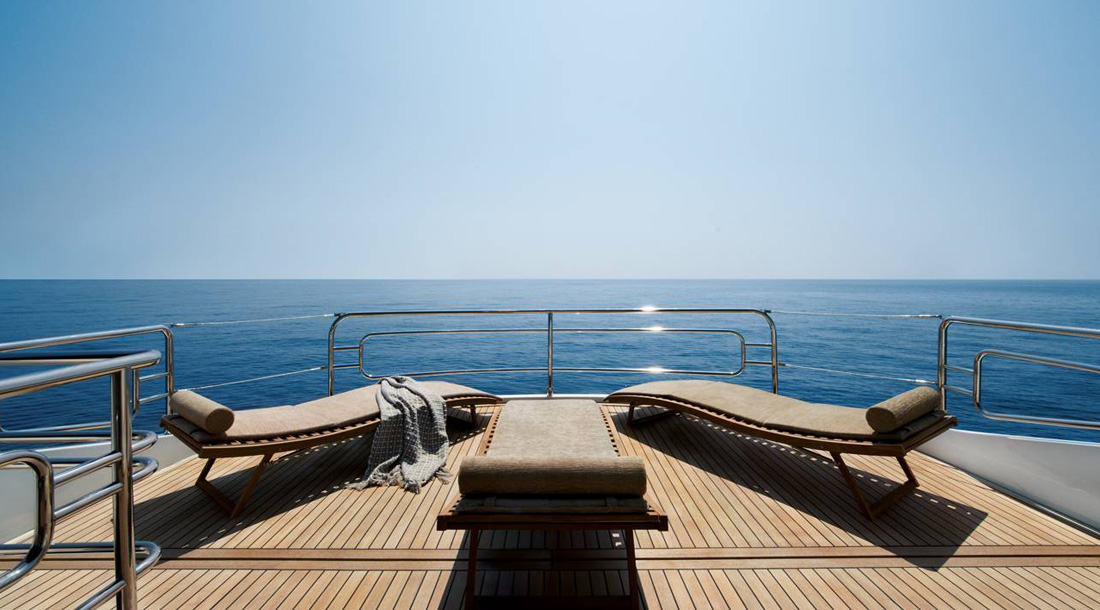 When it comes time to accommodate your overnight guests, there are several staterooms to do this with. The guests in VIP will be down the aft stairway and the owners and the kids will be down the forward stairway.
In our next video we'll look at the accommodations for family and guests. For BoatTest.com, I'm Capt. Steve. We'll see you on the water.