In addition to a fine running hull, the new Swift Trawler 44 from Beneteau adds improved performance and unparalleled fuel economy, loads of storage, and increased livability and comfort.
Beneteau's Swift Trawler 44 is a stunning combination of everything that contributes to the joy of cruising with the comfort and performance of a much larger yacht. Truly at the top of its class, the new Beneteau ST44 outshines the competition in every category.
Join us as Boattest.com tests this popular trawler:
The opinions expressed in the video you are about to see are solely those of BoatTest.com and its test captain.
Hi, Capt. Steve from BoatTest.com and today we'll be doing a full test and performance review of what some consider to be the ideal cruising couple's boat – the Swift 44. The Swift 44 was designed as a replacement for the popular 42 while continuing to provide a symbol of escapism and comfort that stays true to the Swift lineup. Let's see how they've done as we first take a look at the operational layout.
Let's start with the big picture. The Swift 44 has a length overall of 45-feet 6-inches, a beam of 13-feet 11-inches and a draft of only 3-feet 5-inches. With an empty weight of just over 24,000 lbs., full fuel and 3 persons onboard, we had a test weight of 26,752 lbs.
Boarding is via either a walkthrough from the swim platform or a door in the starboard bulwarks. The 44 has an asymmetrical layout with the starboard side deck a bit wider than the port. Teak decking is optional. A door blocks the weather on the starboard side and it's also on this side that we find the bulwarks doors and fuel fills under a step to the bow.
At the bow we have rails there are 29-and-a-half inches high and 1-and-a-half inches thick. The teak cap rail and pulpit are the only wood in sight which makes for low maintenance. Lewmar windlass is standard but only controllable from either helm. I'd like to see full controls or a handheld remote at the bow. Take a look at this 16 inch cleats and the chafing strips just outside.
With the salon table and carpet removed, you have access to the engine compartment. I found this compartment to be roomy enough for daily engine checks and light maintenance. But it could use a few more lights. All components are easily identified with clean wire runs, and all hoses are properly double clamped. There's lots of sound protection, which is why I only measured 79 decibels in the salon at full speed.
The lower helm is to starboard just across from the galley. It features an angled mount that houses an optional 12-inch display, a recessed area just the head hold stuff and includes a 12-volt power supply. To the left is an optional auto pilot control panel, to the right is the standard bow thruster control, right next to the digital engine controls. Above are twin analog gauges flanking the Volvo Penta EVC display. Below is the rudder angle indicator.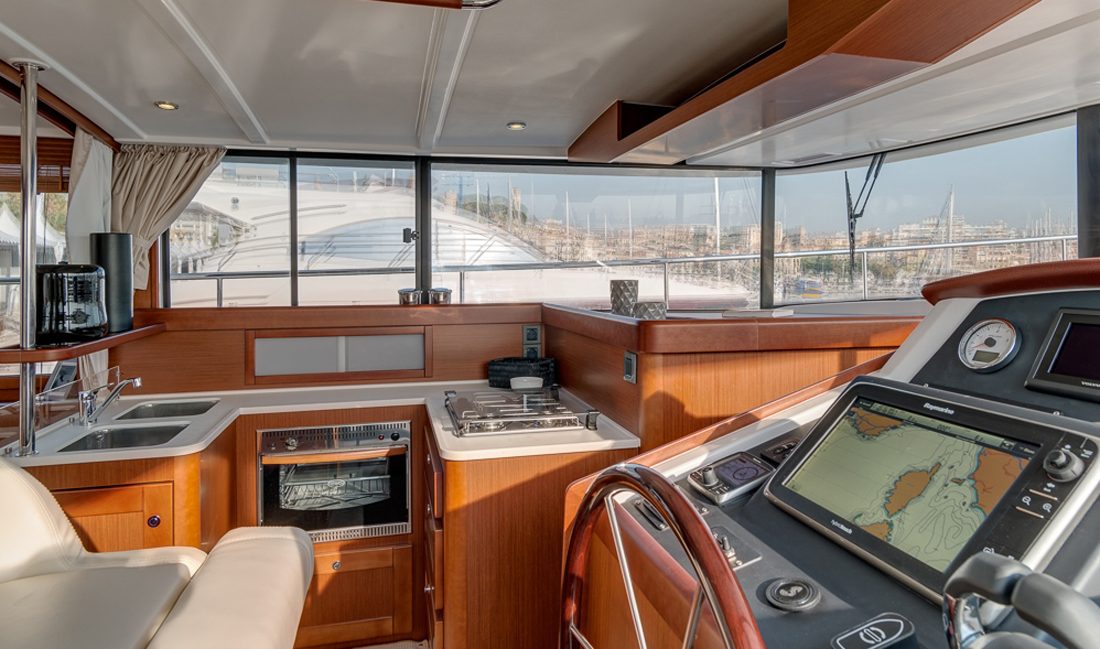 The double wide helm seat has a full-length flip-up bolster and convenient footrest. There's an overhead grab handle and the side door allows for great visibility and ventilation. Visibility from the helm is nearly 360 degrees.
Access to the flybridge is from the cockpit stairway. The helm is forward and center mounted. I could easily look down the side while still within reach of the controls and you do have visibility to the stern through the companionway. But I still would be docking from the lower station as it's so easy to do alone from there.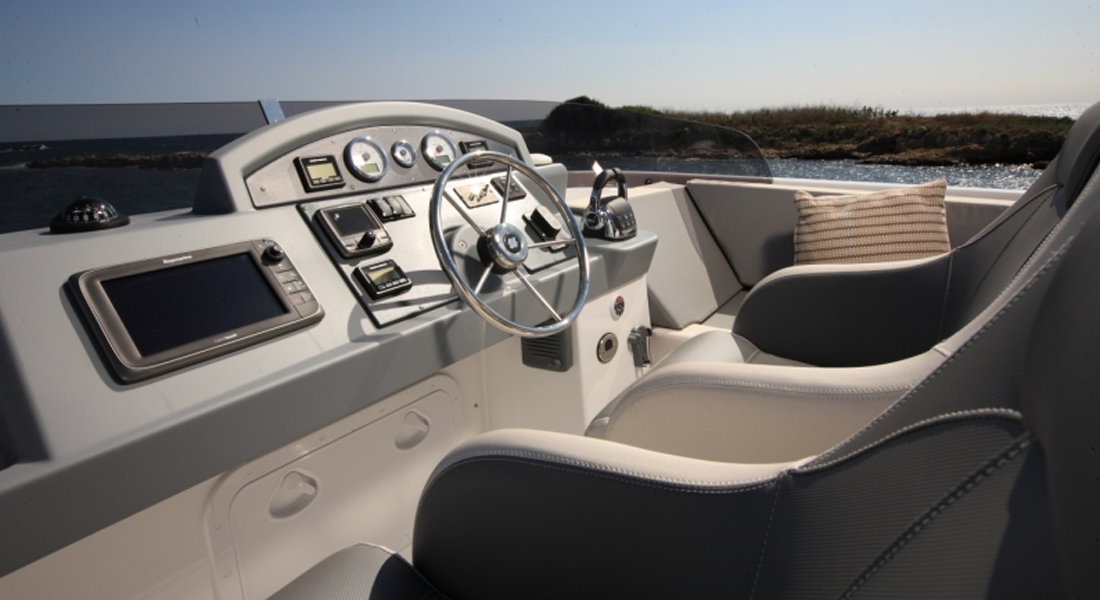 As a fair-skinned Irish boy, I appreciated that the Bimini top extended over the helm. The helm was largely the same as below with the exception of a 9-inch display instead of the lower helm's 12-inch.
As we got underway, I was immediately impressed with how responsive the 44 is at low speed. Even without power on, she remains responsive to the helm inputs. Turns were gentle enough to keep everyone onboard comfortable. I measured a roughly 5-degree bank as we enter the turns. The 44 really is a nice handling boat. No matter how much I manhandled her, she remained composed and comfortable, not even spilling a drink onboard. Visibility was outstanding, thanks to the narrow window mullions and wraparound glass.
While we had a flat calm day, I did manage to find some wakes here in there and the 44 sliced right through, throwing water well off to the sides and low with no pounding at all. As for performance, the twin 300 horsepower Volvo Penta D4 diesels pushed our test boat to a top speed of 25.6 knots at 2,600 RPM. At that speed we were burning 28 gallons per hour, for a range of 303 nautical miles.
Best cruise is purely conjecture as the range decreases fairly linearly as you continue to add power. If I had to come up with a number though, it would be 22.6 knots at 3250 RPM. At that speed the fuel burn is 22.5 gallons per hour, which translates into exactly 1 nautical mile per gallon. That makes a great number for determining your endurance and any fuel remaining and all calculations can be done in your head. Just be sure to subtract 10% of your remaining fuel as a safety margin before determining how far you can go.
The 44 had a respectable time to plane of only 6.3 seconds and we reached 20 miles per hour in 8.5 seconds. I measured a bow rise of only 10 degrees and when standing I did lose sight of the horizon but Swift counters that with a welcome addition of a drop-down step that short captains such as myself will really appreciate. On this step I was able to have continual sight line to the horizon throughout the acceleration curve.
Once on plane, the 44 settles into a roughly 5-degree bow high attitude. As far as docking goes, you'll really like that you can see the whole side of the boat out the side door and aft you can see both sides of the stern, all while keeping your hand under controls.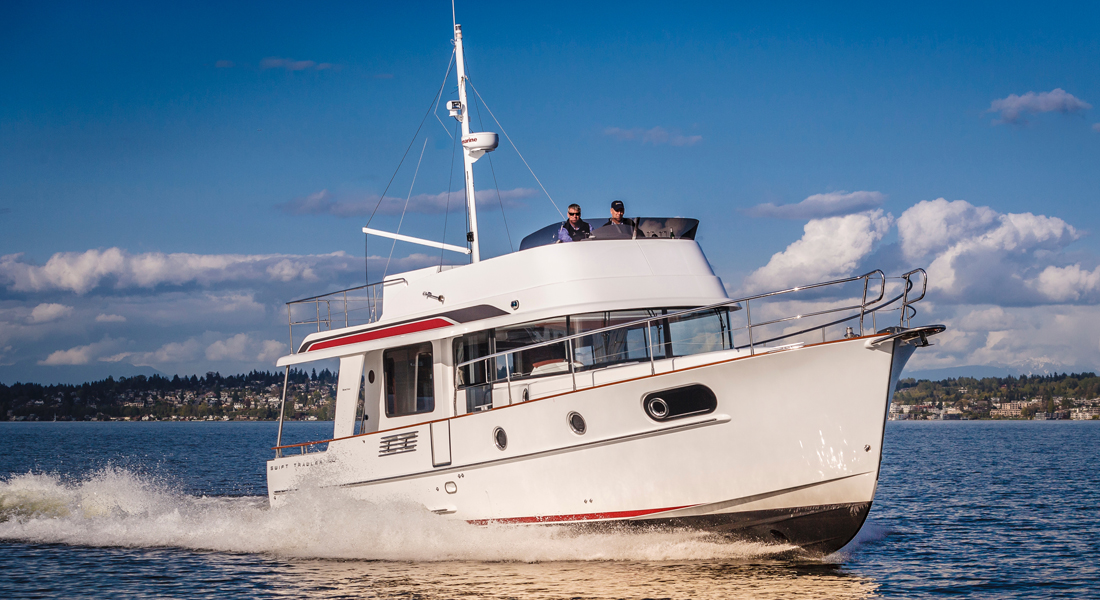 Better, it's seen here where I center the helm and use the separate engines to steer as I backed. That gave complete controllability and accuracy with no need for the bow thruster until I want to lay up. Once against the dock, I simply stepped out the side door and tied her up single-handed. That's the mark of a good cruising boat right there.
In my opinion, Beneteau managed to create a cruiser that can cruise nicely at planing speed and then loiter at the destination for extended periods – all without refueling. And it's all wrapped up in a cost-effective package that is easily managed by a single operator, if not a cruising couple. And that's our full test and performance review of the Swift 44. For BoatTest.com, I'm Capt. Steve. We'll see you on the water.