Beneteau's newest design, the MC5, branches the gap between Beneteau Power and Monte Carlo Yachts. The combination of Italian design and French boat building has created a stunning yacht that is sure to outshine all other yachts in her class.
Her hull, designed for Volvo's IPS drives, features a wave-piercing bow, which improves her navigation in the roughest seas. Join us as we take a look at this elegant motoryacht:
Hi, I'm Alex Wilkes with Denison Yacht Sales and today we're on one of my personal favorite boats, the Monte Carlo 5. I'm going to take you on a full walkthrough and show you why this is one of the best flybridge boats in her class. Let's take a look.
Starting on the swim platform like the other Monte Carlos, there's a lot going on back here. So I'm standing on a teak hydraulic swim platform with integrated chocks. You can simply fold these out and put your tender on top. And then over here on the starboard side is a fold-out swim ladder. Behind me here is our transom-mounted galley with electric grill and sink.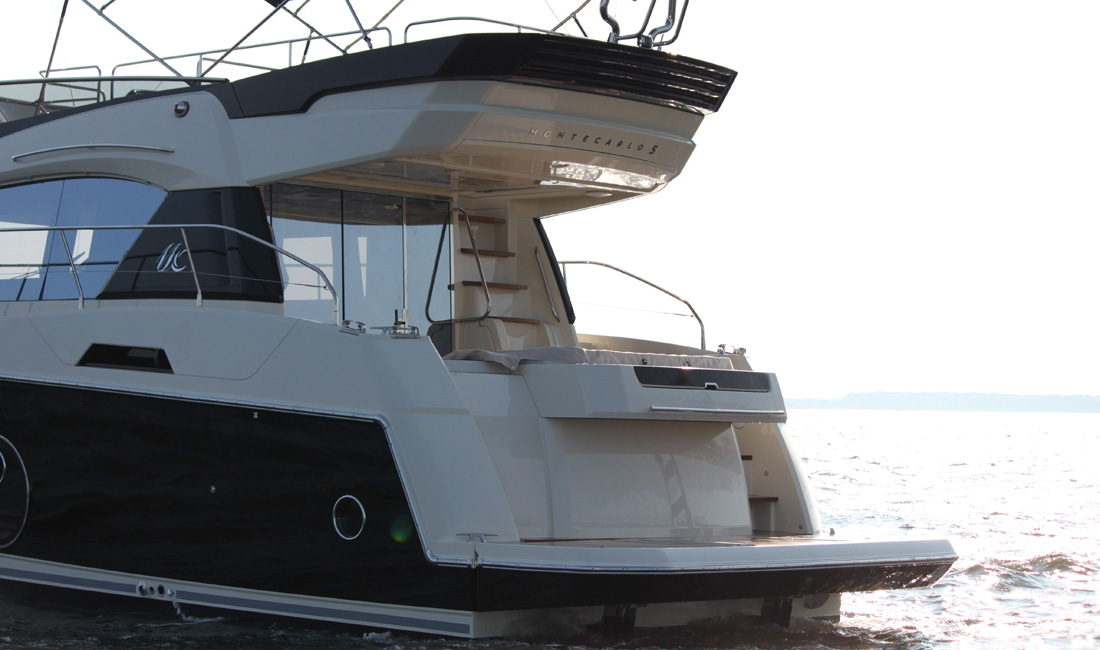 Moving from the swim platform into the cockpit starting over here on the starboard side is our boarding door, which has a nice MC logo on it. You've got your cockpit shower back here. You also have your cockpit docking station and then of course your access to the flybridge, which gives you storage underneath the steps.
In the center of the cockpit is a perfect amount of seating. You also have a ton of storage down here because this is also offered as a cruise quarters, so a lot of space. And then in the center of the cockpit is the access to your engine room.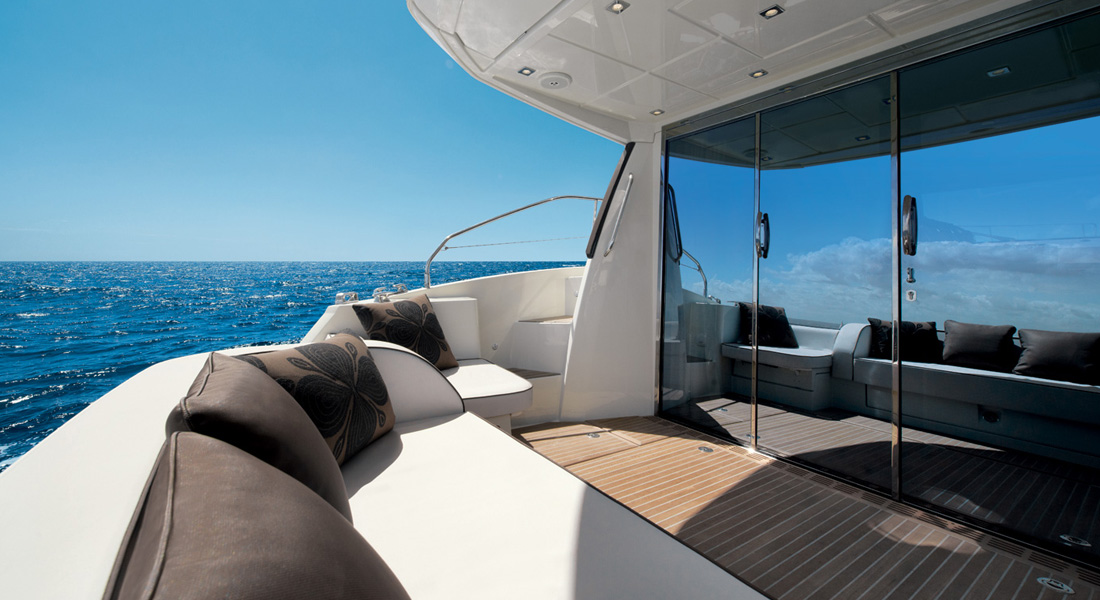 The flybridge of the MC5 is one of the most impressive spots on the boat. Starting here at the aft section of the flybridge on the starboard side is your flybridge refrigerator. Moving to port is a huge seating area with a nice teak table, which folds up to be used as a cocktail table or a dining table.
Forward of that on the port side is a large sun lounge area which also does convert into forward-facing seating. Behind the helm is your flybridge galley, which you have your worktop and your sink as well as storage below.
On the starboard side forward of the flybridge is your flybridge helm, which you have your Simrad NS 12-inch Evo2 screens which are all touchscreen, integrated with the GPS depth finder radar and also your rear camera. You also have your Volvo IPS, and your Volvo electronic throttle is here as well.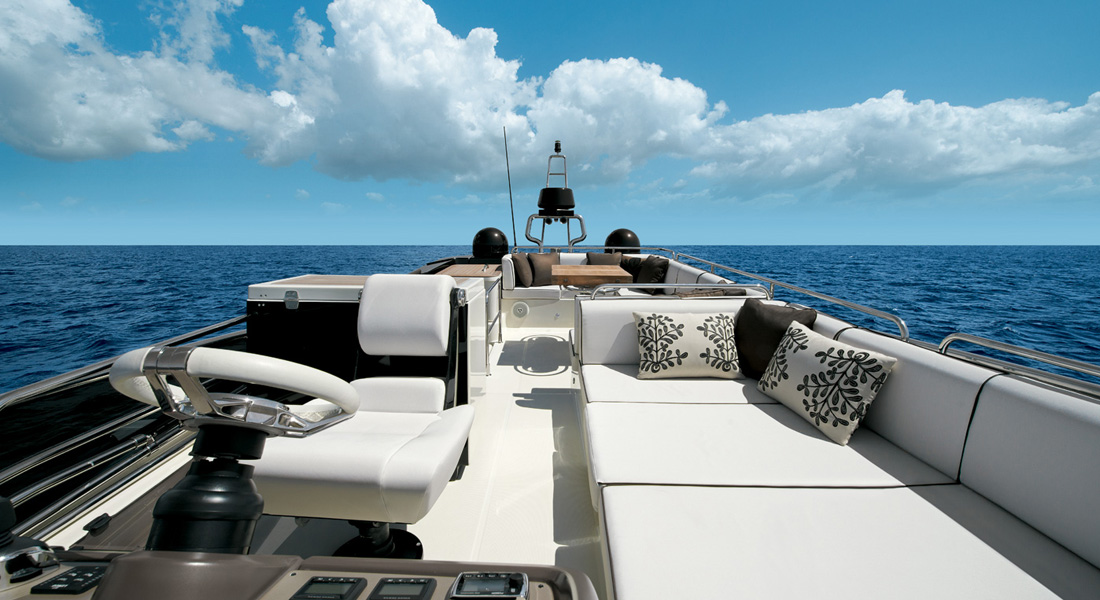 We're here in the galley, which is conveniently located right next to the salon doors, and as you can see they open up all the way. So this gives you the ability to have entertainment space that connects the cockpit to the galley, to the salon.
So behind me here in the galley you have plenty of storage space; you have an electric cooktop as well as your microwave. You have your sink and a fold-out faucet here, you also have magic corner in this cabinet, and then also on the starboard side is your fridge-freezer drawer combo.
As you can see you have a very comfortable salon in the MC5. Not only do you have plenty of seating here on the port side but you also have additional seating on the starboard side as well. On the port side is where your table is. So right now it's set up as a cocktail table. You can simply unfold it and use it as a dining table when you're ready.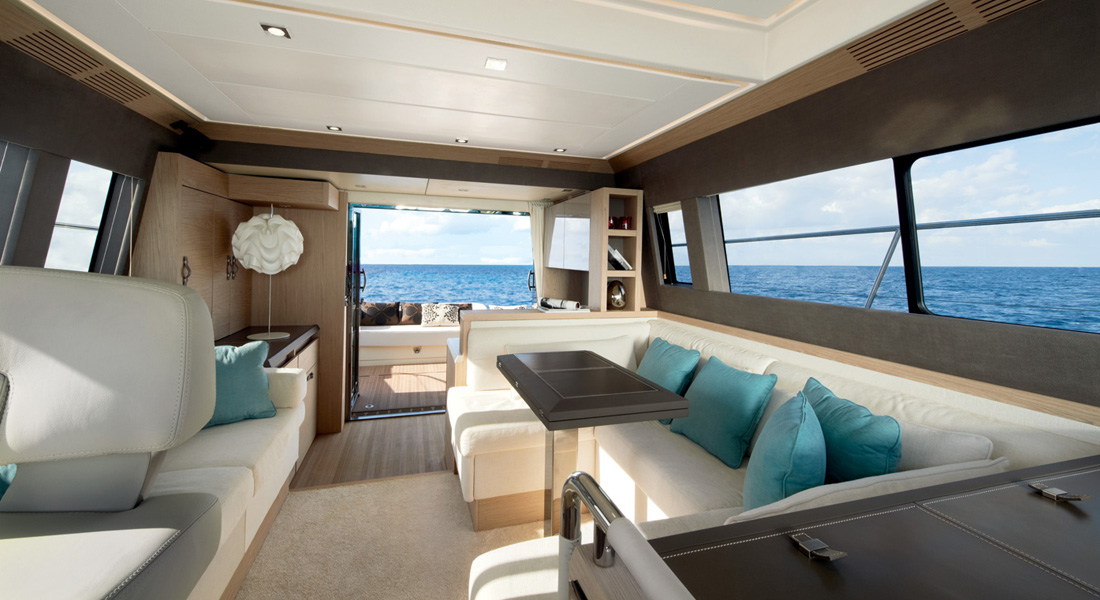 But one of the nicest features of the MC5 here in the salon is all the windows that surround us. So not only is that providing plenty of natural light but you can also see out into the marina while you're entertaining guests or sitting and having dinner. But then if you want privacy, you simply just drop the shades.
Sitting here in the salon though the one thing that it's going to catch your eye, is the attention to detail on the Monte Carlo line. Not only do you have wood grained brushed finished oak, but you also have leather handles, leather stitching, it's just a beautiful Italian design on the MC5.
We're down here at the entrance to the staterooms. Over here on the starboard side is our third stateroom. You have an over-under bunk layout, storage cabinet as well as a flat-screen TV. Moving forward is your VIP stateroom – an island queen berth, plenty of natural light up here. You have two hanging closets on both the port and starboard side as well as two storage drawers under the berth. And of course, your flat-screen TV.
Moving aft is your full-beam master stateroom. Let's go take a look.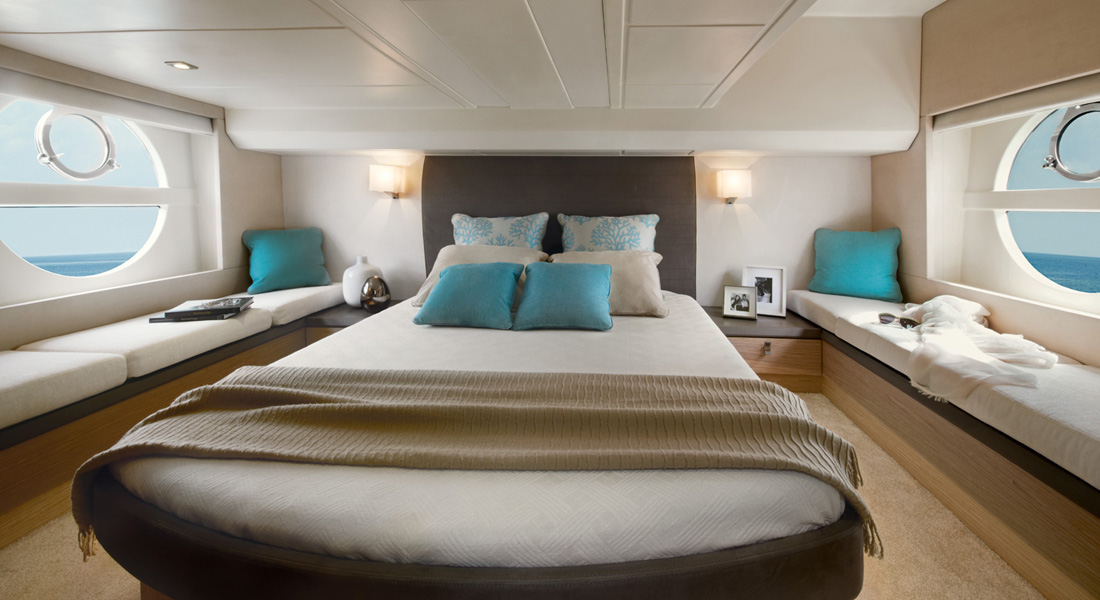 Welcome to your master stateroom. Huge amount of space down here, full beam; thanks to the IPS 600s. You also have two huge port and starboard windows, which provide plenty of natural light down here. So here on the port side you can see we've got a seating area with storage underneath. You've got a nice queen size berth on the starboard side, another seating area with more storage underneath.
You also have two hanging closets on both the port and starboard side and then your entertainment center is right here just in front of the berth with storage underneath as well. Then leaving the stateroom is the access to your ensuite head.
Well that wraps up our walkthrough of the 2016 Monte Carlo 5. If you're looking for a flybridge yacht in the 50-foot range, you've got to make sure you see the Monte Carlo 5. If you want to set up a time to take a look at her or if you have any questions at all, please feel free to call or text me anytime.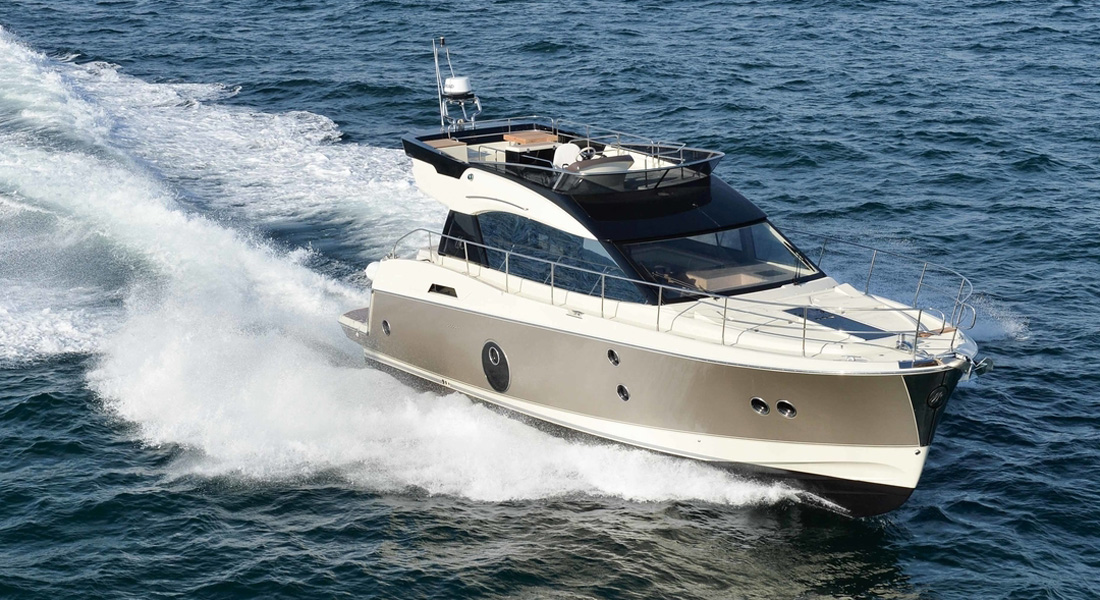 Again, I'm Alex Wilkes with Denison Yacht Sales. Thank you so much for watching this video and taking this walkthrough with us today.