Planning a family yacht charter? Here's how to choose the best charter yacht for your family — from family-friendly yachting destinations to important features you should look for in your yacht.
A private yacht charter is the ultimate family vacation, promising adventure, luxury, and lots of laughter. A superyacht charter provides the opportunity for the whole family to reconnect, away from the stresses and distractions of everyday life.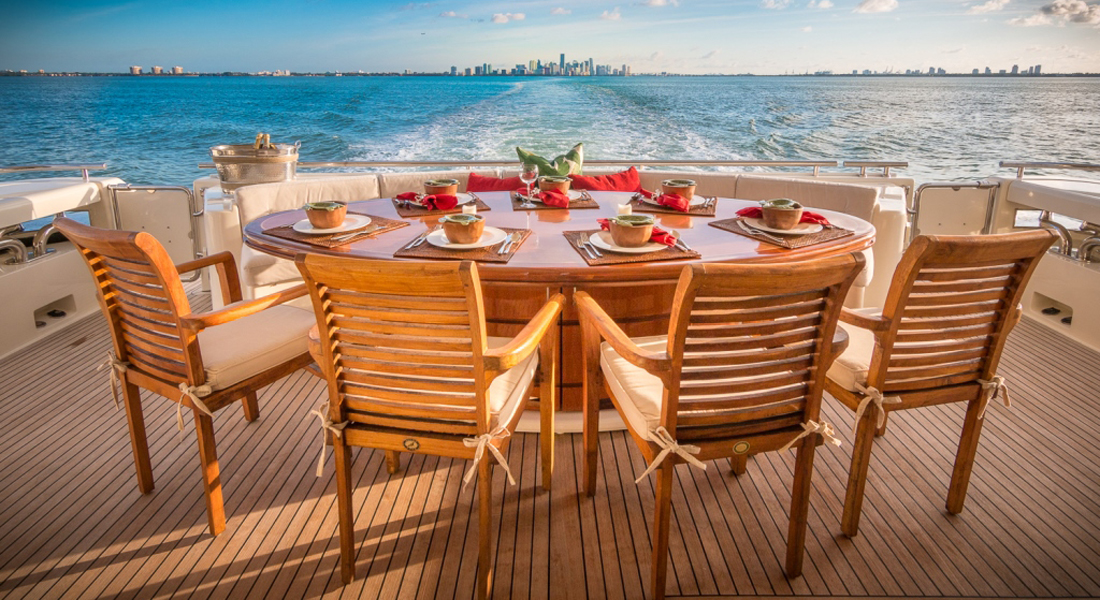 Yet from a parent's perspective, not all superyachts are considered equal – and one family's ideal yacht may not be ideal for another. Your yacht charter broker will consult with you about your family's needs before matching you to the perfect charter yacht, but here are some tips to help you choose the right yacht for the family vacation of a lifetime:
1. Pick a family-friendly charter destination.
Many experienced family charterers prefer to choose a destination with sheltered seas and lots of attractions within a small geographic area. The Virgin Islands are particularly good in this regard, with more than 60 tropical islands within a very short cruise of each other, and plenty of pirate, jungle and reef adventures for the kids.
2. Factor in wildlife experiences.
There's nothing like seeing the delight on children's faces when the yacht is suddenly surrounded by dolphins, or they see a whale breach in the distance. Wildlife encounters are often the moments that really make a yacht charter memorable for kids — and for the adults too.
The Bahamas are a wildlife paradise, offering the famous swimming pigs, sea turtles, and feeding experiences with nurse sharks and rays, while Alaska's majestic fjords and glaciers will thrill children who want to see grizzly bears, bald eagles, and killer whales.
Costa Rica never fails to astonish with its sloths, jaguars, and monkeys, while the Galapagos promise some of the best sea and bird life on the planet — as well as the incredible Galapagos Tortoise.
On the other hand, your more sociable teenagers might prefer a glamorous charter destination like the French Riviera, where they can meet other kids at beach clubs or go shopping every day. You know your children and what really excites them, so be sure to tell your broker so they can come up with the perfect charter itinerary for you.
3. Water toys, water toys, water toys.
Most children practically grow gills while on a yacht charter, spending long happy days swimming, snorkelling, diving and fishing. The best family charter yachts carry an impressive selection of watertoys, sending the kids into fits of excitement as they tear about on the jetskis, slide down the yacht's waterslide, or get pulled behind a high speed tender in a giant banana.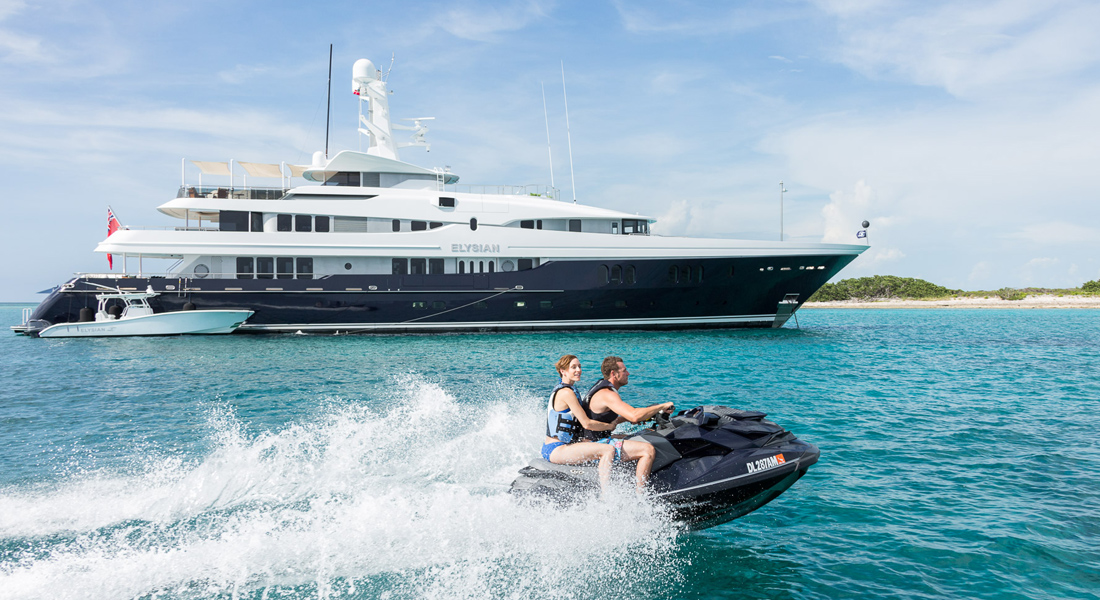 The yachting world is getting super-creative with its watertoy selection, with inflatable trampolines and obstacle courses featuring on some yachts, while others like ROCKSTAR and WILDFLOUR even have their own fishing boats and SeaBobs so the kids can learn fun new skills. When choosing your charter yacht, look for yachts with a wide array of watertoys so your children have something new and amazing to try every day.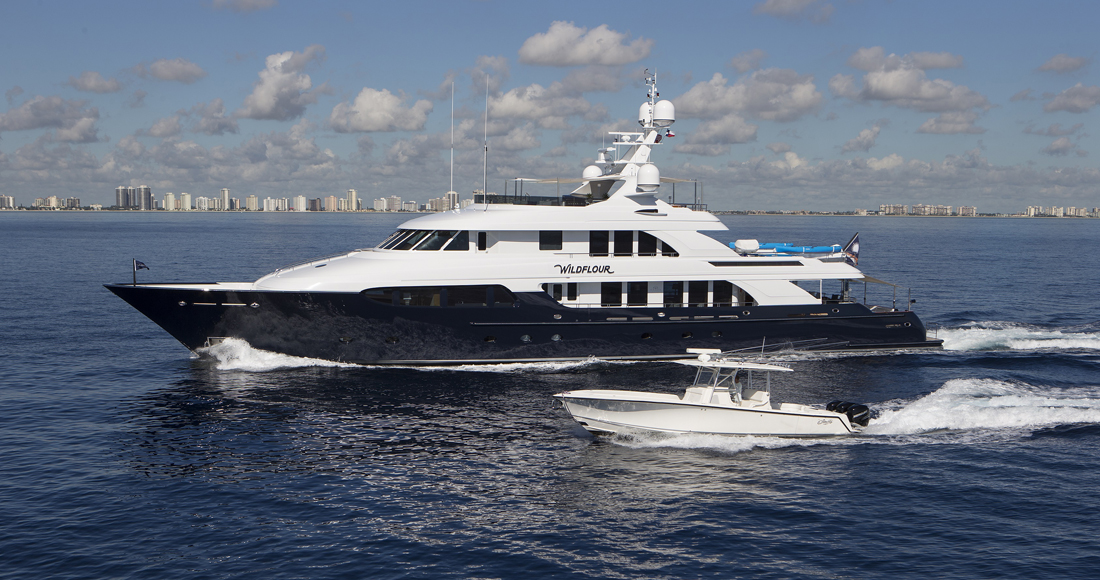 4. Think about entertainment.
After tiring themselves out on the watertoys, your children will probably want to head into the sky lounge after dinner to watch some movies or play games. All charter yachts carry a movie and music library, and you can ask for a copy of this from your broker so you can check out if it suits your family's tastes and make any purchase requests you like before your charter.
You may also want to know if the yacht carries a Playstation or Wii, what board games there are, and if the yacht has iPod docks, etc. in the cabins. When it comes to WiFi, all charter yachts have internet, but it often runs at slower speeds than on land, so it can be a good idea to get your children to download their favorite movies and music before the trip in case streaming speeds are slow onboard.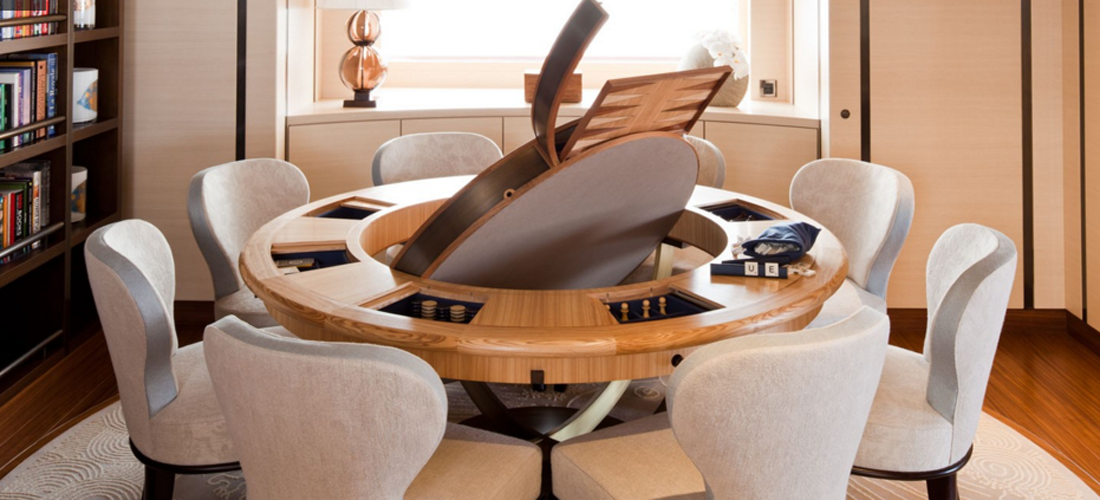 5. Cabin layout makes the perfect family charter yacht.
Consider your family group. Will the teenagers want their own cabin, or will they be happy to share? Are you doing a shared charter with another family, or bringing a nanny along?
The cabin layout is one of the major factors in successful family charters, and the most popular charter yachts tend to have a range of different sized cabins, from king suites right through to twin cabins and even nanny accommodations.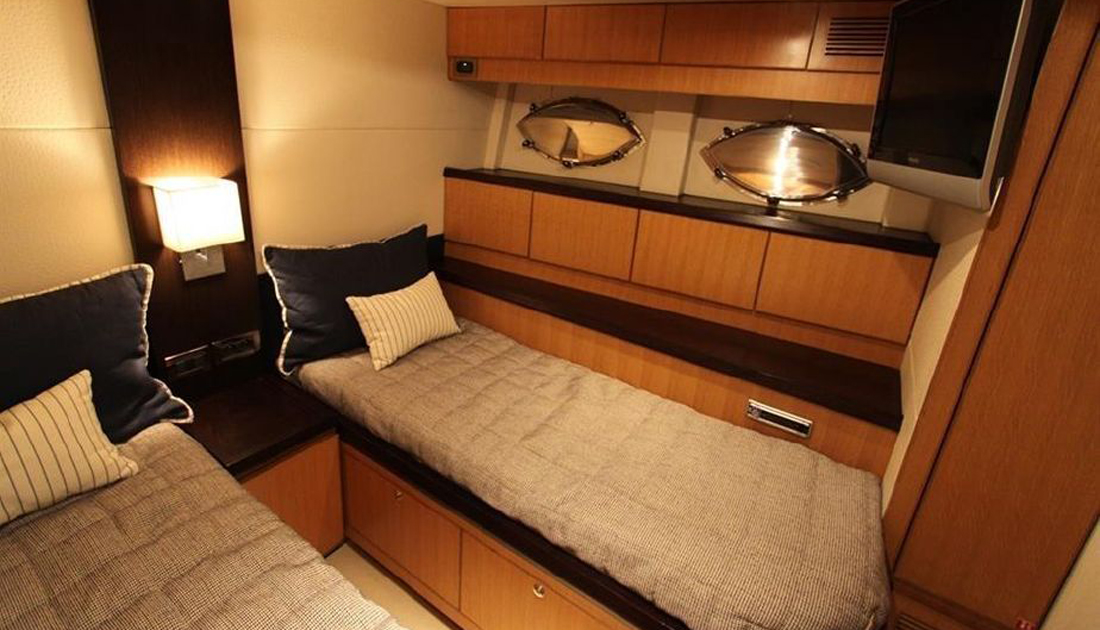 For many charterers, the best option is a yacht with convertible cabins, such as ELYSIAN, which has a master suite, an upper deck bunk room, and four lower deck staterooms that can convert between four queen cabins and two full-beam suites.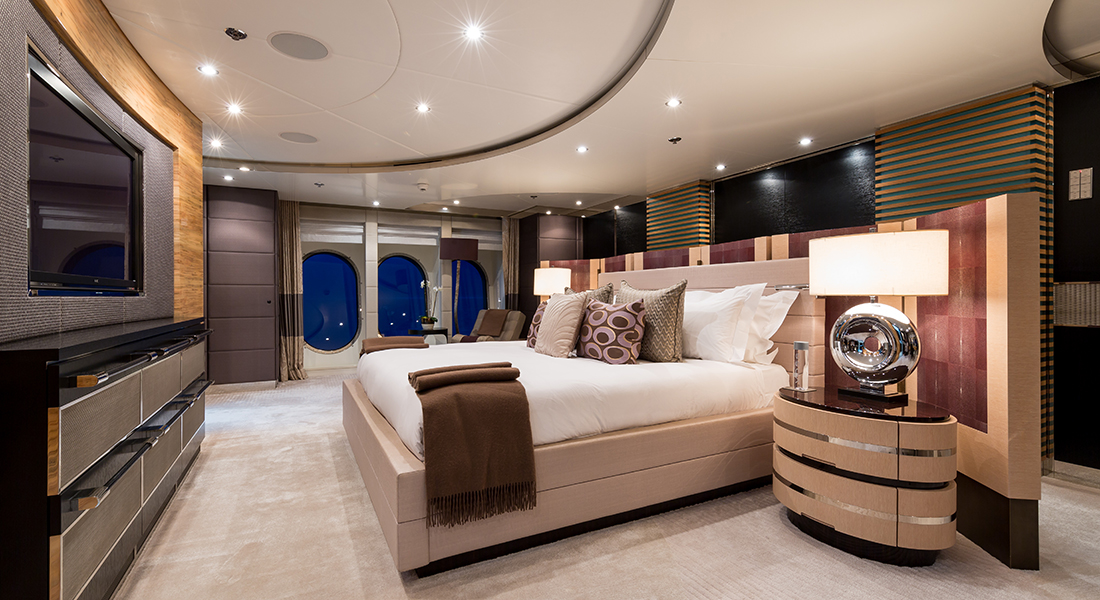 6. Consider the onboard facilities.
A deck Jacuzzi is a really good option for family charters to keep the kids occupied during longer passages or if choppy seas make swimming difficult. An onboard cinema or outside projector screen is always a real hit with the kids for movie nights, and a swim platform is great for fishing and launching off on the watertoys.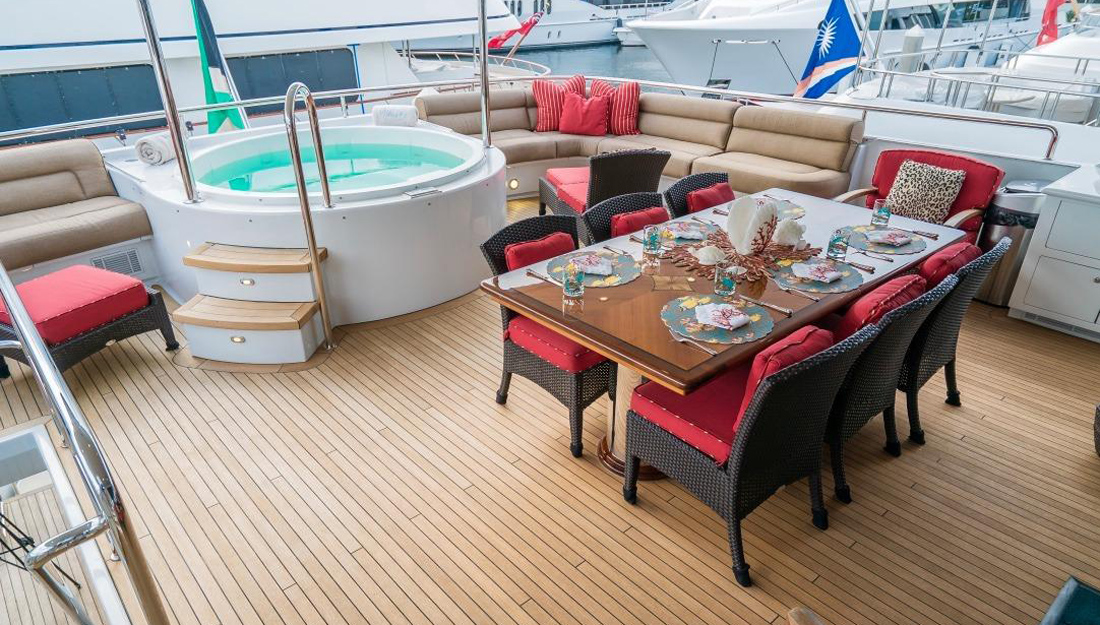 Of course, your family will have a great time onboard without these things too — they're just added extras! One important factor is that the children have space to spread out and play, so if you've got active children consider chartering a yacht with a second salon and lots of deck space.
Also, look for a yacht with a range of beach equipment, including beach cabanas and games so the kids can run and play on the beach to their heart's content.
7. The crew really matter.
We've written before about how crew make the difference between a pleasantly enjoyable yacht charter and one you'll talk about forever. When it comes to your kids, it's great to have specialist watersports instructors onboard, but what really matters is that the crew have plenty of enthusiasm and energy for working with kids, with fun ideas for activities that keep every day fresh and exciting.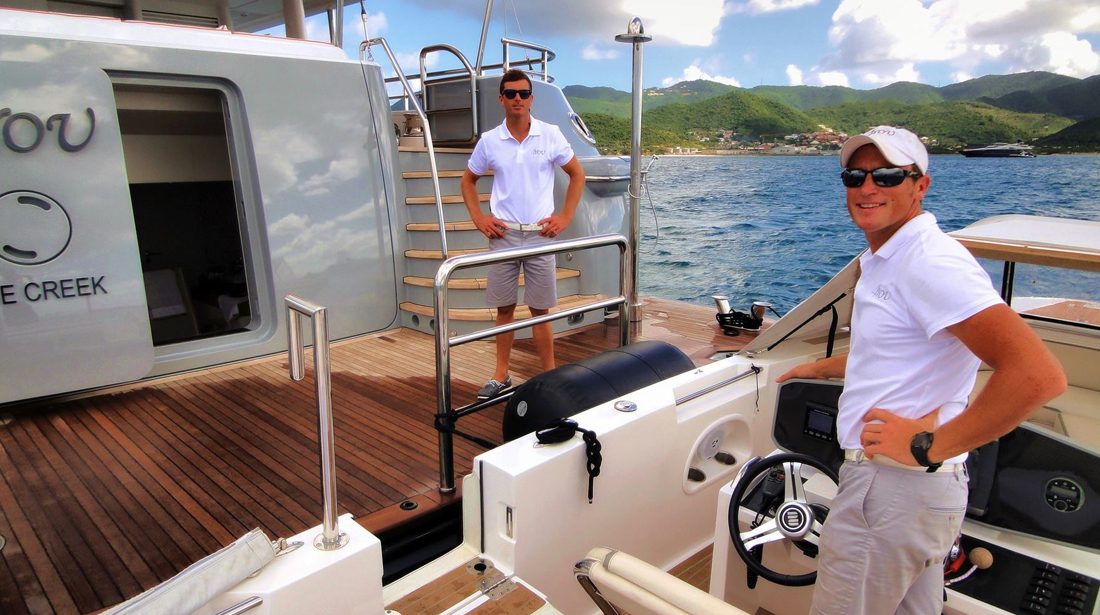 While yacht crew aren't employed as babysitters, they will offer lots of one-on-one time on the watertoys as well as one or two daily activities, like treasure hunts on a beach or cake baking with the chef. Find out from your broker which yachts have a reputation for going above and beyond with children on board.
8. Know about watersports restrictions before you go.
You don't want to have to break the news to your super excited child that they're still too young to go on the jetskis or scuba dive, or that they need a license to participate. (Many larger charter yachts will have a watersports trainer onboard for this purpose.) There are also some cruising areas where jetskis are prohibited, so rely on your broker's expertise to warn you about any restrictions beforehand to avoid disappointment during the charter.
Still wondering what it's like to be a family on charter? Check out this video of one lucky family enjoying life on ELYSIAN.
For additional help finding the perfect charter yacht for your family, contact one of Denison's luxury charter vacation specialists: