The 92 Viking is considered by many the gold standard in the sport fish industry and to me is the perfect combination of yacht meets sport fish, not just with her interior volume but also with her exterior deck spaces. This 92 Viking is an absolute weapon. It comes to you with high speed, fishability and all the amenities that you typically find on a yacht. I'm Alex Clarke from Denison Yachting and today I'm going to take you onboard.
The first thing that you're going to notice about the 92, whether she's passing you on the water or if you're approaching her on the dock, is her imposing profile. Combine her 30′ bridge clearance with her custom Palm Beach Tuna Tower and her 55′ Rupp outriggers, and you have that wow factor.
Like most large sport fish boats, you have your cockpit and your mezzanine area. On the 92, you then have an additional aft deck area. So you have three tiers that flow seamlessly together. The owner of this particular boat considers the aft deck one of his favorite places on board because he likes to do a lot of fishing with his grandkids and the aft deck gives him a great vantage point when watching his family enjoy themselves in the cockpit.
Starting all the way aft in the cockpit, you have your centerline live bait well built into the transom, complete with viewing window. Forward of that, you have your release fighting chair and below that you have direct access to your Sea Keeper, 3500 gyro stabilizer and outboard of that to port and starboard you have live bait wells. I want to point out that this 92 viking is tournament rigged for fishing and you're going to notice some of those features in the forward section of the cockpit. For example, to port you're going to have deep freezer space for bait, to starboard you're going to have your Eskimo ice chipper and additional bait storage. Just forward of the fighting chair, you're going to have a hatch that gives you direct access down towards the engine room.
We first enter the utility room where you're going to have your AC shore power converters that give you the ability to plug into shore power anywhere in the world. Moving forward, you enter the surprisingly spacious crew accommodations. To port, you have your cabin that sleeps two in a bunk room, to starboard the ensuite and in-between your crew mess complete with refrigerator-drawers, microwave and built-in washer/dryer.
Passing through the final bulkhead you enter your engine room where you're going to have your twin MTU 16V 2000 series M96L engines, 2600 horsepower each with very low hours. Stepping up from the cockpit, you reach your first vantage point which is the mezzanine that has seating for up to six guests. Then above that, you have your aft deck that also has seating for up to eight.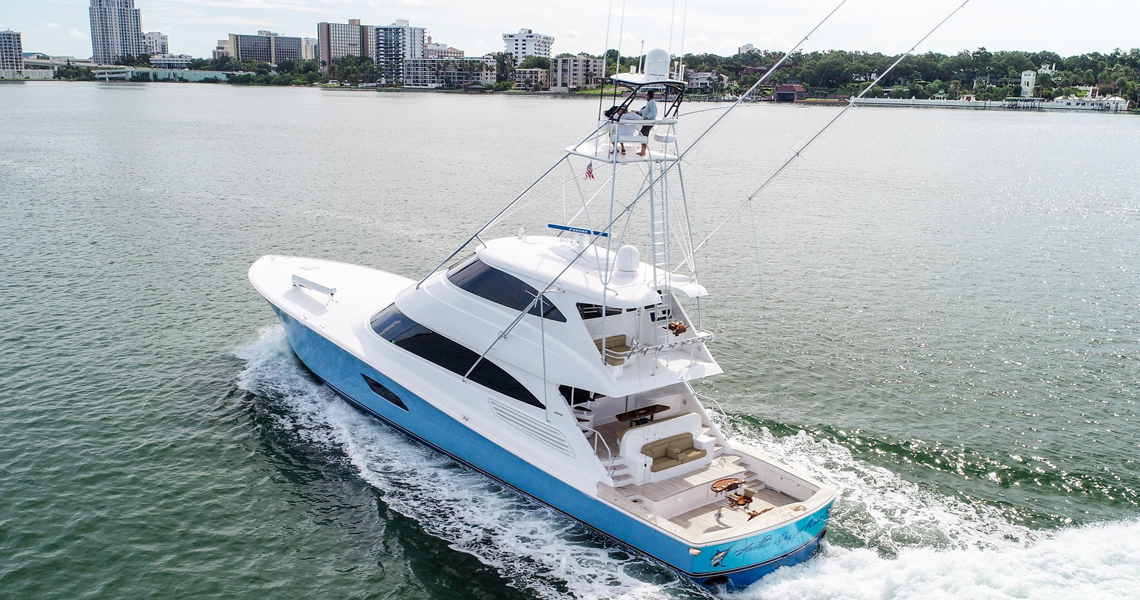 To starboard you have your built-in grill. To port you have a very well-thought-out ladder that gives you direct access to your second deck and centerline you have seating for six with a high-gloss varnish table. Continuing forward through two automatic double doors, you enter the main salon which is where you will first notice some of the yacht quality finishes. The main salon is the most popular gathering place on board. If you wanted a little bit more privacy, you'd probably continue up to the sky lounge. But in the main salon, immediately to port you have two L-shaped settees for seating up to 12 guests. Forward of that, you have your formal dining. To starboard, you have your open galley. Aft of that, you have your pop-up TV, two captain's chairs and a wet bar – all of which can accommodate up to 20 guests.
Stepping into the galley, which to me is one of the highlights on board. You have your dual-level granite countertops, which are flanked by five barstools. Below the counter tops, you'll find your six sub-zero refrigerator-freezer drawers, dishwasher, Kenmore trash compactor and Miele oven. Above the oven, you have your Miele glass stovetop. To starboard, your dual sinks and above that your convection oven.
Before continuing to the guest accommodations, let's step up to the sky lounge which is accessible by this staircase. Entering the sky lounge to port, you're going to have your L-shaped settee, two refrigerator-drawers to starboard. Moving forward, you have your captain's chair. To port, you have a pop up TV with additional storage below it and direct access to the aft deck.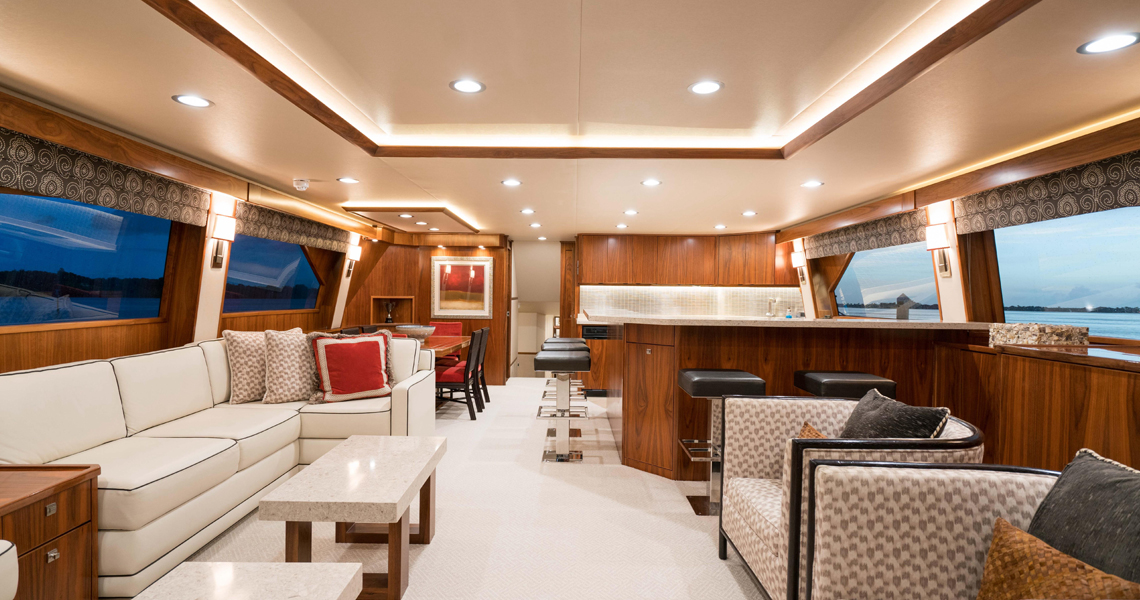 Here on the aft deck you have a full helm to starboard, great for docking. Opposite that to port you have an L-shaped settee, which is the best vantage point for watching the action in the cockpit. This takes us to the most impressive space on board – the bridge deck. One of the most important places on board a high-performance vessel like the 92 Viking is going to be the helm station, which you see behind me. It's very well laid out with easy access to all your electronics and 360 degrees of visibility. The helm station is highlighted by five, 15-inch glass LED monitors. ANOTHER DAY IN PARADISE is equipped with the optional performance package. This package is a combination of Simrad, Garmin, Furuno and Icom navigational equipment. Anchoring this space is a centerline captain's chair and two bench seats to port and starboard, both of which comfortably seat two adults, all of which are manufactured by Stidd. From here, it's not hard to imagine pushing 40 knots from over 20 feet up.
Located in the helm station at the top of the tower, you're going to have your Garmin 15-inch monitor, Simrad autopilot, Icom, VHF, bow thruster controls as well as your MTU engine controls and gauges. Let's continue forward on the main deck. Now before we step down to the guest accommodations to port, you're going to have your dayhead and to starboard you're going to have your doghouse.
Stepping down into your companionway and following it aft, you enter the master cabin. One of the key highlights in the 92 Viking is the largest in class full-beam master cabin. Very well laid out, excellent headroom that continues all the way to the guest accommodations and large glass windows that you're going to see both to port and starboard.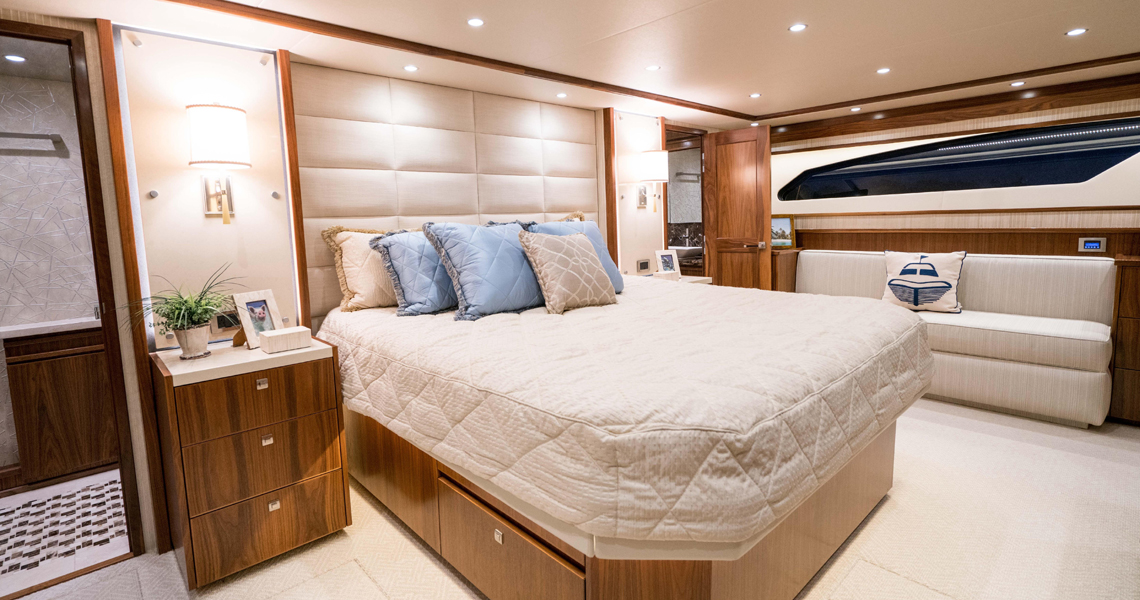 Opposite of your king-size berth is your flat-screen TV and large walk-in closets. To starboard, you'll have your vanity, to port a settee, both of which have large windows above. Aft of the cabin is your modern his-and-hers ensuite that are connected by a centerline shower. Continuing forward, you have the smallest of the six cabins that comfortably sleeps two in a double bed, again with ensuite. Continuing down the companionway to starboard, you'll have your first VIP cabin that has a centerline queen berth. Then to port, your fourth cabin that has two single berths. And then all the way forward, your second VIP that also has a center line queen. Each cabin is complete with its own ensuite. Finishing off the guest accommodations, you have your full-size washer/dryer.
Finally, we end today's walkthrough on the bow. The bow really puts into perspective how imposing the profile of this boat is. Behind me, you're going to notice the 2200 pounds Nautical Structures davit with telescoping boom that easily allows you to hold up to an 18′ skiff here on the bow. We've just finished showcasing the 2015 92′ Viking Enclosed Bridge, ANOTHER DAY IN PARADISE. Viking's done an extremely good job of combining the aesthetics of a sport fish boat with the luxury accommodations, typically found on a yacht.
I'm Alex Clarke from Denison Yachting. I hope you've enjoyed spending time with me onboard. If you'd like to receive full technical specifications or a brochure, feel free to contact me at any time.