I'm Will Noftsinger with Denison Yachting, here in Miami, Florida, aboard one of my latest listings, a 2008 107′ President Motoryacht. I want to take you on a quick tour and point out some of her key features.
D-FENCE is a tri-deck motoryacht featuring four staterooms and five heads. She's had only one owner and has been well maintained since her commission in 2008. Given that a tri-deck configuration is a rarity in this size range, we're going to focus on volume and today's theme will be space. There are a ton of areas that benefit from this such as the master stateroom as well as the galley, the engine room and the crew quarters.
We're going to begin today's walkthrough here on the swim platform and the most prominent feature are the stainless steel stanchions you see in front of you. Located to both port and starboard are stairs to the aft deck, in addition to shore power connections which can be found here on both sides. Centerline is our transom door granting us access to our crew quarters and our engine room. So we're here in the crew quarters and we often get requests to see this on these videos. Usually we can't but today is different because this crew quarters is absolutely massive. To port we have the captain's quarters which features a large single berth and an ensuite head. To starboard is our second cabin and it features over/under berths with another large ensuite. The shared space in this area is a galley and doubles as a crew mess. It features a large stainless steel sink, a two-burner ceramic cooktop, microwave oven, refrigerator and ice maker.
Talk about space, talk about volume you found it here in the engine room. This is one of the largest engine rooms I've ever seen on a boat this size, features to caterpillar C32 ACERTS, a water maker and stabilizers. Finishing off the engine room we have two Northern Lights generators.
Exiting the engine room we're going to take a turn to port, walk up a flight of stairs and end up on the aft deck. The primary feature on the aft deck is the centerline teak table, perfect for alfresco dining and capable of seating eight. Located all the way aft on this deck is molded in seating that can comfortably seat five guests. Flanking the teak table to port and starboard are boarding doors.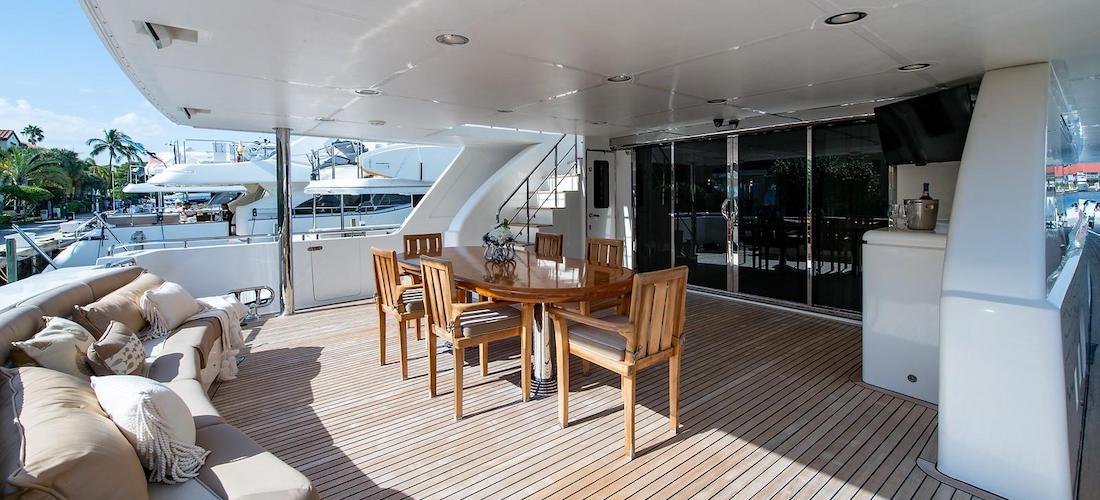 As we make our way forward to starboard is our wet bar. This area features a sink, refrigerator and just above a flat-screen TV. To port is a set of stairs that takes us to our second levels aft deck but we'll come back to that later.
Located forward are counterbalance sliding glass doors, yielding access to our salon. Stepping into the salon the first thing you'll note is how expansive it is without sacrificing your walk-around decks. To port we have our seating area which features two large barrel chairs, an expansive sofa all setup around a glass top coffee table. Opposite the seating area is the entertainment system featuring a 65-inch Sony TV.
Continuing forward to starboard is a large L-shaped wet bar with granite counter tops and seating for four. Behind the wet bar is a sink, an ice maker and a refrigerator. Adjacent to this wet bar is our formal dining area with seating for six guests. Forward of this dining table is a credenza affording extra storage. Finally all the way to starboard is a set of stairs that gives us access to our pilot house but we're going to come back to that later on.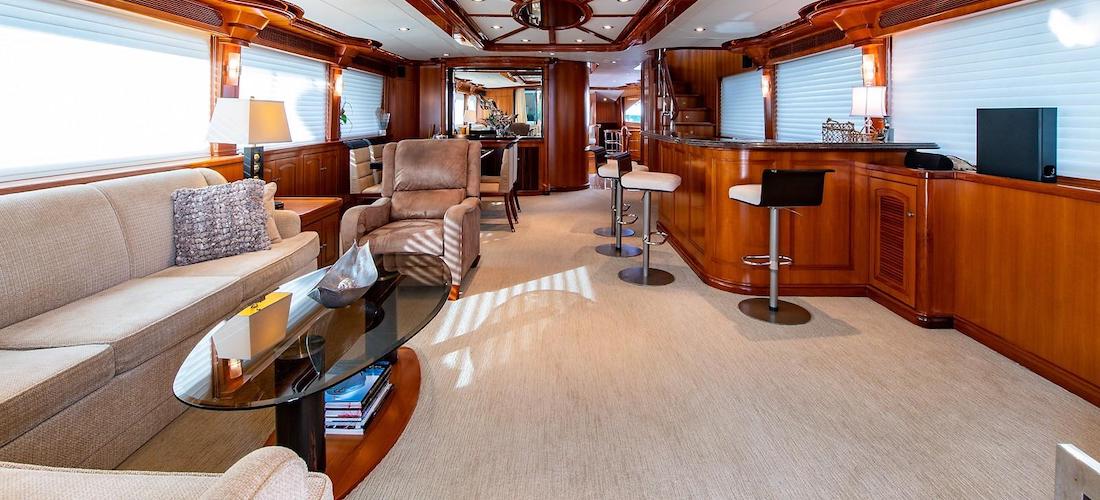 Walking forward from the salon towards the galley we come to our dayhead located amidship. Before we head down this flight of stairs, I want to point out the galley and show you how large it is. It's got to be one of the biggest in this class. Stepping into the L-shaped galley the first thing we come to is the commercial grade GE refrigerator and freezer. Also found here as a Uline wine cooler. Continuing deeper into the galley we have a Brawn trash compactor, two under counter mounted stainless steel sink basins, a commercial grade GE dishwasher, a full-size GE oven, a four-burner cooktop and a convection microwave oven. Located forward in the galley is an oversized breakfast nook that features two teak tables and wrap around the seating on the forward bulkhead. Located forward and all the way to starboard, we have a flight of stairs that takes us to one of two VIPs on this vessel. This forward VIP features a centerline queen and a private ensuite head.
Coming back through the galley we come to a flight of stairs that we bypassed earlier located to starboard. These take us to the lower staterooms. Stepping down these stairs we come to a foyer that grants us access to both of the lower staterooms. The first stateroom we're going to look at is the master, located aft. Standing here in the master you can get a real sense of how large these staterooms truly are. Centerline we have a king-sized berth with nightstands flanking either side. To starboard we have a built-in love seat with storage on either side. Located all the way port and aft we have access to our private ensuite head which is huge. This ensuite features a shower stall, a vanity with two sinks and a tub.
Walking forward from the master stateroom, we come to our full beam guest stateroom. Here we have two oversized single berths as well as a large ensuite. Located here in the foyer we have our stacked GE washer and dryer. Wrapping up the lower deck and walking back into the salon we're going to take a flight of stairs up to the pilot house.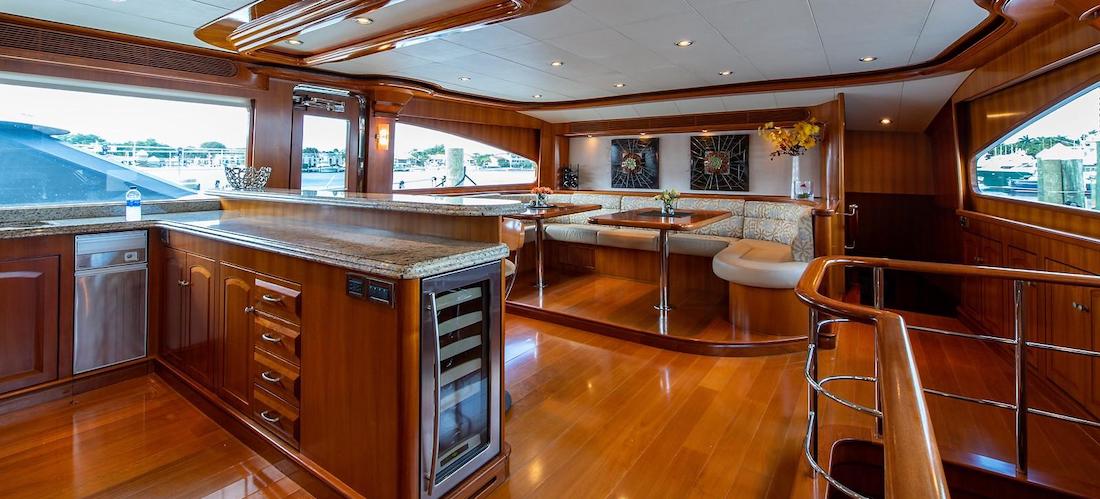 At the top of the stairs we reach the pilot house. All the way forward is your helm. The helm features a full array of Furuno electronics. Starting to port we have a large 12-inch multifunction display with radar, sounding and GPS capabilities. Just right of this and centerline we have all of our CAT displays, bow and stern thruster controls, start/stop functions and throttle controls. All the way to the right we have a repeating Furuno 12-inch screen. Below the second Furuno monitor we have a Furuno NavNet black box used for controlling the display. Rounding out the helm we have two Pompanette chairs. Just behind the helm chairs is L-shaped seating with a teak table. All the way aft and to starboard is another wet bar. Lastly we have two watertight doors two port and starboard affording access to the Portuguese bridge.
Aft of the pilothouse we have our fourth and final and perhaps the coolest stateroom. This stateroom features expansive views through large windows to both port and starboard. Athwardship to port we have a queen-size bed flanked by two nightstands. Across and to starboard we have a large pop-up TV and an abundance of storage below. This stateroom also features an ensuite with walk-in shower stall. Walk-in aft through two stainless steel doors we come to a private balcony seemingly built just for this room. This private balcony is the perfect place to relax in solitude. To port is a set of stairs that takes us down to the lower aft deck. To starboard is another set of stairs that takes us to the sky bridge. As you're going up the stairs just overhead is a pop-down TV. Walking forward and up these stairs we reach the sundeck. Located all the way aft on the sundeck we have a large Atlantica tender and 2000 thousand pound capacity davit.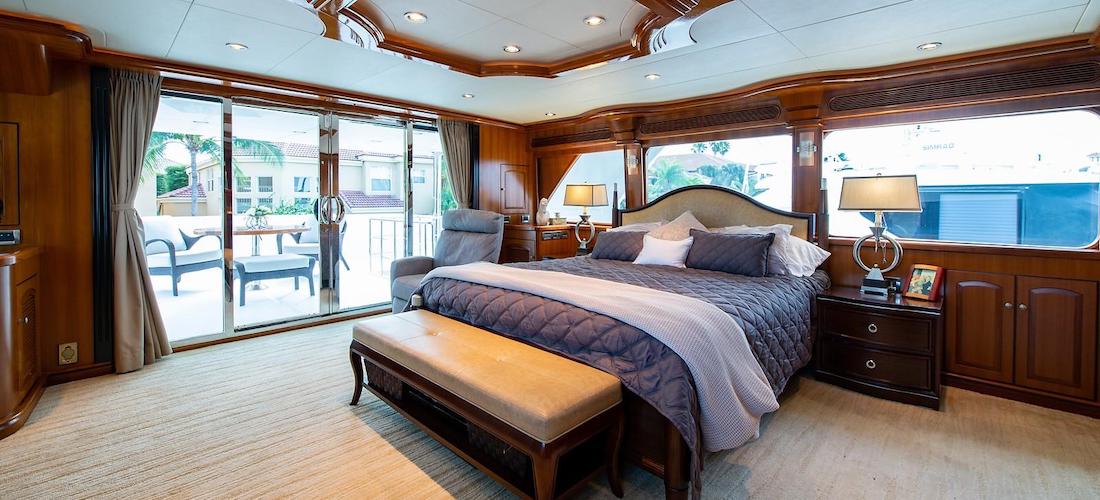 Working forward and just below the radar arch to starboard we have our grilling station. Below the grilling station we have a refrigerator as well as ample storage. Located forward and keeping to starboard, we come to the area's wet bar. Adjacent to this we have L-shaped seating perfect for relaxing and watching a sunset over a nice glass of wine. Wrapping up the sundeck located all the way forward and center line we have our upper helm. All the controls here mirror exactly what we saw below.
Today we're going to conclude our walkthrough all the way forward on the bow. Located at both port and starboard are large walk around decks that grant easy and safe access to the foredeck. Molded into the fore deck, we have a dinette with circular seating behind. Just forward of that the foremost feature of this bow is our ground tackle.
On behalf of Denison Yachting and myself, I'd like to thank you for joining me aboard this 107′ Motoryacht built by President Yachts. For further information you can call, email or text and you can always find me on social media @YachtSlinger.