Yacht broker Tony Smith gives a personal tour of this new 62′ Beneteau Oceanis Yacht, now available in South Florida.


Hey guys, this is Tony Smith with Denison Yachting. We're here at the Cannes Yacht Festival. Today we're at the Beneteau booth on board the Oceanis Yacht 62. They call this thing the Oceanis yacht because this thing is truly a cruising machine.
We're going to kick things off on the swim platform of the Oceanis 62. What you'll notice is the entire platform lowers down with these high-end hydraulic arms. Underfoot, we have a swim ladder with rollers that flip up. We are easily able to lower the platform 15 degrees and slide a dinghy in and out of the garage. From here let's head up to the cockpit and take a look around.
In the cockpit at the helm there are some features that stand out to you right away including high-end carbon fiber wheels. Additionally, we have dueled navigation stations with full BNG multifunction displays. Everything that you need to sail the boat is right here. We've got power winches and electric furling jib and everything as far as autopilot.
For the aft seating there are some key features. Either side folds up. On this model we have a lot of storage. However, there's also an option for an electric grill that will lift up in this section. Just inboard of the wheel you'll find convenient storage locations including cold storage on the portside and gas storage on the starboard side. Another really awesome feature about this cockpit is the fold-out table. Here we have leaves that fold out. Each side hydraulically lowers so either side can be made into a sunpad. They can conveniently be put together into one table. When the table is in the down position it makes for a large sunpad. These are coupled with another pair of sunpad forward. From here, let's head midship and check out the sail configuration.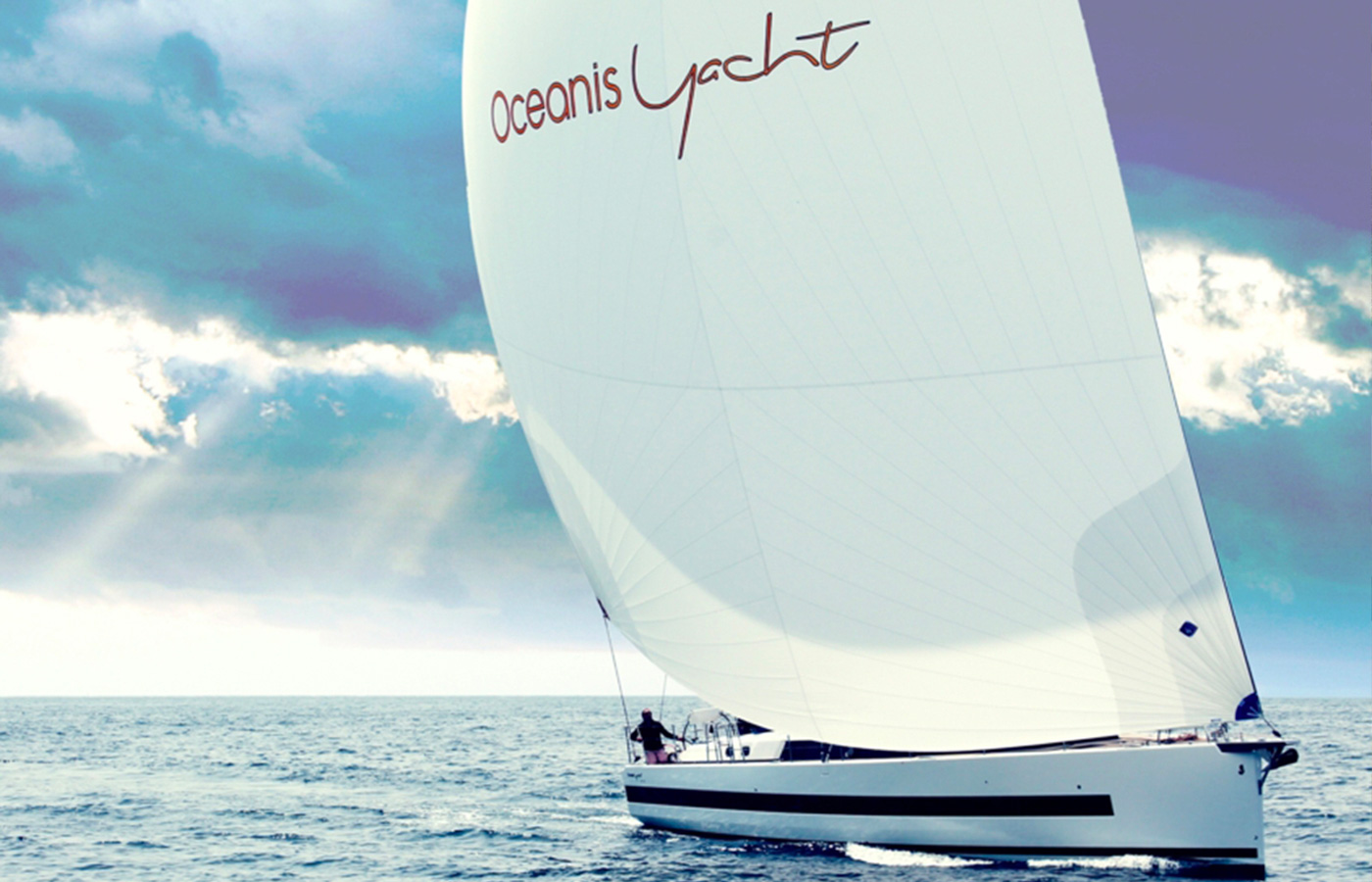 A great thing about this boat is the power winches and power furling for everything. You have two large cushions on the bow with speakers that are tied to a fusion stereo. Forward on the bow you'll see three hatches, note that these are deck level so there's no tripping hazards. The two rear hatches are actually the sunlight and escape hatches for the master cabin. Forward of that you'll find a hatch down to the crew quarters. This can double as storage for sails but in this configuration we have a full head vanity and bed. At the bow, first off you'll notice this high end furler for the jib. Underneath that we've got power windlass. There's a beautiful stainless steel anchor and attachment point for a code zero sale or spinnaker.
From here we're going to step inside and check out the interior salon. Overhead, you'll notice we have plenty of light coming into the cabin. This is a combination of skylights, emergency hatches and ventilation hatches.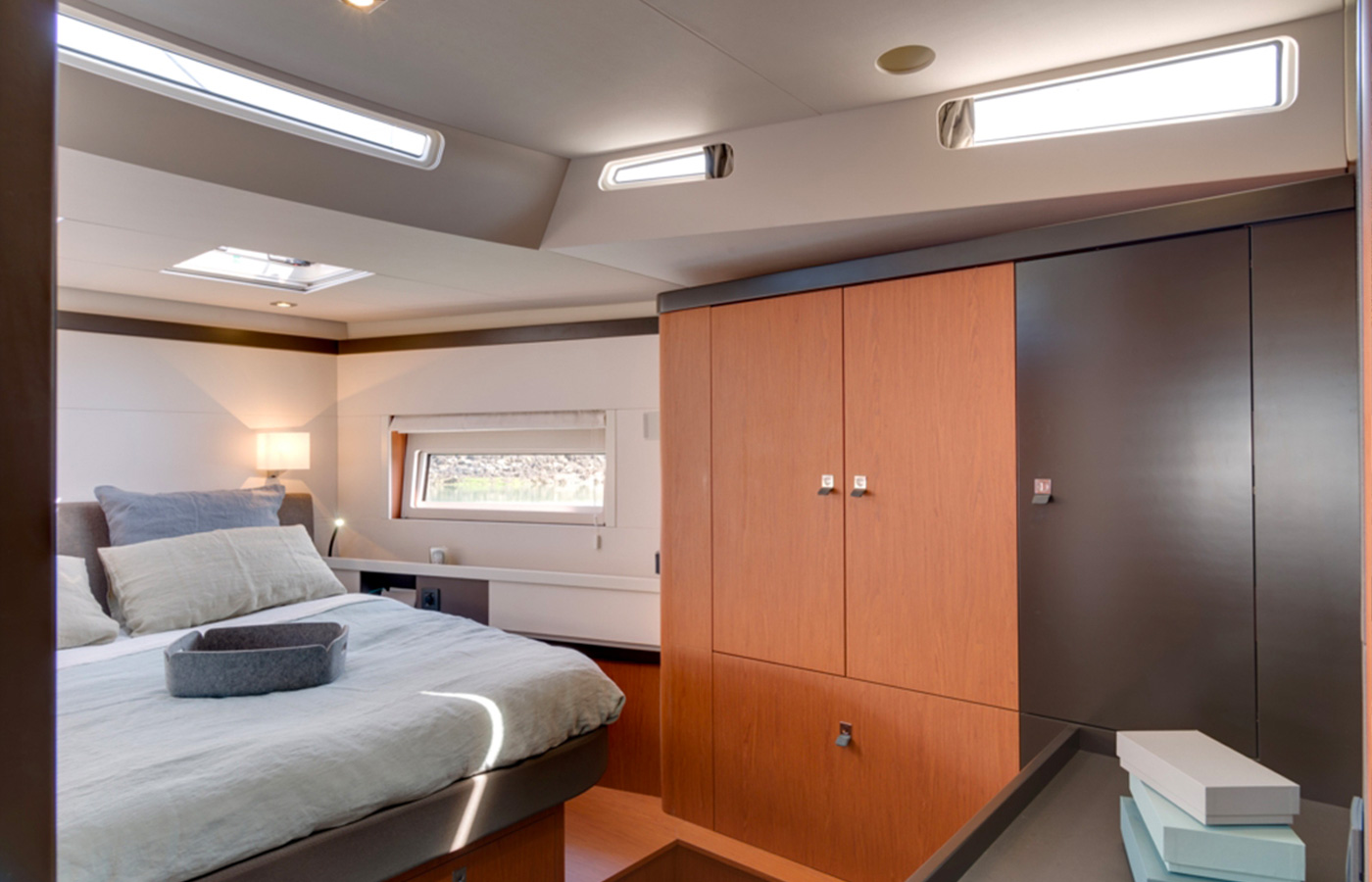 On the starboard aft there's a full queen-size berth. This cabin has its own ensuite head with enclosed shower. Heading over to the port aft cabin you'll see another queen-size berth with plenty of lighting including LED lights and a reading light in addition to the windows. Port side you'll find the dayhead which can be accessed from either the main salon or from this cabin.
Note the easy access to the mechanical room featuring the generator and then also a stern thruster. Lifting up the stairs you'll see a large Yanmar diesel engine. Down in the main salon the first feature you will notice is the L-shaped settee. The table easily folds out and could go high-low as a coffee table. Behind the centerline settee there is a convenient TV that will pop up for movie night.
To the port side you'll find a navigation desk. There's an electronic station including a large BNG display. Additionally, all the circuit breakers and electronics are accessible from this location. The desk has convenient storage where you can keep all your maps and other navigational tools.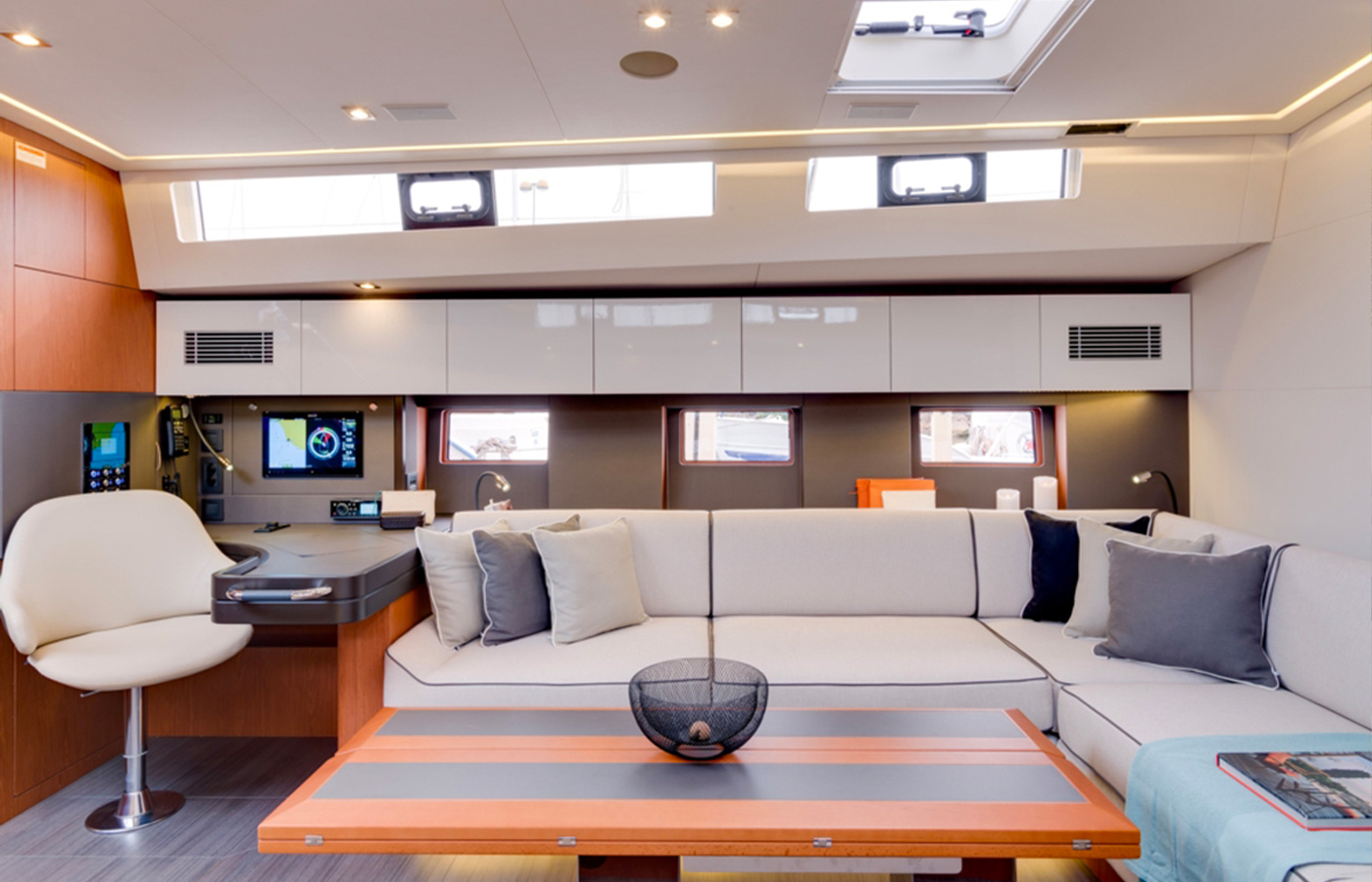 On the starboard side you'll find a full galley. There's a convenient stovetop, oven, sink and dishwasher all in hidden compartments. This is great because it gives you full access for your prep surfaces and hides away all your appliances. Under the counter, we have a large galley storage area. Just to the right of that you'll find a convenient wine cooler. Underfoot there are various mechanical areas including an air conditioner section and a fresh water section. This includes the fresh water manifold for the entire boat.
On the starboard side there's a full-size refrigerator and top loading freezer drawers. Up front you'll find the master cabin. A few things that stand out right away is the immense amount of light. This comes from large windows in the hull as well as the skylights overhead that function as emergency escape hatches. In addition to plenty of hanging locker storage on the bulkhead, you'll find an additional storage area. This can be custom specified at the factory. Ensuite we have a large master head including a fully enclosed shower.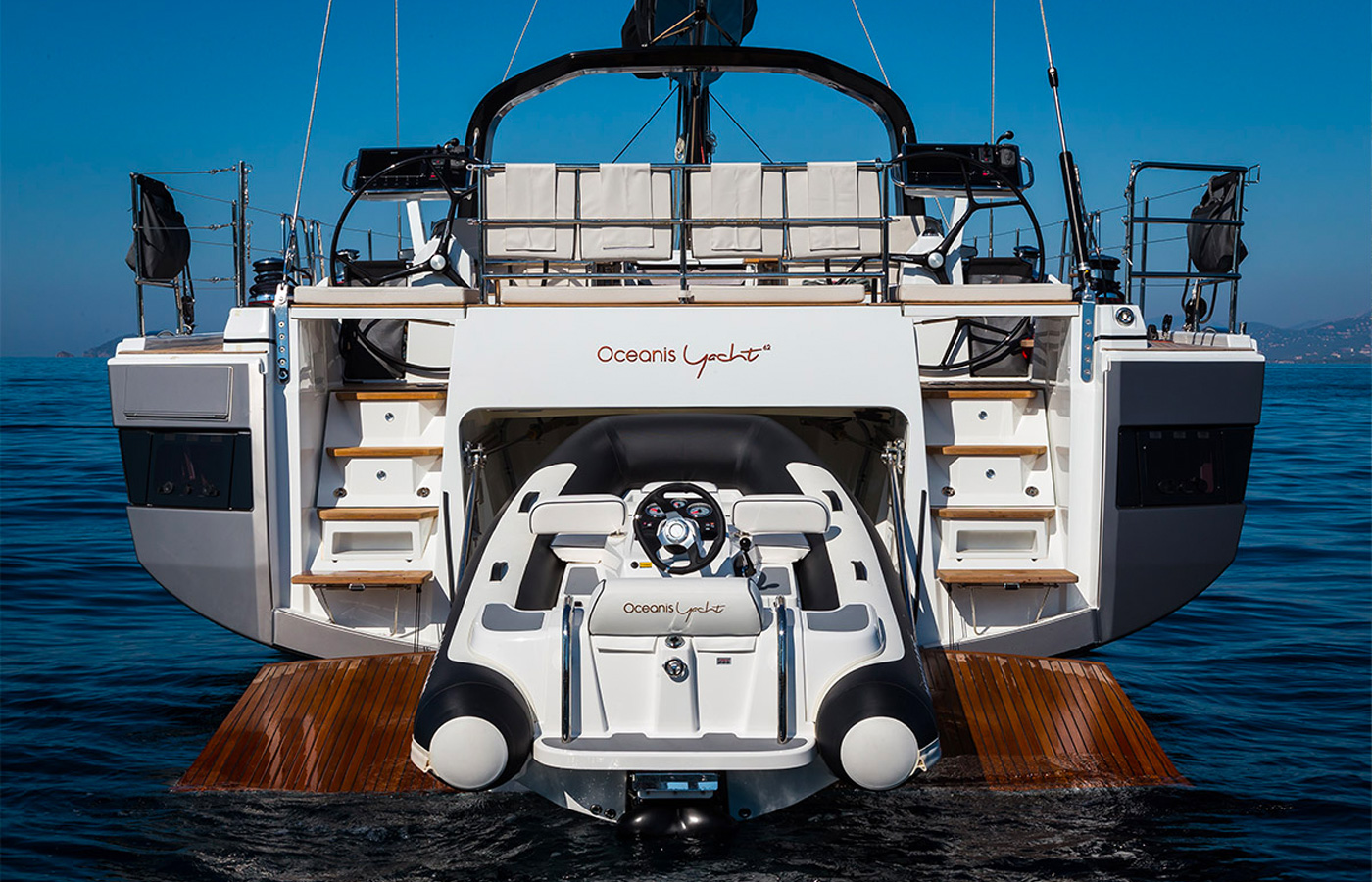 On behalf of myself, Tony Smith, and the rest of the team at Denison Yachting, we'd like to thank you for taking the time to look at this Oceanis Yacht 62. If you'd like to see any of the Beneteau product, power or sail, please find us at the Fort Lauderdale International Boat Show.