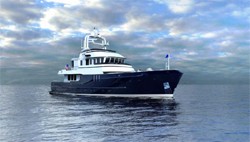 Seaton Yachts and Burger Boat Company announced plans to develop and market the Seaton Expedition Eighty-Three.
"This is an exceptional design and we are very excited to be the builder of choice. It is a natural fit for Burger and we look forward to building this extraordinary yacht," said Burger Boat president Jim Ruffolo.
The Eighty-Three is designed for ocean service, with the range to cross any ocean at 10 to 12 knots. Commercially rated diesel engines provide for extended cruising in remote areas.
The yacht will have a trideck configuration and is designed to be operated and maintained solely by the owner, but it offers self-contained crew quarters for owners who choose to have crew.
The main deck will feature full walk-around side decks and high, solid bulwarks, providing on-deck protection and security in any sea conditions. Watertight exterior doors, heavy-duty windows and big-ship features, such as automatic tank vent closures, are all part of a motor vessel designed for open ocean cruising.
Her foredeck houses a large primary tender and a small flotilla of waterborne toys and shore-going necessities such as motorbikes.The Seaton Eighty-Three will undergo extended sea trials prior to delivery, along with comprehensive training for the owners regarding the operation of the ship and her systems.
"We are very excited about this project and look forward to working with Burger to build this yacht at America's premier shipyard," added Seaton Yachts president John Clayman.