This week, a team of Denison superyacht brokers embarked on a tour of the shipyards of 9 leading superyacht builders in Germany and Holland.
The tour will give our superyacht team the opportunity to see the shipyards' new launches, current builds, future plans, and build slots. They will get a behind-the-scenes look at each shipyard's philosophy, culture and innovations, which will be invaluable toward our mission of providing our clients insight on all things superyacht.
The team includes Bob Denison along with superyacht brokers Glynn Smith, Justin Onofrietti, David Johnson, Bruce Schattenburg and Alex Clarke. The yards the team will visit on their tour are Royal Huisman, Hakvoort, Feadship, Amels, Heesen, Lurssen, Abeking & Rasmussen, Van der Valk and Oceanco.
Here is a look at each day of the tour:
Day 1 (Monday, August 22)
Royal Huisman
Location: Vollenhove, Holland
Founded: 1884
Notable launches: Wisp, Twizzle, Elftje, Athena, Hyperion and Meteor
The team started the tour on Day 1 with a visit to the Royal Huisman shipyard in Vollenhove, Holland. Royal Huisman, one of the most well respected shipyards in the world, has built award-winning sailing yachts such as Wisp, winner of the 2016 World Super Yacht Awards.
In 2014, Dutch firm Royal Doeksen acquired a majority shareholding in Royal Huisman. Royal Huisman delivered just three yachts last year and currently has three yachts under construction: two 58-meter yachts (classic and modern) and 65' carbon-fiber day sailor designed by Sparkman & Stephens.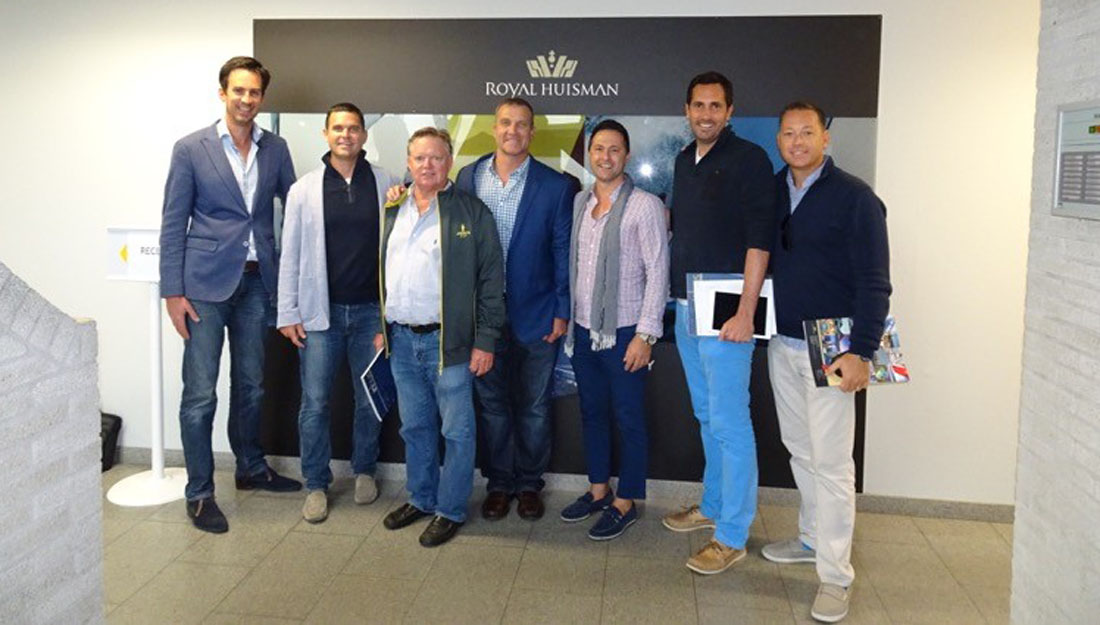 Hakvoort
Location: Monnickendamm, Holland
Founded: 1919
Notable launches: Lady Marina, Freesia, Spada, Solaia, Campbell Bay, Saga, Perle Bleue, My Trust, MY Snowbird and Pamela V
Their second stop of the day was at the Hakvoort shipyard in Monnickendam, a quaint, small town about 8 miles north of Amsterdam. A family business for 5 generations, Hakvoort is known as one of Holland's premier builder of aluminum yachts.
Hakvoort yachts embody a century of shipbuilding experience, traditional values of craftsmanship, the latest technologies and the finest equipment and fittings. The yard specializes in building motoryachts and sailing yachts up to 65 meters in length. It also has facilities for major refits. It currently has two yachts under construction: 38-meters and the former Project Zeus.
---
Day 2 (August 23)
Feadship
Location: Haarlem, Holland
Founded: 1849
Notable launches: Air, Predator, Sea Owl, Symphony, Como, Kiss and Madame Gu
Tuesday, the team visited the Feadship yard as they continued their tour through Holland and Germany. Feadship is one of the premier shipyards in the world, building top pedigree custom yachts such as Joy.
Sales Managers Spike Halbertsma and Maarten Janssen gave an overview of the 19 projects underway at the yard, which is synonymous with quality and tradition. Feadship uses an engineering system that develops their own propulsion systems (breathe and hybrid system), and has the largest engineering department in the industry.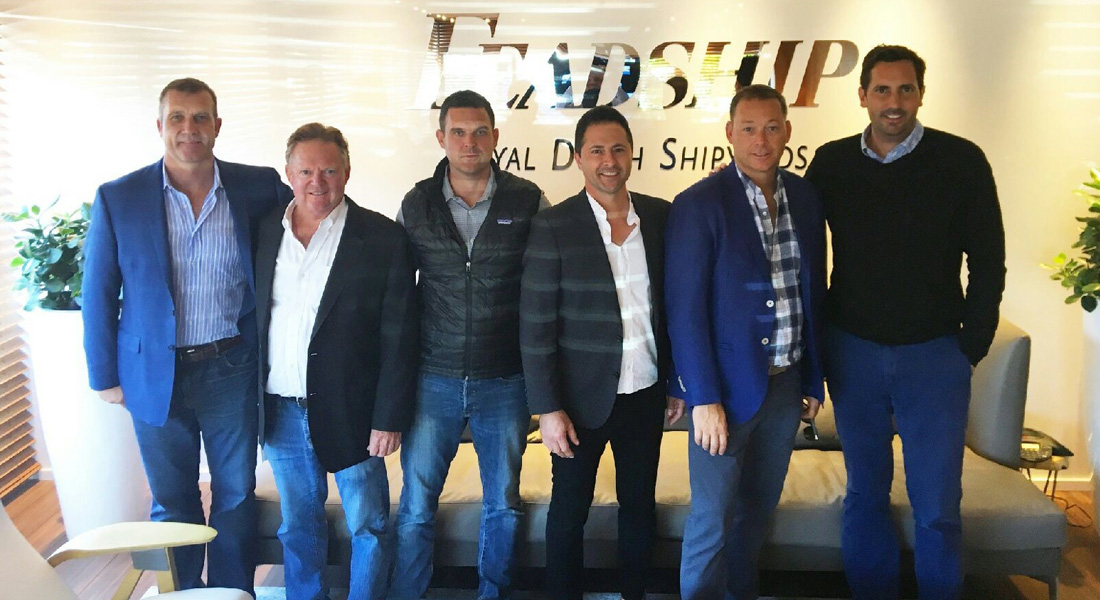 ---
Day 3 

(August 24)
Amels
Location: Vlissingen, Holland
Founded: 1918
Notable launches: La Familia (55m), Madame Kate (60m), Yacht Z (65.7m), Serenity J (55m) and Astra (55m)
On Wednesday,  the team visited the Amels shipyard. Amels is the largest shipyard in The Netherlands and has perfected the 45-60m superyacht market. Through its series of limited editions, Amels has revolutionized the concept of the semi-custom superyacht.
By starting construction of the yacht prior to order, the yard allows customers to build a semi-custom yacht in a much faster time frame, and thanks to the efficiencies of the series, can deliver these yachts for a true value.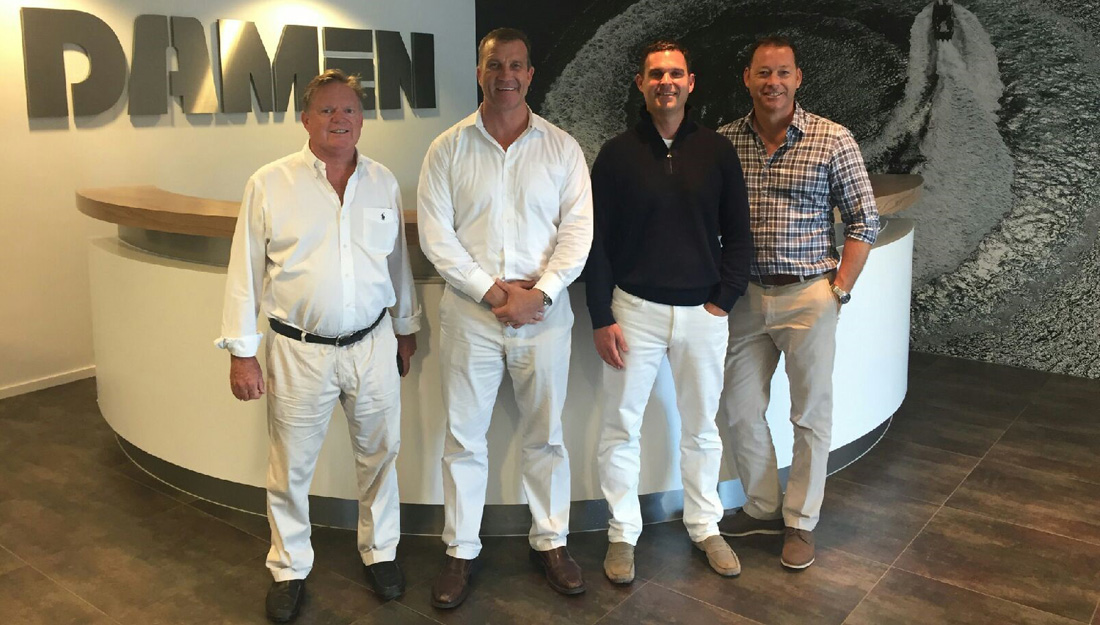 ---
Day 4 

(August 25)
Oceanco

Location: Alblasserdam, Netherlands
Founded: 1990
Notable launches: Indian Princess (95m), Equanimity (91.5m), Infinity (89m), Nirvana (88.5m), Seven Seas (86m), and Alfa Nero (82m)
Thursday the team visited two shipyards. The first, Oceanco, is one of the premier builders in the world focusing specifically on the construction of custom superyachts over 85 meters.
Oceanco has the capacity and resources to build the largest and most sophisticated yachts, and is known as a global leader in the 80-meter+ segment of the superyacht industry. The yard's dry dock facilities, designed to accommodate a new generation of 100m+ yachts, which our team was lucky enough to preview.
The Oceanco shipyard is located just outside of Rotterdam and boasts a 145m x 45m climate-controlled shed for building or refitting yachts of up to 130 meters. Their ship's elevator and three cranes, with a lifting capacity of 20 tons, guarantees safe and efficient transportation.
The main building also accommodates two independent construction units (steel and aluminum), two machinery units (piping and mechanically), two carpentry units (rough and finishing works), a two spraying facilities and two outfitting units (general and stainless steel).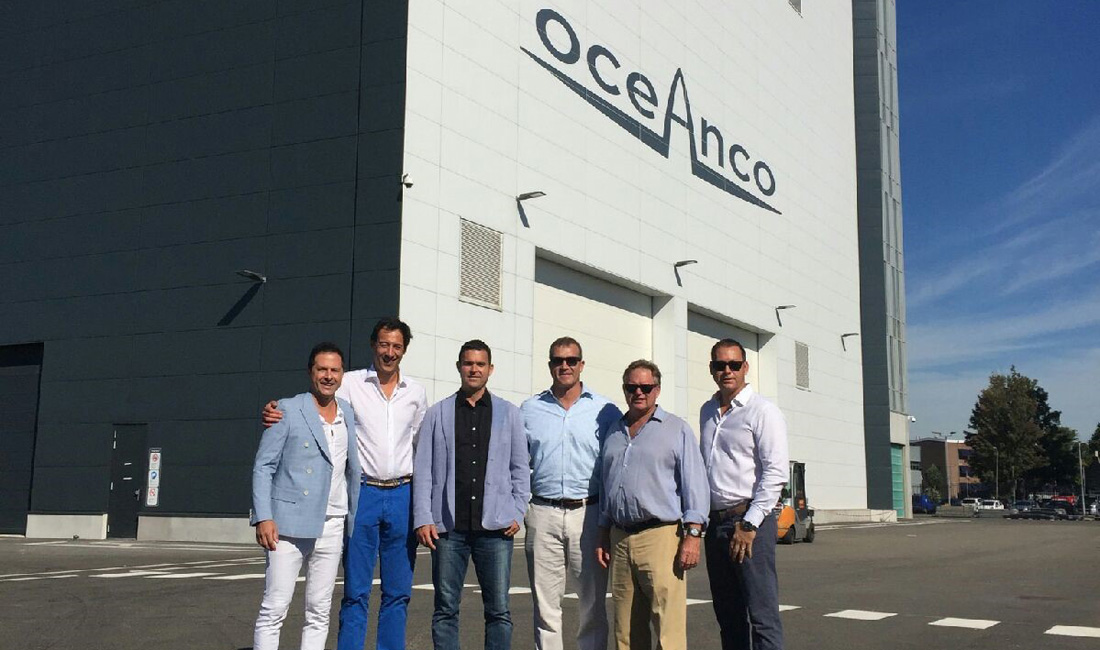 Heesen

Location: Oss, Netherlands
Founded: 1978
Notable launches: Aurelia (37m), Satori (50m), Quinta Essentia (55m), My Secret (47m), Galactica Star (65m), and Kometa (70m)
The second stop of the day, Heesen, the yachting industry's leader in aluminum construction, is famous for their 3700 series, and has earned a sterling reputation for being the shipyard of choice for anyone wanting to build a performance superyacht.
Founded by Frans Heesen in 1978 in Holland's Oss Harbour, the shipyard was quickly recognized by industry leaders as a premier aluminum yacht-builder. Heesen is responsible for building some of the world's fastest superyachts, including Octopussy (38m) in 1988, which broke the 50-knot speed barrier.
Heesen continued building exceptional yachts through the 1980s and 1990s, as they started building in steel and displacement categories as well.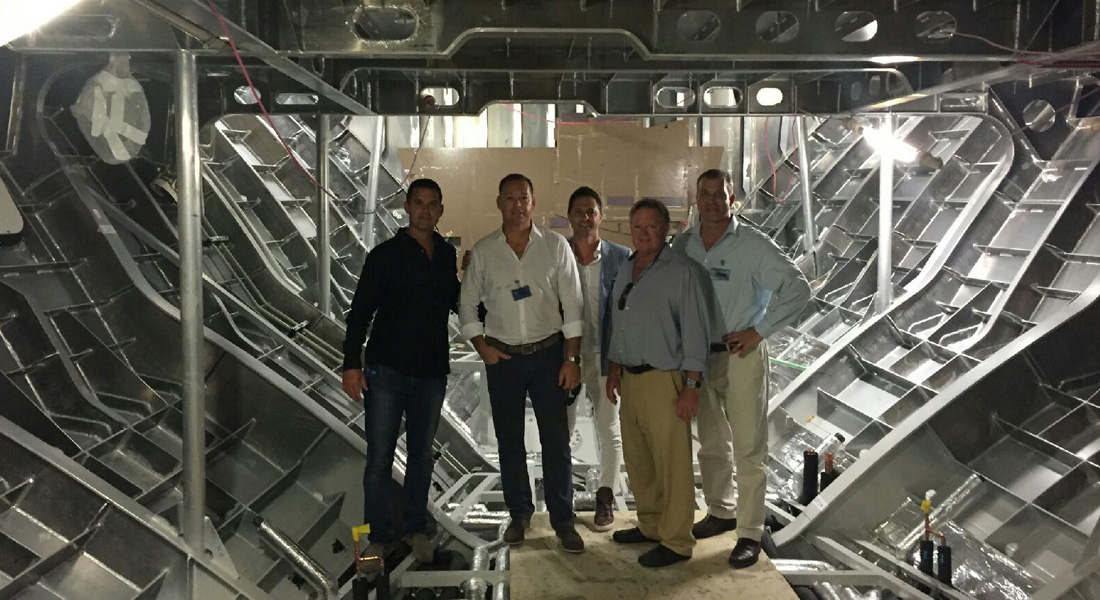 Day 5 

(August 26)
Abeking & Rasmussen

Location: Lemwerder, Germany
Founded: 1907
Notable launches: Secret, Kibo, Romea, C2, Eminence, Amaryllis, and Titan
Abeking & Rasmussen is a top pedigree shipyard in Lemwerder, Germany building gorgeous yachts such as the 60m Elysian, formerly known as Elandess, which was recently sold by Denison Fort Lauderdale Yacht Broker Glynn Smith. 
The German shipyard has a global reputation for building the highest quality custom-made motoryachts from 45 to 125 meters.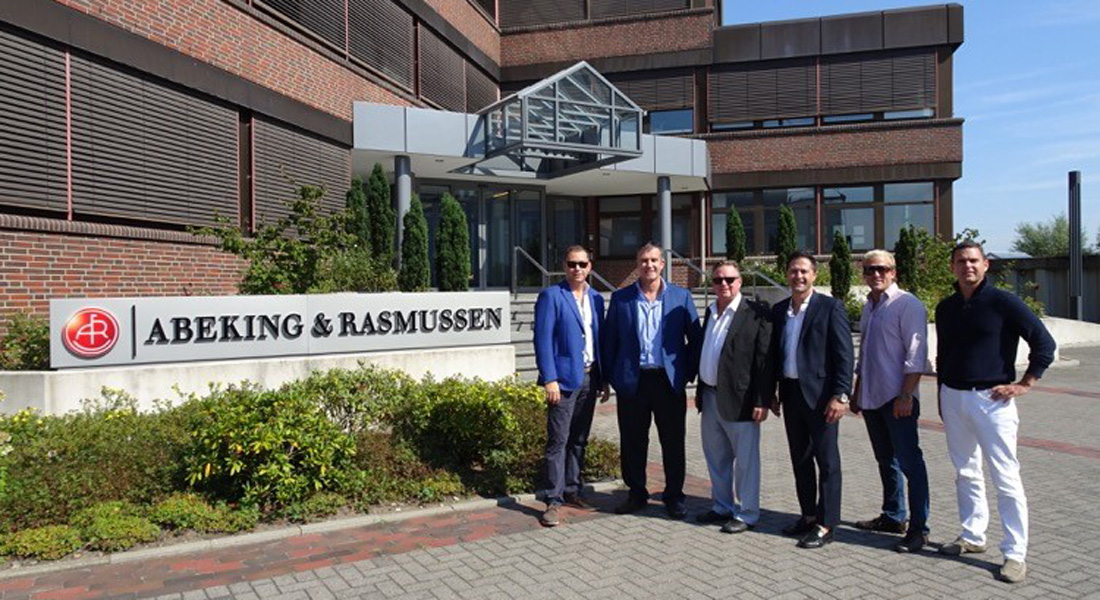 ---
Lurssen

Location: Bremen, Germany
Founded: 1875
Notable launches: Solandge, Ester III, Kismet, Quantum Blue, Lady Lara, Dilbar, Octopus, Rising Sun and Azzam
On Friday, our team also visited the Rendsberg shipyard, where they were able to preview several projects currently under construction.
The Lurssen family continues its commitment, which began in 1875, to build the world's finest vessels and yachts. Through 5 generations of one family, Lurssen has maintained its core values, and ultimately its strong reputation for quality and performance.
Its no surprise the owner of the world's largest yacht, Azzam (180m), trusted Lurssen with the new-construction contract, which Lurssen delivered in a record-breaking time, less than 3 years. Lurssen recently launched the award-winning Ester III, which was designed by Espen Oeino.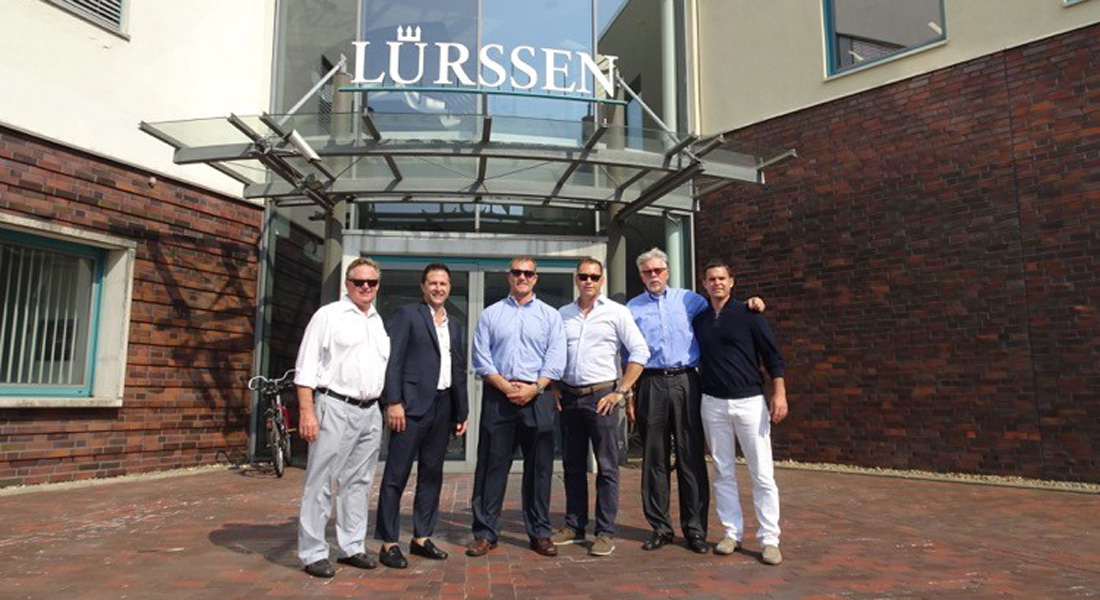 Day 6 

(August 27)
Van der Valk

Location: Waalwijk, Netherlands
Founded: 1968
Notable launches: Grey Falcon, Jangada, Santa Maria T, Selena, Next Episode, Versaille and Alisa
Van der Valk offers its semi-custom Continental series of motoryachts, with the layout, interior and style of yacht offered as "custom-built" according to clients' special needs and wishes.
Van Der Valk was one of the "big finds" of our Northern European tour. Most Dutch and German yacht builders won't look at smaller yacht projects, as they have become "luxury ship builders" who prefer to build in the 150′ and up range. Van Der Valk prefers to build in the 70 to 135′ range with great in-house design and full custom projects.
The financially sound yard embodies strong family values and insists on pedigree shipyard building standards and practices, and its owner is heavily involved in day-to-day operations. It will start a build of each size on spec to shorten the delivery time for a custom build.
Click here to see more photos and get more details about the tour.
To learn more about Denison's superyacht division, contact Sales@denisonyachting.com or call 954.763.3971.