This 90′ Eagle motoryacht was refit in 2011, including complete paint to the hull and house, upgraded A/V package, new soft goods and complete decor. All soft goods were updated again in August 2014, and a new galley floor was installed and a number of other updates were completed. Join us as we take a walkthrough of this custom raised pilothouse motoryacht:
I'm Bob Anslow and I'm proud to say, I work with Denison Yacht Sales. Today we're going to be boarding one of my listings. The boat is MIA, a 90-foot raised pilothouse motoryacht. This boat has striking lines. I think the first thing you're going to see is the profile.
Please look at the luster, look at the shine, look at the detail of the hull of this boat. She was painted just painted a couple years ago. She been shot with a two-part polyurethane enamel Matterhorn White and just has a deep lustrous shine – just goes to show how this owner and crew keep the boat and the right kind of shape.
Let's get on board, let's see what you think. Do take note of how large the garage is. There's a nice table highly varnished, U-shape sitting on the aft deck. Notice the full walk-around side decks. Notice how high the bulwarks are. You see that sunlounger and when we get up there, I'm going to open it up for you. I want you to see how big it is in there.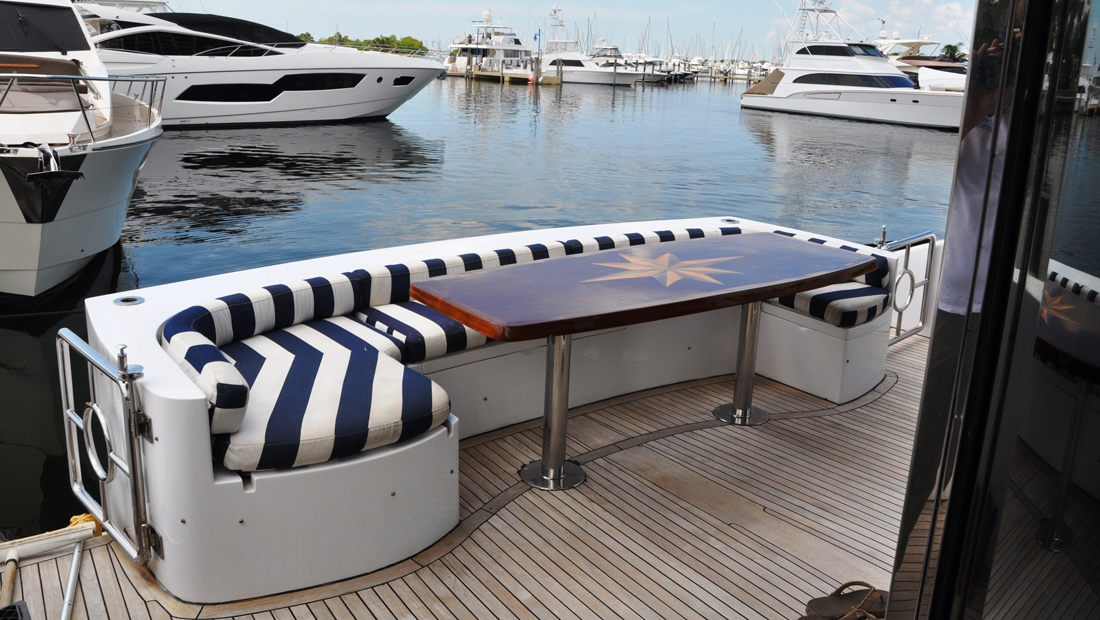 The dining room is captivating. Forward of that you'll see the salon area where we're sitting now, seating port starboard and center, midship, so the whole gang, whole family; we can all sit around, we can have fun, we can have a good time.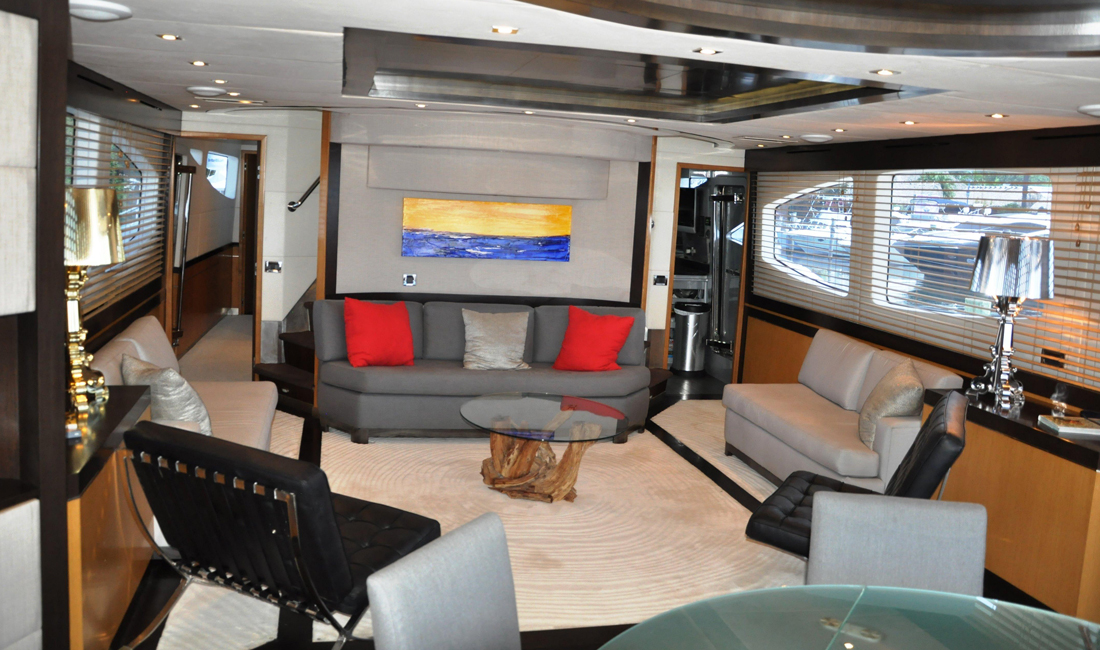 If we walk forward on the starboard side, we're going to go into a gigantic, I mean really a large commercial grade galley – all stainless steel appliances, deep freeze, refrigeration, U-shape dinette that could be for crew or that could be for the family enjoying breakfast.
We have a media room all the way forward. I think you can put an army full of kids up there. All the best audiovisual equipment. But we have an optional secret there – that could be turned into a totally independent fifth cabin, and you would still maintain your day-head, which is sort of unheard of in 90-feet.
We'll go down the steps and then you're going to find four delightful cabins. All the way forward is the VIP. The VIP is an island queen berth, nicely decorated; each one does have its own ensuite head and shower or tub.
Following aft on the port side is what we call the kids' room. Directly across on starboard is a set of twins.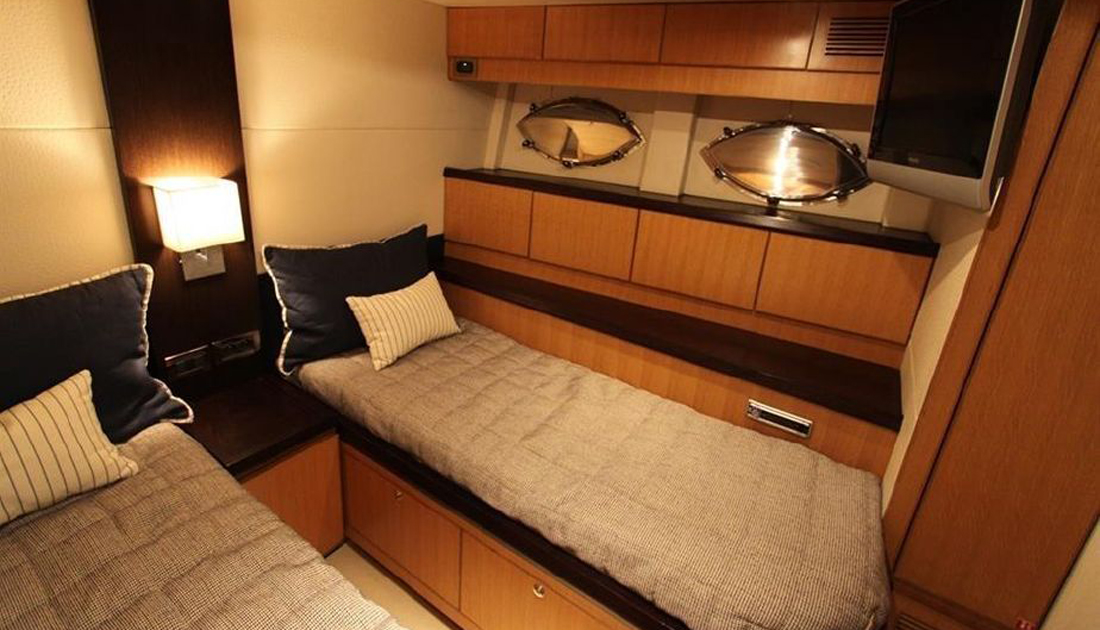 And continuing aft, we enter into the master stateroom. Up board on starboard, we have a little settee; we have an island king berth. And then directly across port side, you're going to find the head and the shower and the tub.
So we've been down the cabin area. We've looked at the main deck area. Now it's time to move upstairs a little bit.
Either on port or starboard side, you'll find a staircase that goes up to a plateau. So from that plateau you can walk forward into a fully equipped mission control center. But it's a space where either people can gather in around all the seating or that you can have your captain run the boat while you're entertaining your guests.
Once we walk back out of that pilothouse, we go up two more steps and we're up on the flybridge. Huge, huge table with a crescent-shaped sitting area. All the way forward on the port side is a large bar and countertop. Across on the starboard side we've got a sink, counter space. We've got refrigeration, we've got barbecue grill, double seats for helm and companion, and just an abundance of sunlounger space and sitting.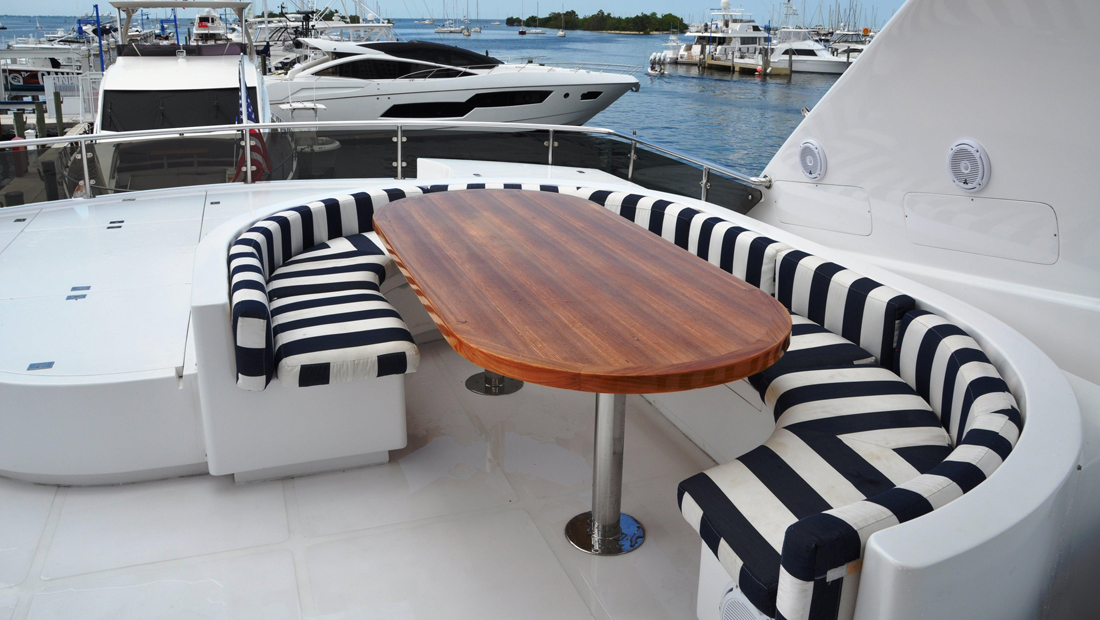 Thank you very much for sharing your time with me today. I hope you're impressed with MIA. If you have any further questions or if you'd like to get aboard and see her in person please contact me.